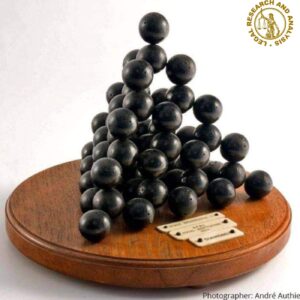 Diamond is commonly known as one of the hardest materials on Earth – and much of this is down to the way the carbon atoms, which make up the material, are arranged in a lattice structure.
This crystal structure of diamond was the first crystal to be determined by X-ray diffraction – a method that uses X-rays to find out how atoms are arranged in a crystal.
William and Lawrence Bragg, father and son, pioneered the method.
The Braggs published the crystal structure of diamond at the end of July 1913 – and their work revolutionized the ideas of the time about chemical bonds in solids.
They shared the 1915 Nobel Prize in Physics "for their services in the analysis of crystal structure by means of X-rays.
Photo: Model of the structure of diamond by W. H. Bragg. Museum of the Royal Institution, London.
Photographer: André Authier