Read Time:
15 Minute, 24 Second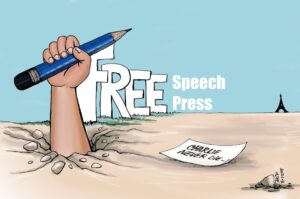 INTRODUCTION


Give me the liberty to know, to utter, and to argue freely according to conscience, above all liberties". – John Milton
We human beings have a special tendency i.e. tremendous power of communication through which we express our views with each other. Unlike other living creatures we convey our feelings, emotions, anxieties regarding anything to anyone. It`s our fundament right which is ensured as from the birth as it symbolizes our liberty and no one can untrammelled it on us. This provision is enshrined in the statutory provision of Article 19(1) (a) of Indian Constitution 1950, which states all citizens shall have the right to freedom of speech and expression. However, this is not an absolute right being subject to reasonable restrictions under Article 19(2). But the greater part is this freedom ensures personal liberty to the citizen. Indeed it is helpful in dissemination of information among the people of different origin be it in any form by words  of mouth, writing, painting, and picture or in any other gesture. So, things are unambiguous that having a liberty to speak what is right and what is wrong is certainly a message that the democratic setup is working enormously fine and that's the reason why Press or Media is said to be the fourth pillar of democracy. And practically speaking we have been witnessing the liberal interpretation of the essence of freedom with regard to speech and expression particularly in Indian perspective. Plethora of laws have been enacted in purview and keeping in mind the freedom they are subject to amendments such as Sedition Law, Unlawful Assembly, Blasphemy, Unnatural Offences etc. So, there is a blend in the cognitive faculty of mind of the law makers or legislative body as a result of which they are enhancing the extent of the right under the said provision.
VIEWS OF SCHOLARS


John Stuart Mill in his book on liberty published in 1859, he enumerated that human freedom is the essential part in the progress of science, law or politics as to develop these free discussions is required. He viewed that an opinion can become a mere dogma if it is left unchallenged.
Socrates as well as Plato believes that to understand truth or to reach near the truth only by freedom of speech and expression. They view that where a truth and relevant idea can emerge.
Franklyn S. Haiman believed that the right to speech and expression benefit more the listener than the speaker. Both listener and speaker endure as infringement of their otherworldly freedom on the off chance that they denied access to the thoughts of one another. This opportunity is fundamental for the quest for truth .
CONCEPTUAL BACKGROUND


The freedom of speech and expression according to my perception means that when one is set free to reflect his thoughts and ideas in the society or any part of the world in any form be it written form through books, or by sign, or by picture or by audio, or by video, etc. "Expression is a matter of liberty and right". The liberty of thought and right to know are the sources of expression. There could be many objectives behind its importance such as one may think that by doing so it gives him satisfaction, self-fulfilment where he feels his stand in this democratic setup. One must not feel supressed, subjugated or marginalized in any way as in case of dictator where people were not allowed to speak their contentions against the state or ruler and whoever did so were put behind bar. So freedom to express without any fear of punishment is also one of the fundamental objectives of the provision. For example, if the government is planning to formulate any policy and upon that when the public at large express their view and demand a rational amendment then this might be entertained by the Parliament if deemed necessary. It is very important to welcome new ideas in order to end up the ancient social stigma for having the tendency of acceptability it broadening our mind-set. So it helps us to discover the facts or truth of the case. It also talks about the balance in democratic setup between material and immaterial facts and deal with the impacts of the same in the society.
SOME JUDICIAL PRECEDENTS TO SUPPORT THE CONCEPTION


It`s a known fact that, the freedom does not guarantee absolute right, its attached with some reasonable restrictions under Art.19 (2) which are to be complied upon. So we shall deal with plethora of cases where the freedom has been duly granted but subject to certain limitations which is specified.
In Justice C. S. Karnan vs The Hon`ble Supreme Court of India , on 23rd August, 2017, he tried to put fake allegations and irrelevant arguments upon the SC Judge, however his actions were condemned and duly penalised for contempt of Court. So, we can get things clear that one must subsequently know the limits of freedom ascertained to him/her.
In Romesh Thapper v. State of Madras  the court stated that, "freedom of speech lay at the foundation of all democratic organisations for without free political discussion no public education, so essential for the proper functioning of the process of popular government, is possible".
In Prabhu Dutt vs Union of India , the Supreme Court has held that right to know news and information regarding administration of the government is included in the freedom of press. However, it`s not an absolute right they can obtain the information only after an individual voluntarily agrees to give such information. As in the instant case, the journalist was initially not allowed to take interview of the two death sentence convict, which was further allowed by the court as it was curtailment of their fundamental right.
In case of Union of India v. Association for Democratic Reforms  it was held that voters have the right to know about their candidates. A PIL was filed in which it was demanded that there must be some information provided about their education, assets, liabilities and criminal antecedents of the candidate who is contesting for the election. So the right was duly recognised under Art.19(1)(a).
In Secretary, Ministry of I & B v. Cricket Association of Bengal  , the court said that the government doesn`t have any monopoly over electronic media. Even the citizens can broadcast or telecast the relevant facts. However, the government can impose reasonable restrictions on the specified grounds declared under Art.19 (2).
In Tata Press Ltd. v. MTNL   , it was observed that the Commercial advertisements on TV are also part of Freedom of Speech and Expression. On has the liberty to show his contentions freely to the mass but those things shall be subject to reasonable restrictions under Art. 19 (2). As a result of which now the illogical or fake advertisements of drugs are not coming up as before.
In People`s Union for Civil Liberties v. Union of India  , a guideline was set for Telephone Tapping. Where time limit was set under the surveillance of a reviewing committee. There must not be infringement to right to privacy unless necessity arises. Therefore, it was said to be invasion of right to privacy.
In Indian Express Newspapers v. Union of India  , it was held that the expression "Freedom of Press" though it has not been used in Art. 19 but it is comprehended within Art. 19(1)(a).
In K. A. Abbas v. Union of India ,  the question which came before the Supreme Court was that whether prior censorship of films is included in Art.19(2). The validity of the fundamental right of freedom of speech and expression was challenged by the Petitioner. So the court justified the contentions by dividing the films into two categories i.e., 'U' rating films (Unrestricted Exhibition for all) and 'A' rating films (for adults only). As motion picture was able to stir up emotions more deeply from other forms of art so, restriction was necessary.
So, these are some of the cases where the rights of an individual is recognised and depending upon the circumstances of the case the restrictions are imposed.
GROUNDS OF RESTRCTIONS


Some of the specified grounds under Article 19(2) are as follows-:
(a) Security of the State.
(b) Friendly Relations with Foreign State.
(c) Public Order.
(d) Decency or Morality.
(e) Contempt of Court.
(f) Defamation.
(g) Incitement of an offence.
(h) Sovereignty and integrity of India.
These grounds are very much fundamental in nature and must be kept in mind while exercising the freedom of speech and expression as it must not hamper the others right. Even in Sec. 124 A (Sedition) and Sec.153(Wantonly giving provocation with intent to cause riot) of Indian Penal Code reasonable restrictions can be imposed based on the principle, however this is not explicitly mentioned in Art. 19(2) of the Constitution of India.
DIFFERENT PHASES OF FREEDOM OF SPEECH AND EXPRESSION


Indeed, with the passage of time the world has witnessed plethora of changes in the governmental setup that has accordingly brought changes as deemed necessary. We shall deal with some of the phases which has made remarkable changes in the pages of history and balances with the present time.
 Historical perspective
Freedom of speech and Expression was initiated in India during British colonial period. There was no absolute freedom as the liberties of Indian citizen were always remaining at stake. They dominated over the public at large and did all sorts of activities in order to maximise the profit and therefore enacted laws accordingly. In this context whoever revolted and tried to exercise his/her right to speak the truth was condemned and penalized. So, it`s quite unambiguous that no freedom of speech and expression was recognised explicitly in that era.
As in the case Channing Arnold v. Emperor , Privy Council held that only the journalist has only the ordinary freedom of the subject and apart from the statue law no freedom is ensured to no other and no higher.
Moreover, Shashi Tharoor in his book "An Era of Darkness" enumerates that during British colonial period no one is allowed to criticise governmental procedure as well as functional mechanism. British presumed that generally Indian were vulnerable, illiterate as well as uncivilised. Somehow the rational individual was also penalised for their rational thinking in the society. Britishers used to temper the freedom of every individual in our society. Britishers used to penalise all those who tried to revolt and criticised governmental procedure or mechanism. Several leaders were arrested in charge of sedition just only they tried to revolt against British imperialism.
 After independence
After independence constitution was enacted and in 1950 it came into force. Article 19(1)(a) of our constitution talks about freedom of speech and expression and enumerates this provision as fundamental right. Although absolute freedom is not ensured by our constitutional maker. However, things have gone more rational and people are getting literate and therefore understand their rights and therefore accordingly demand for more liberty in major sector of concern. So, the prudential of judgement has been appreciable.
In M.S.M Sharma V. Krishna Sinha , the Supreme Court observed that
"A non-citizen who is the owner or running a newspaper is not entitled to fundamental right to freedom of speech and expression and therefore they cannot claim regarding that".
In Brij Bhushan v. State of Delhi  it was held that the pre-censorship was imposed on newspaper. Several rights were curtailed at that time as writer or correspondence were prohibited from publishing their own thoughts on a burning topic .
These encroachments were minimising effect with an interval of time. Moreover, in several case law these encroachments were termed as invalid or their effect became irregular.
In Sakal Paper v. Union of India,  the court held that any governmental order or act does not regulate the number of pages and in accordance to which price is charge. If any of such act has been passed, then it was declared as invalid or irregular.
WHERE DO WE SEE THE EXTENT OF THE FREEDOM OF SPEECH AND EXPRESSION IN INDIAN PERSPECTIVE ?


We have been witnessing various changes since time immemorial and facets of thought has been entertained and condemned accordingly as per the changing circumstances and the legislative authority have been liberalised and broadened it cognitive faculty of mind and started to embarrass new ideas and philosophies. With the growth of literacy rate now people at large having recognised their rights and power accordingly demand if found any curtailment. As a result of which Right to Information Act, 2005  has been enacted. This law was passed by Parliament to enable citizens to exercise their fundamental right to information held by public authorities all over the country. The RTI Act aims to bring about transparency in the functioning of public authorities, contain corruption and hold Governments and their instrumentalities accountable to people. It creates a process for providing information to people. The RTI Act places a duty on officers to provide information to people both proactively and upon request.
SOME OF ITS IMPACTS 
We know that everything has some pros and cons and accordingly changes can be depicted. There is high preponderance of probability that such activists shall be suppressed, subjugated and marginalized. Shockingly, in World Press Freedom Index India has been ranked 142nd out of 180 countries in the annual Reporters Without Borders analysis . So we need to make a healthy change in our administrative setup to make a condition suitable as Norway   to fall into the green zone.  However, we need to tackle from many challenges, some of which are to be dealt below.
 Attacks On Journalists
In 2017, ahead of the World Press Freedom Day, a report by media watchdog Hoot says that within 16 months as many as 54 attacks on journalists were reported. It further reveals that most of the attacks were on investigative journalists who cover stories on illegal construction, sand mining and several scams and the attacks are usually committed by political parties, police or the common people. The report also states instances of media censorship that includes closure of printing press of two Kashmir newspapers after the killing of militant Burhan Wani and the ban on Kashmir Reader for 90 days.
 Sedition Law
In India, surprisingly one can be charged with sedition for liking a Facebook post, criticizing a Yoga Guru, cheering a rival cricket team, drawing cartoons, asking a provocative question in a University Exam, eating beef, or even for not standing up in a cinema when the national anthem is being played. So it's high time to get away with the draconian law which was started by the Britishers during the colonial period to suppress the person who revolted against their established set of procedures. And the same must not be carried forward and stop the people to express their views in whatever modes they with wish to. Therefore, the Supreme Court understands the matter and shall in coming days certainly decriminalize the charge of Sedition under Sec. 124A of Indian Penal Code.
 Blasphemy
Blasphemy is enumerated in Section 295A of the India People Code 1860 which states that -Whoever, with deliberate and malicious acts, intended to outraging religious feeling of any class of [citizens of India], [by words, either spoken or written, or by sign or by visible representation or otherwise], insult the religion or religious belief of that class, shall be punished with imprisonment of either description for a term which may extend to [three year], or with fine or with both. This law was introduced during the British colonial period in 1927 for the purpose that there was no as such law which penalise the person who insult religion or religious feeling of any class. On 8th May 2008 Blasphemy law was abolished in England and wales by passing an amendment to the Criminal Justice and Immigration Act 2008. Even a case was also filed against Ravi Shastri in local court that he was hurting a religious sentiment of Hindus by eating beef during South Africa test match in Johannesburg.
This law also affects Human Right Act (1998) which is compatible with the convention for the Protection of Human Right and Fundamental Freedom. So, I believe that this law should be abolished and the people get more freedom irrespective of religion as our country having secular  character.
 Unnatural offence
Before 2018 LGBTQ community in plethora of place doesn't get any recognition to them. Due to which they are unable to express their prudent thoughts with other. In National Legal Services Authority v. Union of India ,in that case court held that transgender would be classified as under 3rd sex. Later on in Navtej Singh Johar v. Union of India , court unanimously held that the anal sex and oral sex as natural sex and declared section 377 of the Indian Penal Code as Unconstitutional. As a result of which in plethora of cases they are now free to express their view in front of other, disclosing that they belong to LGBTQ community without any hesitation. So the liberal interpretation can be viewed.
CONCLUSION
Overall, things can be unambiguously dealt in context to the freedom of speech and expression which has been guaranteed in the Fundamental Rights of the Constitutional provisions under Art. 19(1) (a) accompanied with its reasonable restrictions under Art. 19 (2). It's somewhere good to figure out that the government is becoming more rational and has widened its cognitive faculty of mind as a result of which various laws have been passed in half decade. There are some landmark cases which have exemplified the trend of rationality, such as ensuring Right to Privacy, lifting ban on entry of women inside the Sabrimala Temple, decriminalization of unnatural offences under Sec. 377 of IPC, Adultery not being a crime anymore, live- streaming of Supreme Court Proceedings etc. which ensures transparency in the eye of people at large. So, with the help of the four organs of democratic setup things have become possible and one can now freely stand and query upon his doubts directly to the government as a matter of his right under Right to Information Act.
So, this paper is based upon the set principle of the freedom of speech and expression whose extent is escalating with the passage of time and blend of mind.