Read Time:
11 Minute, 56 Second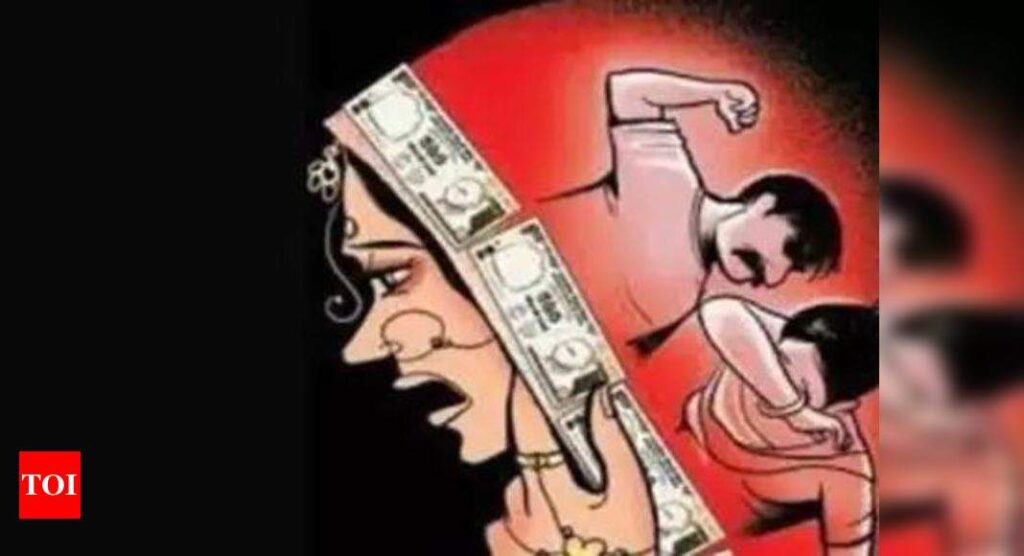 Abstract
This paper appraises the public health burden of mortality in India caused by the practice of dowry and examines the association of some demographic and socio-economic factors with dowry deaths and dowry-related suicides. The paper is based on the data available on the public domains of the National
Crime Records Bureau (NCRB), third National Family Health and Survey-2005-06, Planning Commission of India and Census of India 2001.
The occurrence of dowry deaths has a significant association with some demographic and socioeconomic variables. The data reveal that the status of women is undesirable, and the burden of mortality and related morbidity is enormous. There should be a national injury surveillance system and reliable estimates of dowry-related homicides. Highlighted initially by the women's movement as a symbol of devaluation of women and leading to major legal reform, analysis of the criminal justice system's response to dowry deaths revealed that they obscured other causes of gender-based inequalities and violence against women which are not peculiar to India alone.
Introduction
India's phenomenon of dowry deaths – of violence against young married women by their husbands and families related to extortion for girls – was vital in activating the women's movement in post-independence India in the1980s. Although the historical and traditional meaning of dowry has changed over the centuries, the evolution of the practice from possibly customary inheritance to extortion and violence is embedded in an increasingly consumerist society and capitalist economy.
According to section 304B Dowry Death, where the death of a woman is caused by any burns or bodily injury or occurs otherwise than under normal circumstances within seven years of her marriage and it is shown that soon before her death she was subjected to cruelty or harassment by her husband or any relative of her husband for, or in connection with, any demand for dowry, such death shall be called "Dowry Death", and such husband or relative shall be deemed to have caused her death. Dowry is defined under Section 2 of the Dowry Prohibition Act, 1961 `dowry' means any property or valuable security given or agreed to be given either directly or indirectly-  (a) by one party to a marriage to the other party to the marriage; or (b) by the parents of either party to a marriage or by any other person, to either party to the marriage or to any other person. Most dowry deaths occur when the young woman, unable to bear the harassment and torture, commits suicide. Most of these suicides are by hanging, poisoning or by fire. Sometimes the woman is killed by setting herself on fire; this is known as "bride burning" • India has by far the highest number of dowry-related deaths in the world according to Indian National Crime Record Bureau. In ancient times 'dowry ' was a means for parents to endow a daughter with material goods because she could not inherit property. Traditionally, dowry consisted of gifts, usually jewelry, given to the bride at the time of her marriage as financial security to her.
Aims and Objectives
This project is aimed at examining the possible interpretations of the term "soon before death," as provided under Section 304B of the Indian Penal code, pertaining to the offence of dowry death.
Laws related to prohibition of dowry
How to prevent dowry deaths
Historical Perspective
The first step taken by the legislatures against the practice of dowry was the Enactment of the Dowry Prohibition Act of 1961, which made the giving or taking of any dowry illegal. • It made dowry harassment and dowry death a non-bailable offense, doing much to dampen the giving and taking of dowry by imposing fines, criminal imprisonment, and even holding the husband and his family guilty for demanding or advertising for dowry. • This is the accepted definition of dowry in Indian law, with the IPC simply referring back to the same under Section 304B, enacted via the Dowry prohibition (amendment) Act of 1986.
Section 304B: Provision
Where the death of a woman is caused by any burns or bodily injury or occurs otherwise than under normal circumstances within seven years of her marriage and it is shown that soon before her death she was subjected to cruelty or harassment by her husband or any relative of her husband for, or in connection with, any demand for dowry, such death shall be called" dowry death", and such husband or relative shall be deemed to have caused her death. Explanation.- For the purposes of this sub-section," dowry" shall have the same meaning as in section 2 of the Dowry Prohibition Act, 1961 (28 of 1961 ).  Whoever commits dowry death shall be punished with imprisonment for a term which shall not be less than seven years but which may extend to imprisonment for life.
Laws related to prohibition of dowry:
Customs of dowry are no longer innocent and pious. It has now taken the form of the most culpable crimes. It is a social peril and it is difficult to restore it in its original form. Gandhi once said- The dowry system is a product of the caste system. The abolition of caste will lead to the abolition of dowry (Harijan, 23rd May 1936). Demanding dowry is akin to discrediting womanhood. Young men who demand dowry should be excommunicated. Parents of girls should cease to be dazzled by English degrees and should not hesitate to travel outside their little castes and provinces to secure true, gallant young men for their daughters (Young India, 21st June 1928). "
Dowry Prohibition Act, Indian law, enacted on May 1, 1961, intended to prevent the giving or receiving of a dowry. Under the Dowry Prohibition Act, dowry includes property, goods, or money given by either party to the marriage, by the parents of either party or by anyone else in connection with the marriage. The Dowry Prohibition Act applies to persons of all religions in India.
The original text of the Dowry Prohibition Act was widely judged to be ineffective in curbing the practice of dowry. Moreover, specific forms of violence against women continued to be linked to a failure to meet dowry demands. As a result, the legislation underwent subsequent amendments. In 1984, for example, it was changed to specify that presents given to a bride or a groom at the time of a wedding are allowed. The law required, however, that a list be maintained describing each gift, its value, the identity of the person giving it, and the person's relation to either party to the marriage. The act and relevant sections of the Indian Penal Code were further amended to protect female victims of dowry-related violence. Another layer of legal protection was provided in 2005 under the Protection of Women from Domestic Violence Act.
Amendments to the original Dowry Prohibition Act also established minimum and maximum punishments for giving and receiving dowry and created a penalty for demanding dowry or advertising offers of money or property in connection with a marriage. The Indian Penal Code was also modified in 1983 to establish specific crimes of dowry-related cruelty, dowry death, and abetment of suicide. These enactments punished violence against women by their husbands or their relatives when proof of dowry demands or dowry harassment could be shown.
Despite the revisions, however, the practice of dowry and dowry-related violence still occurs in varying degrees within several communities and socioeconomic groups of India.
How to prevent dowry deaths:
Important steps to eradicate dowry
Educate your daughters
Encourage them to have their own career
Teach them to be independent and responsible
Treat them (your daughter) equally without any discrimination
Do not encourage the practice of giving or taking dowry
Effect on the public of the Dowry Prohibition initiative
The parents don't lay enough emphasis on educating their daughters, as they feel that husbands will support them latter.
The Poorer sections of society who send their daughters out to work and earn some money, to help them save up for her dowry.
The regular middle and upper class backgrounds do send their daughters to school, but don't emphasize career options.
The very wealthy parents who happily support their daughters until they get married and their ability to fork out a high dowry.
Hence education and independence are a powerful and valuable gift that you can give your daughter. This will in turn help her to be financially sound and be a contributing member of the family, giving her respect and the right status in the family. So Providing your daughter with a solid education, and encouraging her to pursue a career of her choice is the best dowry any parent can ever give their daughter.
Who can be punished under Dowry Prohibition Act 1961
Any person who gives or takes dowry
(minimum punishment of five years);
Any person who helps someone to give or take dowry;
Anyone who in any way demands dowry;
Anyone who advertises and offers to give money or property in return for marrying his son, daughter or relative;
Anyone who publishes these advertisements;
Anyone who does not hand over the dowry to the bride within the specified time.
What is the main reason of dowry?
The expectation that a dowry will be given at the time of the bride and groom's engagement is to compensate for the groom's education, career, and wealth. The bride's education, career, and wealth are completely disregarded, as she is not given equal societal status to a man.
India has an alarming trend that sees 20 women die every day as a result of harassment over a dowry – either murdered or compelled to commit suicide. 
Dowry deaths survey
National Crime Bureau of India, as recently as 2017, recorded nearly 7000 dowry linked deaths a year. Dowry deaths rose from about 19 per day in 2001 to 21 per day in 2016. And we are yet talking about reported dowry deaths here. There are many that go unreported. Taking or giving dowry has been criminalized by law as early as 1961. But,  it is still a significant part of Indian marriage and is openly defying laws and failing women empowerment
In 2017, there were nearly 7,000 deaths linked with a dowry, according to the National Crime Records Bureau. In 2020, 17 days into the new year, 16 dowry cases were reported. Many go unreported. Following these incidents, Kerala Chief Minister
Pinarayi Vijayan launched a 24-hour helpline for dowry harassment, domestic violence, and other gender-related crimes. In the past five years, 66 dowry deaths have been reported, and 15,143 cases of harassment over dowry have been registered in Kerala.
Dowry has been prohibited in the country since the Dowry Prohibition Act of 1961 was enacted. To date, there are 5,208 registered crimes against women in Kerala in the past five years.
Dowry death of Vismaya
Vismaya, a 24-year-old student of Bachelor of Ayurvedic Medicine and Surgery, was found dead on June 21. It was found that she was harassed for dowry. Kiran was arrested over suspected involvement in her death.
According to the minister, Kiran's conduct was in violation of Kerala Civil Services (Classification, Control & Appeal) Rules 1960 under section 11 (1) (viii). The government employees have a conduct rule which explicitly bars accepting and giving dowry (93 ©) which is considered a social evil. Kiran was suspended on June 22 and a memo was issued. A department-level inquiry headed by a senior officer in
The transport department heard the accused and found that the charges were proved beyond doubt based on eyewitness testimony, said the minister. The minister said he will visit the parents of Vismaya at their house at Nilamel in Kollam.
Harassment by a government employee, the transport department has decided to dismiss S Kiran Kumar, an accused in the death of his wife SV Vismaya in Kollam, from service. The 30-year-old was working as an assistant motor vehicle inspector in the regional transport office in Kollam. Kiran will also be ineligible for government jobs in the future.
The transport minister Antony Raju said the decision was taken after the crime was proved beyond doubt in an internal inquiry. "It is the first time in the state's history that a department is terminating the service of an employee accused of death due to dowry harassment. It should serve as a deterrent punishment to prevent the repetition of such cases," he said.
There are many more such stressful cases happen in 2021 in Kerala. Suchitra S.was found dead in her in-law's place she was also the victim of dowry harassment. We live in a modern world where we stand for equality but when it comes to marriage nothing matters. The issues that remain are of mobility and decision-making, where women are still not given the space to make autonomous decisions with regard to the public domain.
Why dowry give and take is still occurring
Dowry is still prevalent because society values men more. And that worth is determined at the time of marriage when dowry is given. The dowry system is widely prevalent in rural as well as urban India, although the law makes it illegal to do it. It continues nevertheless. Marriage is no longer about two individuals, but about the monetary gain that a family receives at the time of the marriage of their son.
Though banned for over 60 years, the dowry system is still widespread. Until families start making changes in their own homes, nothing will change. Children observe these customs and naturally continue them when they get older.
Conclusion
Despite protest by women's organizations, serious activism, legal amendments, special police cells for women, media support, and heightened awareness of dowry being a crime, the practice continues unabated on a massive scale. Despite every stigma, dowry continues to be the signature of marriage. Dowry is a complicated phenomenon in Indian society and it cannot be eradicated by simple legislative measures. It is an accepted fact dowry is not an easy problem to be eliminated. However, such a social menace can be combated with effective strategic measures that would protect the dowry of the Indian bride and would allow such dowry to be treated as her exclusive property.