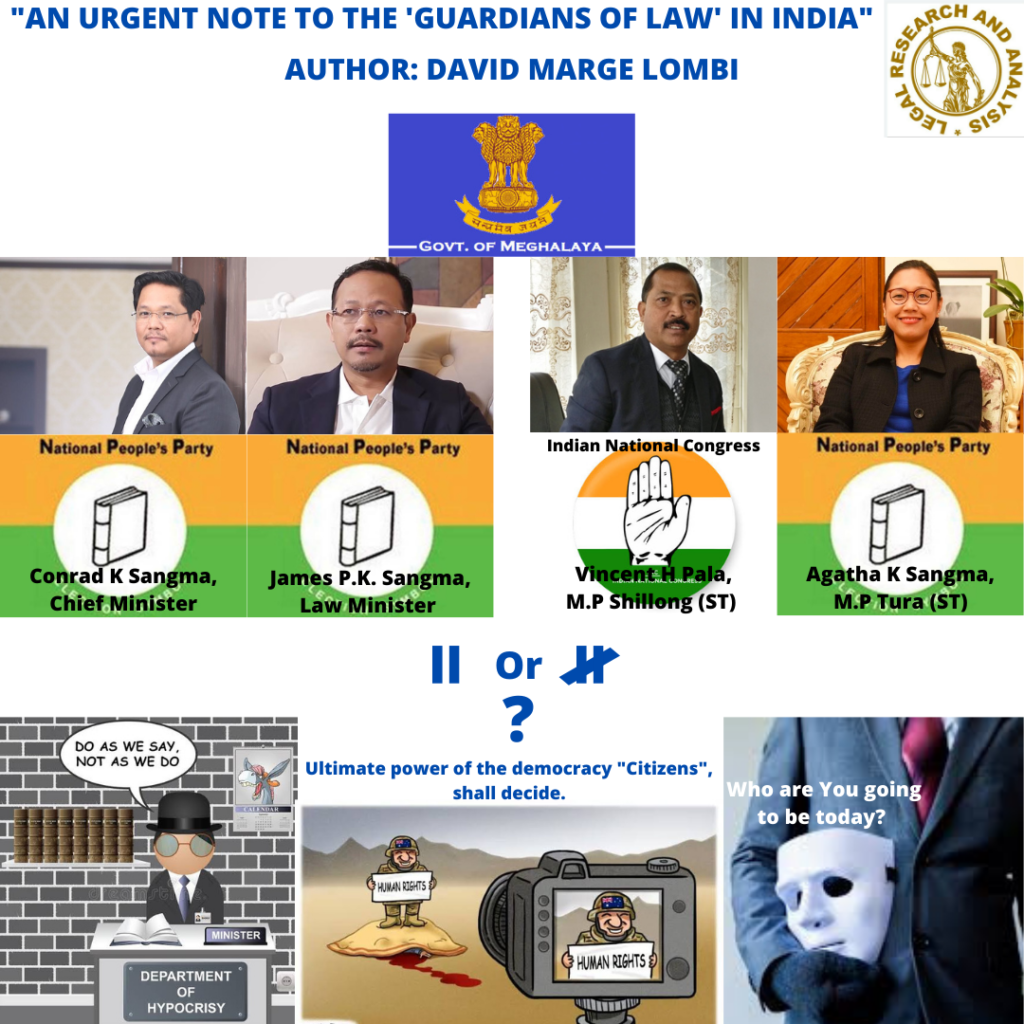 "If you do not take an interest in the affairs of your government, then you are doomed to live under the rule of fools". -Plato
Hypocrisy is extreme on the part of the Meghalaya Government when it comes to adapting the "Rule of Law" for governing everyday life. I blow the whistle not out of hatred towards this State, but purely because when I say or hear "Meghalaya" anywhere anytime,  I feel it no less than my home-state "Arunachal Pradesh". Hence, I take it on myself to contest against this malfeasance for the rescue of both natives & every citizen who comes & goes here. So, there is an urgent note to the guardians of the law in India.
Discussed here is just one example from an ordinary walk of life out of many happening in reality within the State since time immemorial. The riders & the pillion riders of two-wheelers (private) if caught not wearing a helmet or not carrying license or vehicle's documents, strictly both of them are charged with a hefty fine by the police officials.[1] [2] [3] The drivers of four-wheelers (private) too if caught violating any of the traffic rules like mentioned above & like even using the signal lights in a wrong manner are charged with a hefty fine.[4]
Surprisingly at the same time, drivers & handymen of a government bus run within the city for public service are often found indulging in alcohol & smoking while on duty, when already the line "NO SMOKING" is displayed everywhere on the vehicle.[5] Further to utmost wonder, in this same public service bus run by the Meghalaya State government, we often get to witness child labor. Boys of age hardly 12 carry out the job of a handyman sometimes. Also, the commercial-local taxis are allowed to run overloaded with 7 persons, when already the line "TOTAL CAPACITY 5 IN ALL" is displayed at the front dashboard.
Surprisingly, till date, neither the Police Administration nor the Meghalaya State Transport Department are seen taking cognizance of these menaces. Here we get to learn that, within this State exist two fractions- "One part can absolutely do away with any sort of liabilities without having to pay any prices, and the other part can be made to entangle mercilessly with their mere issues leaving no space for escape.
Now it confirms to us the truth that, amidst these all, if anybody is being deprived of his rights & liberties within this State of Meghalaya, then it is none but the ordinary citizens who abide by the law of the land, India. Today Democracy in Meghalaya possesses greater threat by such "Paradoxical Governance" than the threat by criminals & terrorists.
When "authorities of law" itself begets "anarchy", then who shall be prosecuted and who shall prosecute?
---
[1] https://shillongtoday.com/now-helmet-mandatory-for-pillion-two-wheeler-riders-also-in-ekh/ Visited on 2021-03-07
[2] https://www.google.com/amp/s/www.thenortheasttoday.com/current-affairs/states/meghalaya/meghalaya-rs-54-000-fine-imposed-on-first-day-of-helmet-rule-in-shillong Visited on 2021-03-07
[3] http://shillongpolice.gov.in/traffic_rules.html Visited on 2021-03-07
[4] https://www.google.com/amp/s/www.autocarindia.com/car-news-amp/shillong-traffic-police-to-fine-drivers-for-misusing-hazard-warning-lights-418997 Visited on 2021-03-07
[5] Called for strict rule of law by the State government authorities, but are unable to defeat contradictory action on the part of certain fractions. https://www.facebook.com/story.php?story_fbid=4169876023028076&id=194672907215094&scmts=scwspsdd Visited on 2021-03-07