Read Time:
11 Minute, 24 Second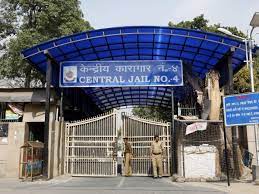 Research Problem:
1.) The Conditions of prisoners in Indian Jails.
2.) Similar conditions for criminal prisoners and under-trial prisoners.
Research Questions:
1.) Despite the laws for Prisons in India (The Prisons Act, 1894), why the conditions in the Indian Jails is pathetic and unhealthy?
2.) How the human rights of prisoners are being violated in Indian Jails? Why the prisoners are deprived of Rights provided by the Constitution of India to them?
2) Why there is a similar treatment for the under-trial prisoners (not yet proven guilty) and the Criminal Prisoners? Why the under-trial prisoners are treated like criminals?
Research Objectives:
1) To assess the conditions in the prevailing system of the prisons and to understand the need for changes in it;
3) To analyze the rights available to prisoners in India and their implementation;
4) To understand the need for a reformative approach rather than an authoritative approach in dealing with Prisoners while in Jail;
Methodology
The methodology adopted in this research is a doctrinal method.
Introduction
Prisoners in Indian Jails
Who is a Prisoner?
As per Merriam Webster Dictionary, a Prisoner is a person deprived of liberty and kept under involuntary restraint, confinement, or custody; especially: one on trial or in prison.
In this research, the researcher intends to emphasize the conditions of Prisoners in Indian Jails and how and why more compassion is required in dealing with them.
In India, The knowledge about Prisoners has been a neglected subject for an ordinary man though internationally it has been taken up as an important concern as it involves Human beings and various principles have been laid down by the United Nations to be followed by the different states while dealing with prisoners.
The Prison Act,1984
This Act has been enacted in 1984. Section 3 of the Act defines Prison as any jail or place used permanently or temporarily under general or special orders of the state government for the detention of prisoners and includes all lands and buildings but does not include any place for the confinement of prisoners who are in police custody.
Prisons are a State subject under the State List of the Seventh Schedule to the Constitution of India.
Its management and administration are exclusively in the domain of the State Governments.
It is governed by the Prisons Act, 1894 and the Prison Manuals of the respective States.
Various provisions relating to maintenance of prisoners have been laid down under this Act like accommodation of prisoners, provision of food clothing, and bedding to the prisoners, separation of Prisoners, employment of Prisoners, etc. which becomes the responsibility of the respective states in the administration of Jails.
But the question here is whether what is laid down in the Act and guaranteed by the Constitution is made available to the prisoners in reality.
Protection of rights of Prisoners
[1]The Judiciary has played a vital role in recent times for the protection of constitutional rights available to the prisoners in Indian jails. In various Judgments, the Supreme Court of India by interpreting Article 21 of the Constitution in a wide and comprehensive manner has developed various human rights jurisprudence for the preservation and protection of prisoners' rights. The Supreme Court and the High Courts have shown serious concern for the deteriorating conditions of prisoners in jails and called for urgent attention to this issue in many cases.
The Judiciary has been a savior for the prisoners against the violation of their rights where the legislative and executive bodies have failed to address these issues. The Judiciary
The Constitution of India guarantees fundamental rights to prisoners under Articles 14, 19, and 21 subject to certain limitations. Various rights available to the prisoners though not specifically provided in the Constitution are fundamental rights under Article 21. They can be enumerated as the right to a speedy trial, right to privacy, right to live with dignity, right to life and liberty, right and bar fetters, right to education, right to health and medical treatment, right against inhuman treatment, against solitary confinement, as have been held in different judgments by the judiciary. Right to legal aid has been provided in Article 39A as a Directive Principle of State policy.
Conditions in Indian Jails
The Conditions in Indian Jails is pathetic and unhealthy for the survival of Human being. The food provided to the prisoners is non-eatable. The prisoners are to be served nutritious and satvik food, which is actually not the case. Poor physical hygiene and lack of sanitation in Jails is another matter of concern. The basic amenities required for human survival like clean drinking water facility is not provided, leading to water-borne diseases in prisoners, violating the right to health and medical treatment. The toilets are half-open in some of the jails with walls only up to the lower half of the body, thus, violating the right to privacy. The jails are so overcrowded with as many as around 200-250 prisoners in one barricade giving minimum space to the prisoners, for basic human needs like sleeping. No bedding is provided to them and they have to sleep on the bare floor. These are a few of the conditions which the prisoners have to deal with every day of their prison life. Some of the convicts are subjected to third-degree torture violating their rights against inhuman torture. Then, how is it possible for human beings in such conditions to have a healthy body and a healthy mind? There are a few other situations which the prisoners have to face like when they enter the jails, they have to face inhuman treatment from the other inmates, introduction to drugs, bullying, they are compelled to do unnatural activities, violating their right to dignity. They are forced to involve in such activities, so as to fit themselves, in that community. These are some of the atrocities which the new prisoners have to face from the inmates when they enter jail, or otherwise, they have to live in fear for life. Jail authorities have knowledge about such activities but they ignore them either for monetary benefit or out of sheer fear. This is the actual scenario of the Indian Jails. Not only, are the living conditions worst, but even the environment in jails is also dangerous, for the survival of humans. These conditions not only affect the prisoners physically but also mentally leading to severe psychological disorders in them.
When they are released from Jails, they carry with them the vices they learn in jail. Rather than becoming a good human, they indulge in criminal activities, thus causing more harm to society. So, basically, they cannot become good citizens to be fit in the society, due to the atrocities faced by them and psychological and physical trauma they go through while in jails.
As well said by Author Osho Rajneesh "And you send people to jails. When they enter, they are amateur; when they come out, they have graduated from the university. All that your laws and your jails teach the criminals is one thing: that committing a crime is not a crime, but being caught is a crime."
To overcome this, a more reformative approach than the authoritative approach is needed, while handling the prisoners.
Undertrial Prisoners
There are three kinds of prisoners in Jails:
1) Criminal Prisoners who are convicts;
2) Undertrial prisoners are ones who have been committed to judicial custody on account of pending investigation or trial by competent authority;
3) Detenues are the ones who have been detained on suspicion as a preventive measure.
The major problem in India is Under-trial prisoners as they constitute around 70% population of Indian prisoners resulting in overcrowding of Jails. These Under-trial prisoners who are not yet proven guilty are kept in judicial custody. Not all of them are criminals but they are treated like criminals and are given similar treatment as the actual criminals. Though they are kept in separate barricades from the criminal prisoners, they have to bear the same atrocities and live in similar conditions as the criminal prisoners. Most of these under-trial prisoners belong to the economically backward class. Despite the availability of bail options, they are not able to arrange the bail for themselves and spend a very long period of time in Jail, till their cases are decided. They are not even able to get proper legal aid.
The most adversely affected under-trial prisoners are the ones who are acquitted when the case is decided in their favor. They are the ones who are punished for the crimes they have not committed. They must be compensated for the atrocities suffered by them.
Steps were taken by Central Government
[2]Various advisories are issued by the Ministry of Home Affairs, Government of India along with the Prison Model Manual to the State Government from time to time to resolve the issues pertaining to administration and maintenance of jails. For example issues related to facilities to children for women prisoners, provision for education and vocational courses to the inmates, tackling with serious problems like smuggling of drugs into prisons, and so on. But in reality, these reforms are not implemented effectively due to a lack of interest in the improvisation of jails and the life of prisoners in jails.
Various reform committees have been formed for the purpose to come out with solutions for this issue and various NGOs are working for the improvisation of prisoners' conditions but to no avail.
Reformative Approach
There are various ways in which reforms can be introduced in Indian jails. [3]One good example of this is the Sanganer open jail in Rajasthan, wherein, the convicts are treated as humans. It is an open camp where well-behaved convicts who have served more than 1/3rd of their life sentence, are allowed to stay with their families and live a normal life except they do not have freedom of movement beyond certain limits. They are allowed to commute for work purposes within the limits. The prisoners are free to choose their livelihood.
The idea behind this kind of reformation is to give them the chance to adjust back after being locked up for several years in jails.
This kind of open jail has bought about positive changes in the convicts staying in such jails. Despite this positive outcome, there are very few open jails in India. There is a need to have more such open jails.
Another way of reformation can be through psychological procedures which is the most needed medical treatment of the prisoners. Understanding the mental condition of the prisoner while in jail is of utmost importance and dealing with their psychological issues before their release is as vital. So the psychoanalysis approach for their reformation is also needed so they can survive in society after they are released.
The petty offenders must be kept away from more dangerous convicts so they are not influenced by such hardened convicts. This can be achieved by separating their accommodation by the provision of different jails for them. Again, this can be achieved only if there is a speedy trial of pending cases resulting in the release of non-convicts, thus reducing the number of prisoners in jails and creating more space for the remaining prisoners.
More Correctional facilities must be established for reforming the convicts. Educational and Vocational courses must be introduced effectively in Jails as many of these prisoners are illiterate. Learning new things will help them develop an interest in them and it will affect them positively.
Legal Aid must be made known to the under-trials as many of them are not aware of them so that they can have access to it.
Conclusion
It is high time for the enactment of Specific and specialized legislation for defining and categorizing prisons and prisoners in India. Till now, the prisoners and prisons in India are governed by The Prisons Act, 1894 which is exhaustive in nature. More elaborate provisions as per the requirements, of current times, need to be made for the administration and maintenance of prisons and prisoners in India. The Prisons must be made to meet the international standards laid down by the UN and the human rights of Prisoners must be recognized and welcomed.
Limitation on the term of jail for under-trials must be provided. They must be kept separate from criminal prisoners. Even among under-trials, categorization must be made as per the severity of offense though not yet proven.
The recognition of Prisoners as human beings is the need of the hour. It is a serious issue, if not dealt with properly, it will lead to the making of more criminals and the commission of more crimes in the society, making it an unsafe place to live.
"Darkness cannot drive darkness; Light can do that. Hate cannot drive out hate; Love can do that."
– Martin Luther King (1963)
So, show compassion to prisoners and they will change for good.
Bibliography:
1) http://www.legalservicesindia.com/article/1616/Role-of-Judiciary-in-Protecting-the-Rights-of-Prisoners.html
2) https://www.mha.gov.in/Division_of_MHA/Women_Safety_Division/prison-reforms
3) https://www.hindustantimes.com/india/a-tale-of-two-jails/story-ek8CfDvIswqM1m5bQVQbjL.html
4) http://www.grkarelawlibrary.yolasite.com/resources/SYLLM-CRM-II-Adish.pdf
---
[1] http://www.legalservicesindia.com/article/1616/Role-of-Judiciary-in-Protecting-the-Rights-of-Prisoners.html
[2] https://www.mha.gov.in/Division_of_MHA/Women_Safety_Division/prison-reforms
[3] https://www.hindustantimes.com/india/a-tale-of-two-jails/story-ek8CfDvIswqM1m5bQVQbjL.html