Read Time:
25 Minute, 56 Second
Two Child Policy- to control population
"The human overpopulation issue is the topic I see as the most vital to solve if our children and grandchildren are to have a good quality of life."
~ Alexandra Paul
The increasing human population is putting large amounts of pressure on our natural resources and is contributing to climate change, leading many people to call for increased Population control policy 2021 Two Child Policy —especially for poorer communities. While the world's resources are limited, increasing population figures are adding pressure on both our available resources and the rate of climate change. The human population has doubled since 1960 and currently stands at 7.7 billion. The United Nations estimates that it will continue to 9.8 billion by 2050. It is no secret that humans have too large an impact on the sustainability of our planet. According to the World Wide Fund for Nature (WWF), we currently need 1.6 Earth to produce all the renewable resources we need. We are using far too many resources, and every person living on the planet is adding to that impact. Concerns over climate change have led to ever-increasing calls for population control to mitigate our impact on the planet.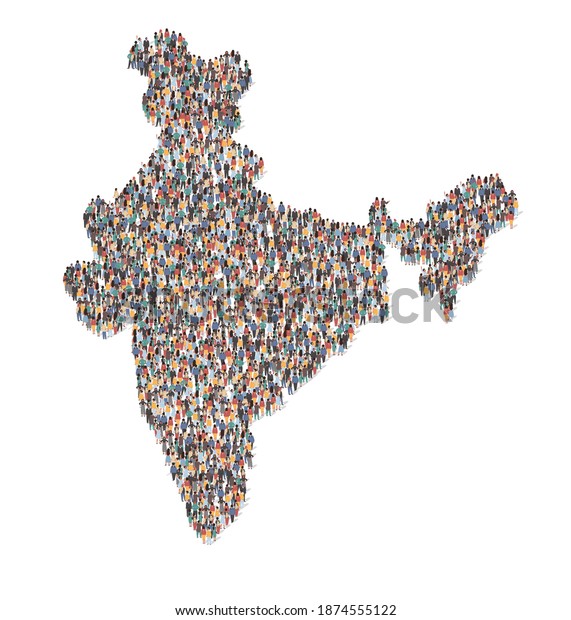 We all are aware of how big the problem is overpopulation in our country. Resources get decline due to overpopulation, environmental destruction gets aggravated & problems like unemployment increase.
India with a population of about 950 million (in 1997) accounts for 16 percent of the world population, as compared to about 15 percent a dec­ade and a half ago. It is the second-largest country in the world, next only to China with a population of about 1200 million (in 1995). Five coun­tries (China with 21.7%, India with 16.0%, the US with 5%, Brazil with 3.5%, and Russia with 3%) account for nearly half (49.2%) of the world population.
The scale at which India's population is increasing is simply mind-boggling. While the total population of our country in 1941 was 31.86 crores it increased to 36.10 crores in 1951, 43.92 crores in 1961, 54.81 crores in 1971, 68.33 crores in 1981, and 84.43 crores in 1991 (India, 1992:9). It is expected to reach 103 crores by 2,001, 126 crores by 2016, and 140 crores by 2,030 according to estimates of the Registrar General as well as according to a World Bank study.
While between 1921 and 1951 the percentage of increase was 43.65, between 1961 and 1991 it was 92.2. The addition of 16 crores people in the 1981-91 decade means addition of little less than 2 crores persons every year, or about 17 lakh persons every month, or about 74 thousand persons every day, or about 52 persons every minute. In comparison to this, the increase in the number of persons per minute was 21 in the 1961-71 decade, 15 in the 1951-61 decade, and 8 in the 1941-51 decade. The essence of the date is that whereas the rate of growth of population during the middle decades of the present century was moderate, now it is faster as well as alarming.
The formation of a national Indian planning commission for population control is viewed as necessary for motivating all people to reduce population size. More statistics are needed in India on environmental measures and population. Man is part of nature, but not a master of nature. However, were it to meet UN Sustainable Goal Development targets, the peak would be earlier and see a population decline to 929 million.
Reasons for High Birth Rate in India:
1. Early Marriages- In India, marriage is a social compulsion. It is not only universal but takes place at an early age. About 80 percent of girls are married during the most fertile period of 15 to 20 yrs. of age. But in developed countries like the U.K., the percentage of unmarried girls aged 30 and aged 41 in the USA is quite high.
2. Preference to Male Child- Male child is a religious necessity among the Hindus. Son is eligible to perform certain religious rites e.g. last rites. Daughters cannot perform these rites. So a couple without a son is looked down upon in society. So people take chances to be blessed with a son. This increases the birth rate.
3. Joint Family System- India is mainly an agricultural country. The social structure is dominated by the joint family system. An additional child born causes no immediate hardships to the parents. This factor is also responsible for the high birth rate.
4. Poverty- Another factor in the rising birth rate is the poverty of the people. Poor people have to spend little on the upbringing of their children. Besides, the children supplement the family income by engaging themselves in some odd jobs at an early age.
5. High Infant Mortality- The infant mortality rate is very high in India due to hunger, malnutrition, and poor living conditions. So the fear of the early death of their infants encourages the parents to have more children.
6. Inadequate Recreational Facilities- Due to poverty, people have very few entertainment facilities. Sex is the only entertainment for most people. So birth rate increases.
7. Effect of Religion- In India, religion plays a major role in large size families. A son is a must to provide continuity to a family legacy. Even after so many girls in the family, the desire for one son prompts parents to continue with their child-producing activity.[1]
Other reasons for high population:
The rate of population growth depends on the difference between the birth rate and the death rate. Thus, the population growth experienced in India can largely be explained by variations in birth and death rates.
In 1900, India's population was roughly 238 million. In 1950-51, India's population was 361 million. According to 2001 census, it was 1,027 million. The population started soaring in the 1950s and saw the highest decadal growth of 24.8 % in the 1960s and 24.7 % in the 1970s. Since the 1980s, decadal growth has been falling, and the 1990s saw a significant fall.
India's total fertility rate- a measure of the number of children born to a woman during her lifetime- was down from 5.8 in 1951 to 2.2 in 2011. The fertility rate due to the population policies and other measures has been falling but even then it is much higher compared to other countries.
This means that the birth rate has been falling, but with rapid progress in medical science, the death rate has fallen which has ensured that the population grows.[1]
Other reasons that have contributed to high birth rates are: Lack of awareness, Poverty and illiteracy, and Illegal Migration.
Educated women have fewer births, average births per woman declined since 2001
The average number of births per woman in India is 3.3, a decline of 13% from 3.8 in 2001, based on the total births given by women in the 45-49 years age group (which marks the end of their child-bearing age), according to World Health Organization. The Central Intelligence Agency estimates India's average fertility per woman at 2.48 which is the highest among BRICS nations and just better than Pakistan in the sub-continent. Nepal, Bhutan, Sri Lanka, and Bangladesh have lower fertility rates.
The average births decline with an increase in education levels, according to Census data. The average number of births for women who are graduates and above is 1.9, against 3.8 for illiterate women.
The spread of female education is a likely cause for falling fertility among women, according to this report by The Economist. Female literacy in India increased from 53.7% in 2001 to 64.6% in 2011, according to Census data.
As many as 1,423 females in rural areas have never attended any educational institution for every 1,000 males who have not done so, and only 577 females attend college for every 1,000 males in rural areas, IndiaSpend reported earlier.[1]
The average literacy rate of the female population, those between 15 and 49 years, in India has been showing an upward trend for the third consecutive year, according to the data provided in the Sample Registration System (SRS) survey for the year 2018.
The latest data with the data available for the previous two years and found that the percentage of literate females as a proportion of total females between 15 and 49 years of age has been rising constantly – from 84.8% in 2016 to 85.3% in 2017 to 87% in 2018.
Levels of high illiteracy also correspond to the fertility rates in states. Taken as a whole, the fertility rate of females in India among those who are illiterate touches a high of 3, among those who are literate but without any formal education the fertility rate is 2.5, among those who have studied up to middle school it is 2.5, for those who have finished their schools it is 1.8, and among those who have graduated it is 1.7.
Among the literate females, those who have completed primary education, which in 2018 stood at 13.9%—the same as that registered in 2017—was an improvement over the figure of 13.4% registered in 2016. Also, in 2018, 12.5% of females were found to have finished school, an improvement over 12% which was registered under the same subhead for 2017.
Kerala, which leads the country in terms of literacy rate, registered 99.2% literacy in 2016, 99.3 in 2017, and 99.5 in 2018. Himachal Pradesh comes second with 98.4% literacy in 2016, 98.8 in 2017, and 98.8 in 2018.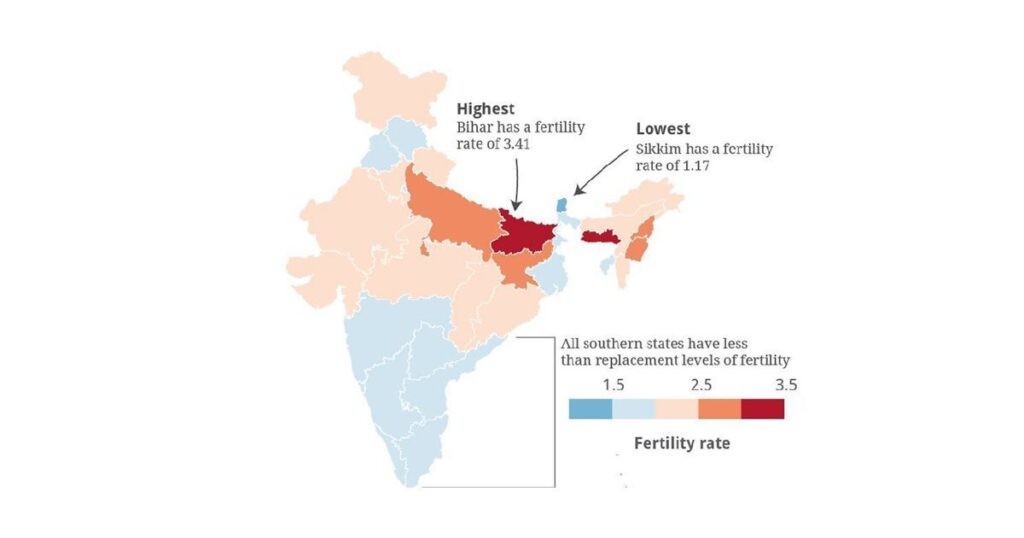 Tamil Nadu came third with 95.8 in 2016, 96.2 in 2017, and 96.8 in 2018. The same goes for the states that have come out at the bottom of this list. Bihar has reduced its illiteracy from 28.3% in 2016, to 26.3% in 2017, to 23.5% in 2018. Jharkhand from 25% in 2016, to 24.9% in 2017, to 22.6% in 2018. And Rajasthan from 23.5% in 2016, to 22.5% in 2017, to 20% in 2018.
In states like Bihar, the fertility rate among its literate population is as high as 3, Uttar Pradesh follows close behind with a fertility rate of 2.9 among its literate female population. Delhi at 1.5 has the lowest fertility rate among its female population among all the UTs and states surveyed in the SRS[1].
Child and Infant Mortality
In a democracy, child mortality refers to the death of children under the age of 5 while infant mortality refers to the death of those under the age of 1. The infant mortality rate is the probability of a child born in a specific year or period dying before reaching the age of one if subject to age-specific mortality rates of that period. The infant mortality rate is strictly speaking not a rate (i.e. the number of deaths divided by the number of population at risk during a certain period) but a probability of death derived from a life table and expressed as a rate per 1000 live births.
The relationship between the infant and child mortality environment and human fertility has been of considerable interest to social scientists primarily for two reasons: (1) The fertility and mortality processes are the driving forces governing population change, so an understanding of the way they are linked is crucial for the design of policies that attempt to influence the course of population change. (2) The "demographic transition," the change from a high fertility-high infant and child mortality environment to a low fertility-low mortality environment, which has occurred in all developed countries, has been conjectured to result from the fertility response to the improved survival chances of offspring. Fundamental to either of these motivations is an understanding of the micro-foundations of fertility behavior in environments where there is significant infant and child mortality risk[1].
Every case of a family losing a child is a tragedy, regardless of how common or uncommon the cause. Spectacular events that grab global attention in the media are not more important than everyday human suffering. But unfortunately, this is not how our minds and our media work. What we focus our attention on are either the spectacular tragedies (natural disasters, terrorist attacks, crime) or new problems (fake news, risks from automation). The first category keeps the breaking news cycle running, the second category keeps the op-ed writers employed. But in many aspects, the biggest threats to our lives are the same threats that all the generations that came before us have faced. And this seems unfortunate to be true for what kills children around the world; it's neither new nor spectacular.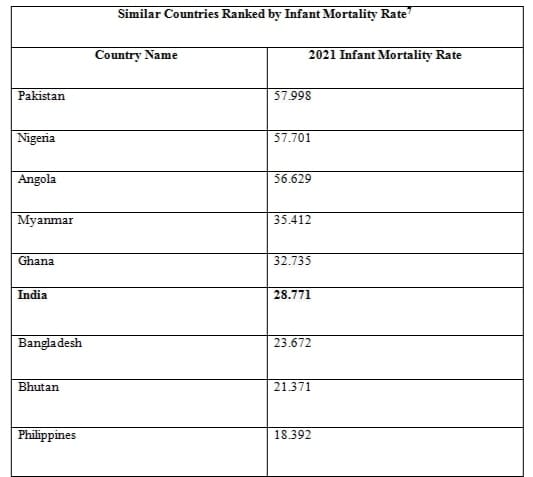 The SDG goal is much more ambitious than what the richest regions in the world have achieved when they had the same level of child health.
Religion, region, and population growth
India is home to 1.4 billion people – almost one-sixth of the world's population – who belong to a variety of ethnicities and religions. While 94% of the world's Hindus live in India, there also are substantial populations of Muslims, Christians, Sikhs, Buddhists, Jains, and adherents of folk religions.
Fears of a rising Muslim population numerically overwhelming India's Hindu majority seem alarmist and overdone any way you look at it. Indeed, if the growth rates trends seen from the latest census data sustain, Muslims may account for a lower proportion of India's population than at their peak in 2011.
The 2011 census puts the Muslim population at 17.22 crore or 14.22% of India's total population. Some see the Hindu majority falling below the 80% mark as a cause for concern. But this ignores the fact that growth in the Muslim population is falling faster than the Hindu population growth rate.
A scenario analysis using different growth rates shows that Indian Muslims becoming the largest community is quite far-fetched. Assume that the growth rate pattern from 2001-2011, which has been used to suggest that Hindus are somehow falling behind, will persist. Population growth is calculated using an exponential growth rate. The Hindu growth rate is 1.55% annually, while Muslims' is 2.2%. The figures for the previous decade (1991-2001) are an annual 1.8% and 2.6%, respectively. If this decline in growth rates persists (both continue to grow at slower rates), both Hindu and Muslim populations will hit a peak in 2061.
Then, Muslims will number 29.24 crores and Hindus 140.25 crores. India's overall population at the time would be 173.03 crores with the Muslim proportion at 16.89%. Hindus will account for 81.06% at that time.
The second scenario we have looked at is where the growth rate of the Hindu population doesn't fall as it did during 2001-11. Instead, growth picks up at the best place it has ever seen (from 2.12 to 2.56% during 1971-81). And the change in Muslim growth rate is the worst-ever as it has been in 2011. Assuming all else stays constant, Hindus will be 219.95 crores and growing, when the Muslim population stabilizes in 2061. Then, 87.03% of India's population would be Hindu.
We also looked at a third case where the reverse happens. Consider the Hindu growth rate slowing at the worst rate ever, which was in the decade till 2011, and Muslims growth rate increasing in the same way it did for the decade ending in 1991 (from 2.68 to 2.85%, or 17 basis points). One basis point is one-hundredth of a percentage point. The Hindu population will stabilize in 2071 at 139.43 crores. But Muslims will only account for 91.68 crores of the population or 39.21%.
It will be by 2091 that Muslims will outnumber Hindus in India if the growth rate increases by 17 basis point every decade. But for that pattern to persist, the Muslim population will have to grow to 182.91 crores and the Muslim exponential growth rate at that point comes to be over 3.54%.
"That will never happen. The highest exponential growth rates for population do not generally exceed 2%. All communities see a reduction in population growth as the level of education and development increase," said S.K. Singh, professor at the Department of Mathematical Demography and Statistics at the International Institute for Population Studies.
To put it in context, the global population growth rate peaked out at 2.19% in 1962-63, according to Geoffrey Gilbert's World Population: A Reference Handbook. Moreover, India's population would be 311.41 crores by 2091 in the third scenario.
The United Nations has projected India's population to grow to 170.53 crores by 2050, and then decline to 165.97 by 2100. While that is not gospel truth, it also suggests that neither the scenario of the Hindu population growing to 219.95 crores nor the Muslim population growing to 182.91 crores is likely to come true.
The UN's 2050 figure, however, is close to the base-case scenario which estimates a total population of 173.03 crores by 2061. Thus, the scenario where Hindus outnumber Muslims 4:1 seems most likely of the three. The assumption for that scenario is that growth rates from 2011 will decline in the same way that they did between 2001 and 2011. Why? Simply because literacy and economic well-being are improving, although at a debatable pace.
"The pace of convergence depends on several socio-economic, political and program factors, and the process will be hastened with the spread of mass education especially amongst women and girls and a sustained reduction in poverty across all population groups," says the Sachar Committee report released in 2006.[1]
"At the early stages of a fertility transition, when deliberate control of fertility is still considered deviant, social influence may constrain behavior that demographers, as objective observers assume, is in the actors' best interest," the authors wrote. "Thus, where individuals estimate social disapproval to be strong, even cosmopolitans may hesitate to express or adopt a preference for smaller families. Similarly, social disapproval of contraception may in part account for a frequently found gap between preference for fewer children and the absence of contraceptive use that we noted earlier."
"To sum up, population growth in India is likely to continue for some time but will eventually cease and possibly decline for all communities including Muslims as the ongoing process of demographic transition progresses (moves from high fertility and mortality to low fertility and mortality)," it concluded. The report entitled 'Social, Economic and Educational Status of the Muslim Community of India' was prepared by a high-level committee appointed by the Prime Minister and chaired by Justice Rajindar Sachar.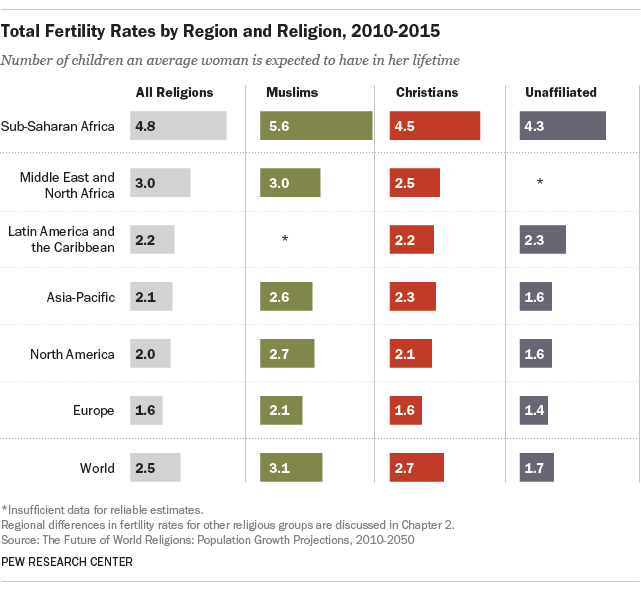 Two-Child Policy

As a part of the solution, State governments like that of Assam have decided to bring in the "Two-Child Policy". It has been declared, especially in Assam, that if one has more than 2 kids after 2021 then government jobs would be denied and one would be disbarred from contesting local body election and panchayat election. Efforts are being made to bring in a population control bill even at the Central Government level. A population control bill was even tabled in the Rajya Sabha which proposed to implement a Two-Child Policy all across the country. Under this proposal, the people who have more than 2 kids would be denied any government jobs, government subsidies would be denied, and (they would be) excluded from a lot of government schemes. So much so, that some people even proposed that their voting rights should also be stripped off the ones who have more than 2 children.
Is this the right method to fight overpopulation?
Come let us Analysis, first of all, I would like to inform you that Assam is not the sole state to be bringing in such a law. Law has already been brought in, in at least 12 states of our country. It has been enforced and then be repealed in some of the states including Haryana, Rajasthan, Madhya Pradesh, Andhra Pradesh, Orissa, Chattisgarh, Maharashtra, Gujarat, and Uttrakhand. The one's against this policy say that this will have a deleterious effect on women for example if a politician has to contest elections and his wife birthed a 3rd child so he would simply abandon his wife or divorce her to contest the election and the woman would be left alone with 3 children. When listening to, this effect seems a little exaggerated but very often, these undesired consequences stem from such policies. After implementation of the Two-Child Policy, what would be the consequences and effects? We would have to look at the outside world to find out what have been such similar examples that have been tested and what have been their results? One good example of this would be China's One-Child Policy. A lot of people believe that a policy like China's One-Child Policy should also be introduced in our country because look at how far China has progressed and how far behind have we being left due to overpopulation but these people are unaware of the fact that China's one-child policy had an impact, been a huge failure. China had introduced its One Child Policy in 1979 to control its population but its negative consequences became very clear in 2005. The problem lay in the fact that Chinese society, very much like Indian society, is very gender-biased if they could give birth to only one child, then people prefer to have a male child which leads to female feticide and abortion and in the period between 2005 to 2008 China had one of the worst gender ratio, 120 men: 100 women. This means that in 2011, there were 34 million more men in comparison to women in China. Due to this, a practice of "Bribe Price" began in China in which the families of the females were bribed and offered money to marry their sons.
A lot of developed countries are facing this problem, today which have not been able to come up with a proper solution to this for example Japan and a lot of western European countries.
DOES INDIA NEED A POPULATION CONTROL LAW?
It's High time to implement the Law-
At this time the country has come to a situation where there is a dire need of population control law, due to the increasing population day by day, ignoring the huge shortage of resources will prove to be our biggest mistake, because in a country like India without law and order It is impossible to remove any mismanagement of the population, so because of the current population growth, it is very important to implement a population control law, and it should be such that the public can easily accept it, that is, the law should be made in such a way that the public understands their benefits. Come in and the public does not understand the collective loss in any way, earlier also the initiative was taken by the previous governments to control the population, but there were some such discrepancies in those rules due to which the governments failed. So now there is a need for a structure of such a law, due to which there can be a positive change and the country can move towards development, due to the implementation of the law, there will be a huge hindrance in population growth and due to the general population rate, the supply of resources. It will also be completed smoothly and will help the country to be a developed country from a developing country.[1]
Replacement Fertility Rate
'Replacement level fertility is a technical term that seems almost self-explanatory. However, some important qualifications make it a more difficult concept than might be supposed. Also, the relationship between replacement level fertility and zero population growth is complicated.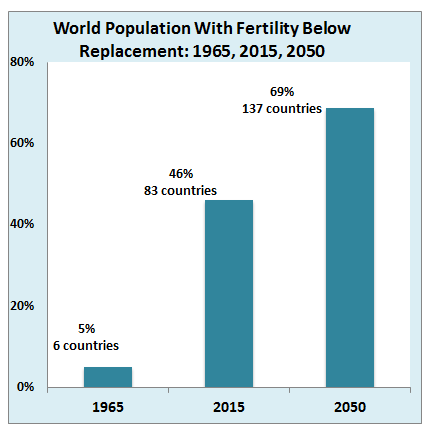 Replacement level fertility is the level of fertility at which a population exactly replaces itself from one generation to the next. In developed countries, replacement level fertility can be taken as requiring an average of 2.1 children per woman. In countries with high infant and child mortality rates, however, the average number of births may need to be much higher. Replacement level fertility is not associated with a unique set of age-specific birth rates. When a country reaches a replacement level of fertility, other conditions must be met for zero population growth to also be attained. Replacement level fertility will lead to zero population growth only if mortality rates remain constant and migration has no effect. The momentum of past and current demographic trends may also take several generations to work itself out. A change to replacement level fertility, therefore, leads to zero population growth only in the long run. The size of the population at which population growth levels off will usually differ from the current population size. It follows that fertility level is not, in itself, a reliable guide to population growth, and it is instead better to examine actual or projected population growth directly, then subsequently relating such growth to fertility, mortality, and migration.[1]
If population growth is unsustainable, are there humane ways to limit it?
The solution to controlling the population-
1. Education for Girl Child
Currently, over 130 million young women and girls around the globe are not enrolled in school. The majority of these live in male-dominated societies, particularly in sub-Saharan Africa and South and West Asia, that does not give women equal right to education as men.
Entrenched gender norms and child marriage further disrupt their access to education. The girl who receives less education is more likely to have children early and vulnerable to exploitation. Moreover, impoverished families are less likely to enroll their female children in school.
Studies show that women with access to reproductive health services find it easier to break out of poverty, while those who work are more likely to use birth control. The United Nations Population Fund aims to tackle both issues at once, running microcredit projects to turn young women into advocates for reproductive health.
3. Promote family planning
Simply educating men and women about contraception can have a big impact. When Iran introduced a national family planning program in 1989, its fertility rate fell from 5.6 births per woman to 2.6 in a decade. A similar effort in Rwanda saw a threefold increase in contraception usage in just five years. We can also use the same way to control this problem in our country. As the population of this world is growing at a rapid pace, raising awareness among people regarding family planning and letting them know about the serious after-effects of overpopulation can help curb population growth.
One of the best ways is to let them know about various safe sex techniques and contraceptive methods available to avoid any unwanted pregnancy.
4. Better Education
One of the first measures is to implement policies reflecting social change. Educating the masses helps them understand the need to have one or two children at the most.
Similarly, education plays a vital role in understanding the latest technologies that are making huge waves in the world of computing. Families that are facing a hard life and choose to have four or five children should be discouraged.
Family planning and efficient birth control can help women making their own reproductive choices. Open dialogue on abortion and voluntary sterilization should be seen when talking about overpopulation.
5. Knowledge of Sex Education
Imparting sex education to young kids at the elementary level should be a must. Most parents feel shy in discussing such things with their kids that results in their children going out and look out for such information on the internet or discuss it with their peers.
Mostly, the information is incomplete, which results in sexually active teenagers unaware of contraceptives and embarrassed to seek information about the same. It is, therefore, important for parents and teachers to shed their old inhibitions and make their kids or students aware of solid sex education.
Conclusion
It has been concluded that Overpopulation forces larger nations, like China and India, to continue to develop their industrial capacities. They now rank as two of the three largest contributors to emissions in the world, other than the United States. According to 97% of the scientific community, human activities are changing global temperatures. If more is not done to reduce individual carbon footprints on a wide scale, larger populations may speed these changes up. So we all need to pull our socks up to tackle this issue.
"Overpopulation is a root problem of all the environmental issues. If you can control the population, you can control almost anything."
~ Rinkesh Kukreja, Founder – Conserve Energy Future
---
[1] https://pubmed.ncbi.nlm.nih.gov/7834459/
---
[1] https://thedailyguardian.com/does-india-need-population-control-law/
---
[1] https://www.livemint.com/Opinion/5bsICkXvl4t4hXSewk8bkN/Four-out-of-five-Indians-will-still-be-Hindu-even-when-Musli.html
---
[1] https://www.ncbi.nlm.nih.gov/books/NBK233810/
---
[1] https://www.news18.com/news/india/srs-survey-trend-as-female-literacy-rate-goes-up-in-india-fertility-rate-comes-down-2698193.html
---
[1] https://scroll.in/pulse/807877/19-million-women-in-india-have-given-birth-to-seven-or-more-children
---
[1] https://www.oneindia.com/india/why-is-indias-population-so-high-and-how-do-we-deal-with-it-2731672.html?story=3
---
[1] https://www.economicsdiscussion.net/articles/10-causes-of-high-birth-rate-in-india-explained/2243