Read Time:
6 Minute, 20 Second
"Law without Justice is same as the nation without a ruler"  by shiva Tiwari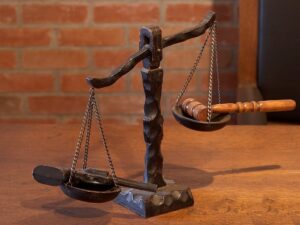 "At his best, man is the noblest of all animals, separated from law and in justice he is the worst". This is how Aristotle described the relationship between man and justice.
Justice in a society is not only necessary, the lack of it will surely bring nothing but chaos. Justice is a concept involving the fair, moral, and impartial treatment of all persons. In its most general sense, it means offering an individual what they actually deserve or merit, or are in some sense entitled to. Justice particularly a fundamental concept within most system of law . From the perspective of pragmatism, it is the name for fair result.
Justice so rooted out from the ancient history as explained above, it is a
fundamental concept, but in today's world how far this fundamental concept is being achieved by individuals of the society. Are they able to access the justice offered by the state, society. And how philosophers applies to their theories of justice to controversial issues for example, to civil disobedience, punishment, equal opportunity for woman, slavery, war, property right, and international relations.
For plato, justice is a virtue establishing order, with each part performing its appropriate role and not interfering with the proper functioning of other parts. Aristotle says j"consists in what is lawful and fair, with fairness involving equitable distribution and the correction of what is inequitable".
MODERN WORLD AND JUSTICE:
Justice is humanitarian need, a fundamental concept as covered by ancient philosophers, and equality for all society members, in present world countries constitutionally provides it as fundamental principle, but what is happening to them who are unable to access it. In war-torn countries where anarchy and lawlessness is on its peak, for example countries like Somalia, Jordan, Yemen, Syria having no or neglected administrative setup, peoples are effortlessly governed, poverty and lacking basic necessities to survive, unable to get minimum resources.
Refugees:
There are millions of refugees seeking shelter to save their lives wandering in almost every part of the world, who is accountable for providing them justice. If they are engaged enough just to save their lives from every threat that they are facing off during roaming to take safe shelter unable to get necessary food items, then where is the question of getting justice or access to justice. According to Article 8 of Universal Declaration of Human Rights rights to access is considered as a fundamental right.
Estimated analysis by our Research team on Refugee crisis
SOMALIA ON THE BRINK OF HUMANITARIAN CRISES:
War-torn Somalia has been crippled by famine and al Shabab fighters. International leaders have gathered many times to discuss to resolve the humanitarian crises. Question arises here if leaders are busy to provide basic necessities to them then ultimate fact arises again who will provide justice to them. Around 8,70,000 lakh somalis were considered as refugees in Africa and Yamen, while around 2.7 million people were displaced within there country.
ROHINGYA MASS SLAUGHTER OF HUMANS:
Around 1 million people have been displaced in ethnic cleansing governed by state military of Myanmar,   violating international laws. Rohingya people are denied to their homeland, instead of approaching for justice they are just wandering for shelter and food, they want someone to accept them. If such circumstances are prevailing, sadly there is no access to justice for anyone. Even UN has considered them as the most percecuted community in the world. Around 9,00,000 reside in Bangladesh and still 6,00,000 were present in Rakhine, Myanmar. No country is granting them citizenship.
 Access to Justice; Indian context. 
India has one of the world's largest number of undertrial prisoners. A little over two-thirds of India's roughly 4.2 lakh prisoners await trial. They languish in jail not because they have been found guilty and sentenced to jail terms but because they are being prosecuted on charges that are too severe to warrant bail, or simply because they are too poor and disempowered to obtain bail.
People at the bottom rungs of social power account for the bulk of undertrials. Almost 70% of them are illiterate, 53% are Muslims, Dalits and tribal people. In several cases that made it to the news, young students activist were picked up on terror charges (via Unlawful Activity Prevention Act,1967), put in jail and acquitted after a decade-long stint in prison had stolen the best years of their lives from them, broken their health and broken their bonds with much of society.
Encounter
Any individual, who are dying in the fake Encounter was not entitled to get justice in any form. The rule of law doesn't applied to them. We have examined plethora of cases in which encounter was done before the accused is convicted. There is no use of court if police itself became the judge and delivered judgement. Human Right of the accused is at stake by such incidents.
Nimal singh khalon v. State of Punjab
In this case the court held that the right to investigation and right to free and fair trail is the part of Article 21 of our Constitution and is applicable to both victim and accused.
Public Union for Civil Liberties v. State of Maharashtra
In this case court held that the state has no right to violates Right to life and Human Rights of any individual. Court also laid down guidelines for investigation in the matter of Encounter.
Hyderabad rape murder case
On 6th December 2019, 4 accused of rape and murder allegedly attacked police officers and tried to flew from the clutches of police officers. Instead police killed them in Encounter. National Human Rights Commission has taken Suo Motto Cognizance in that matter in Telangana High Court.
Vikas Dubey Encounter case
Notorious, history sheeter, Vikas Dubey, who killed 8 policeman was killed in Encounter. He was not appeared in the court. Even everyone is unaware about, who was behind that criminal minded guy. Which party protected him from initial stage. Alongwith Vikas Dubey, Prabhat Mishra, Amar Dubey, Praveen Dubey, Atul Dubey and Prem Prakash Dubey was killed at different locations by UP police. All of them was encountered by UP Police at different locations
Mob lynching
There is no as such specific law which deals with this crime. Even NCRB
(National Crime Record Bureau) considered it as a separate crime as there is no separate data for Mob Lynching. There is around 113 killed in Mob Lynching cases all over India since 2015.
Delay in Justice
At times, delay in justice delivery can have serious consequences as has been witnessed in plethora of the cases.
As per National Judicial Data Grid there are around 3,32,64,204 case pending in India. Around 2,57,21,087 cases were pending for more than one year.
A Constitution Bench of the Supreme Court in Anita Khushwa v. Pushpa Sadan, held that access to justice is not only to be found in Article 21 but also under Article 14.  The CJI further identified four facets of access to justice.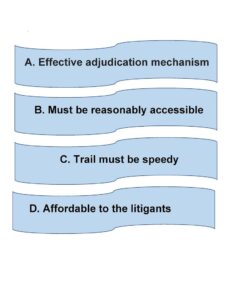 Four facets of access to justice in abovementioned case.
Conclusion
Justice is like a myth in our society. Injustice prevail everywhere in our society. While examine plethora of cases, we came to conclusion that justice has not been served due to lack of provision or improper implementation of laws. This is the issue which currently ever country is facing. Government had to take adequate measure so that everyone got justice in this unjust world.