Read Time:
7 Minute, 39 Second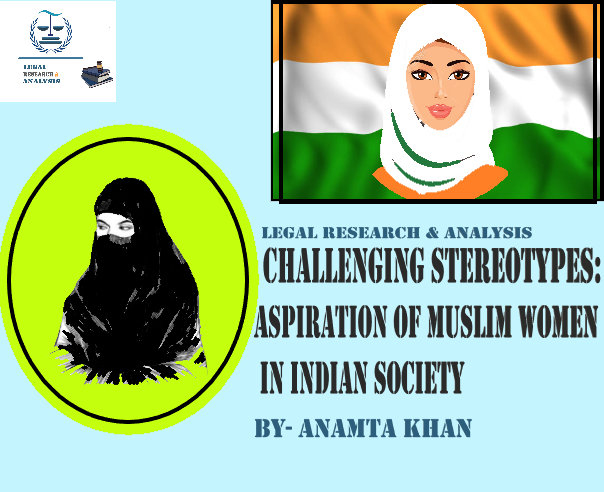 CHALLENGING STEREOTYPES: ASPIRATION OF MUSLIM WOMEN IN INDIAN SOCIETY
by Anamta Khan
A person without education is a splendid slave without having any reasoning capacity. Women in more or less in all communities are forced to adhere to social norms and traditions. Situation is far worse in case of Muslim female. They are forced to accept the unjust laws passed by ostensible so called religious heads. The only thing which could come to their rescue is the weapon of education which would liberate them from shackles of ignorance and exploitation. Stereotypes of Muslim ladies proliferate. Muslim ladies are every now and again depicted as illiterate and stifled. They likewise are regularly viewed as being against education. They are unable to access education mainly because of lack of opportunity and socio- economic factors. If you search for an image of Muslim women on Google, your search results would be dominated by a similar sort of picture, showing a narrow vision of being a Muslim lady in this world today. Ongoing reports by Amnesty International and the Organization of Islamic Cooperation demonstrate that Muslims are long-standing sufferers of prejudices in the world. Today, the pervasiveness of Islam-phobia in Western nations is a mounting concern comprehensively. Among Muslim population, Muslim women suffer the most because of various layer of discrimination faced in relation to religion, gender equality and migration. The strongly differentiating instances of India and the United Arab Emirates (UAE) are lighting up in this regard. While the Indian case exhibits a stark picture while the latter one presents a brighter and a hopeful one. The socio-economic status of Muslim ladies in India appears to comply with the cliché picture of female Muslims all through the world as being submissive, uneducated, smothered, and subordinate upon men.
Muslim ladies do not have any proper representation; they are voiceless, and minimized inside their own community and in the bigger Indian setting as well. Even after so many years of achieving independence, Muslim section remain behind Indian populace in every aspect, the most important being education. Muslim ladies have a lower level of literacy than ladies from Christian, Sikh, Hindu, Parsi, Buddhist, and Jain communities.
Muslim personal laws and the holy Quran gives diverse rights to female which pertain to marriage, divorce, inheritance as discussed in this paper. Our constitution also grants right to equality and freedom irrespective of sex or religion but still in Indian society there are few unjust practices based on conservative culture which hampers the right to equality of Muslim women. Subsequently, certain inconsistencies need to take out by giving a true essence of Holy Quran which grants equal rights to female.
There is a myth about Muslim women that it is mandatory for them to wear veil but Quranic verse does not specifically mention that. Now the question arises what is meant to be modern. What should be the minimum length of the cloth which equates a lady to be modern? In the event that the word Purdah summons in your brains, a picture of completely clad ladies tied in the four walls of house appears then you are gravely off-base. Quaranic verse says that "There is no compulsion in religion."Along these lines, no place does Islam oblige the idea of ladies being binded inside the four walls of their homes. 'Purdah' in its actual sense means being pure in your thought and intention.
In ancient times women were treated worse than animals. Young ladies were considered to bring disgrace to family, so people buried them in order to save themselves from disgrace. Women were treated like animals. However, with the onset of Islam, ladies were given the right to inheritance, the privilege to separate from their spouses and the privilege to be literate. Islam completely disproves the man centric notion that ladies must be held for the ethical duty of the entire society. This is confirmed by the fact that Islam puts obligation of 'hijab' on men first, not on ladies. "Say to the believing men that they restrain their eyes and guard their private parts. That is purer for them. Surely, Allah is well aware of what they do' [24:31]"[1] . Hence going along the verses of Quran the world 'hijab' is applicable to both sexes and not just to women. The time has come to resuscitate the genuine teaching and philosophies of Islam and curb the biases existing against women. The true notion of ' Purdah' in Islam actually means that both female and male should imbibe the values of modesty and righteousness and inculcate inner beauty in themselves.
Another stereotype which exists is that polygamy is strongly recommended in Islam. Quran unequivocally demoralizes polygamy. Polygamy was a lifestyle until the Quran was uncovered 1400 years prior. Quran came to put the primary scriptural limit on this practice and demoralizes it however much as could be expected. In every one of the sacred texts, the men were permitted to have more than one spouse and not tight clamp refrain, since the permissibility of polygamy at that point was to populate the earth.In Islam, the perfect marriage is the monogamous type of marriage. Restricted polygyny is affirmed by Islam for exceptional cases just; and that likewise with numerous stringent conditions. Polygyny did not have its origin in Islam, it existed in world from a very long time which is confirmed by ancient literatures. For example- The Bible says that Lamech, the grandson of Adam, "took unto him two wives: the name of the one was Adah, and the name of the other Zillah."[2] Polygyny was allowed in Judaism and other religion also. In words of Karen Armstrong, "polygamy was not designed to improve the sex life of the boys — it was a piece of social legislation."[3]
In ancient society polygyny was brought in the picture in order to protect dignity of widows, to set the females slaves free, to forge amicable relations for the sake of Islam. It was never practiced as a sign of male superiority. Islam put stringent conditions on an individual who needed to wed a second spouse. He should most likely give and keep up the family, and furthermore manage both on premise of equity and fairness. Quranic verse mentions that "but if you fear that you will not do justice (between them), then (marry) only one…"[4] (Surah an-Nisaa, 4:3). But according to human psychology, it is very difficult to have that level of justice and fairness. For this Quran says that-"And you do not have the ability to do justice between the wives, even though you may wish (to do so)…"[5] (Surah an-Nisaa, 4:129).Islam is a pragmatic religion; its laws are in accordance with human instinct. It doesn't deny the natural forces in people, rather it defies them and gives direction to control them without upsetting the harmony in the society. The relationship of polygamy with Islam is a genuine misconception which should be done away with and correct interpretation of the verse of Islam should be propagated in the society which mandates equal right for both.
Another myth about Muslim women is that Islam gives them lower status than men. Usually people think that Islam is quite chauvinistic and oppressive towards women. But the holy book Quran specifically mentions that almighty Allah treats both women and men equally.
The absence of education is the underlying factor for their exploitation. Historically there has been huge disparity in educational sectors between men and women but in case of Muslim female this disparity has been a yawning chasm. In the villages of country India and the ghettos of urban India, little girls are as yet urged to remain inside the home (first their own, at that point that of their spouses). A perplexing snare of conditions makes the schooling of Muslim young ladies an overwhelming errand.The socio-cultural factor creates a huge impediment in their development.
Muslim women should be viewed as social creatures as well, qualified for similar rights that the Constitution of India provides to every citizen. The right to education is mandated by the Indian education but still majority section of Muslim females is uneducated. Education is the only tool which could liberate them and break the shackles of ignorance. The maltreatment to women is because of abandonment of philosophies of Quran and denial to follow expressions of God for certain false statements written in man-made books. The rights bestowed by Allah to females can't be taken away by any fabrication written in man- made book. Muslim personal laws and Quran gives various rights to females such as preference in marriage, divorce, property and inheritance rights. But still there are few anomalies which exist in their personal laws, this is the place where judiciary should step in and make personal laws in line with the values of constitution.
---
[1] Quranic verse [24:31]
[2] The Book of Genesis 4:19.
[3] Karen Armstrong, Muhammad, p. 190.
[4] Chapter 4 (Surah an-Nisaa), verse 3
[5] Chapter 4, verse 129 Surah an-Nisaa