Read Time:
1 Minute, 21 Second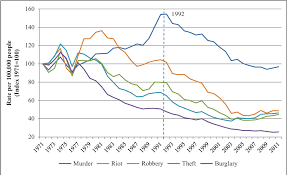 Crime is the intentional or unintentional commission of a crime usually deemed to be
socially harmful or dangerous, prohibited, and punishable under criminal law. It is an
offense that merits community condemnation and punishment, usually by way of fine or
imprisonment. This is different from a civil wrong (a tort), which is an action against an
individual that requires compensation or restitution. Crime rate is in fact the number of
crimes that are committed during a particular period of time at a particular place.
Crime rate in India as of 2019 a total of 51.5 lakh cognizable crimes comprising 32.2
lakh Indian Penal Code (IPC) crimes and 19.4 lakh Special and Local Laws (SLL) crimes were
registered nationwide. Showing a 1.6% annual increase in the registration of cases (50.7 lakh
cases). Crimes can happen in various forms and types and can affect human life and
property in a large way. If given a closer look it can be said that crimes in India happen
largely due to a specific set of social problems, such as poverty, homelessness and
unemployment. There is an imbalance in the resources available and the consumers of
those resources making it unfair for people who are unable to avail these resources, thus
pushing them towards committing a crime. Sometimes crimes can also be committed due to
negligence or for other illegal prying activities, example- cybercrime.
Crime in general has been increasing in India with every passing year. With the growth of ill
intent and malice in the society, crime rates continue to amplify more than ever. Stricter
laws and punishments should be introduced to continue this cancer, plaguing and hindering
the growth of our society.