Read Time:
10 Minute, 15 Second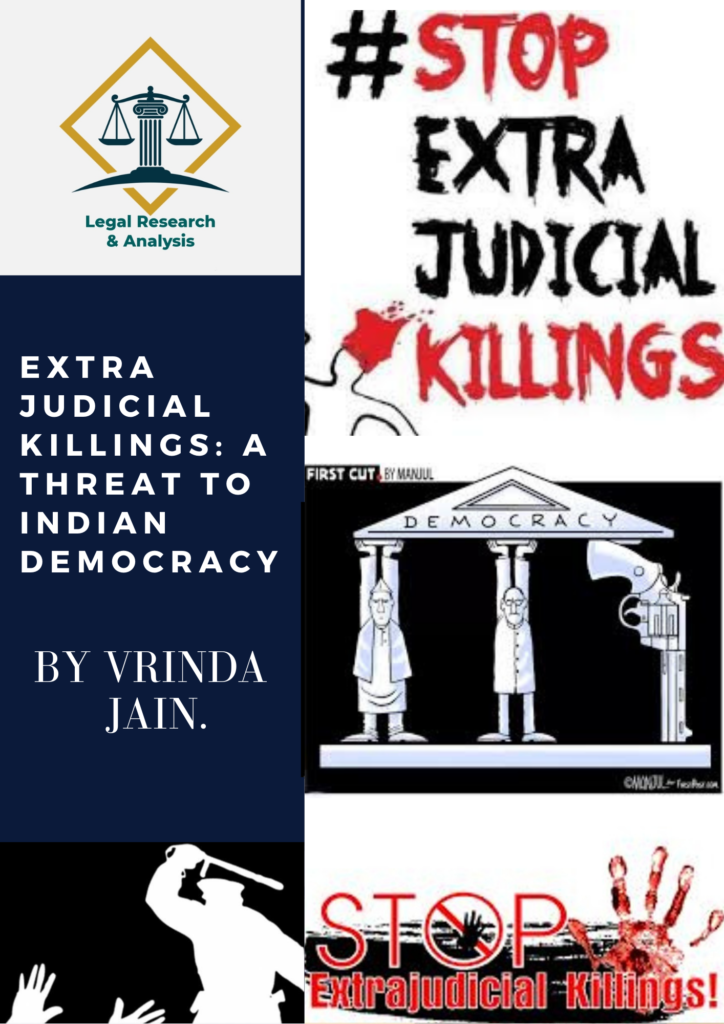 EXTRA JUDICIAL KILLINGS: A THREAT TO INDIAN DEMOCRACY
"There is no more prominent oppression than that which is executed under the shield of law and in the name of justice. Failing to set a criminal setting, authority sends the message that those in power are above the law" – DaShanne Stokes
Respecting the human rights of citizens is one of the major responsibility of a democratic government. The Indian Constitution gives utmost importance to the human right jurisprudence and guarantees the protection of human rights of an individual in the form of fundamental rights. The interpretation of human rights jurisprudence given by the supreme court of India is also highly acceptable in the Indian society. Despite the presence of such strong institutions for the protection of people's human rights, state violence can be legalized due to the presence of preeminent ideologies of patriotism and nationalism. It is unsettling that killing is considered as a necessity for the protection of state and maintenance of law and order. India today is struggling with a major question that at which point can a probable danger be reason enough to compromise with the right to life?
MEANING OF EXTRA- JUDICIAL KILLINGS
Extra judicial killings refers to the killing of a person by the authorities in power or government without any proper sanction or legal proceedings. Extrajudicial killings are considered to be against humanity and unethical as they surpass the due procedure of law. It is disappointing that extrajudicial killings are considered to be acceptable as they are seen as a path of attaining the end of greater common good whatever may be the means. But in this it clearly violates the "rule of law", guaranteed under Article 14 of part third of the Indian constitution. These killings also target cause-oriented groups of the society, to be precise extrajudicial killings are committed by "state and non-state forces" to silence through violence and intimidation, legitimate dissent and opposition raised by members of the civil society.[1]
Some of the common forms of these killings include custodial deaths, armed conflict, mob lynching, irresolute killing of civilians and murder by security forces. In the Asian subcontinent, large number of nations conduct very few or almost no judicial executions, however extra judicial killings are common in many of these regions.[2] These also include nations like Philippines and Cambodia which have formally abolished death penalty in their country. The rate of extra judicial killings remains to be substantively high in India. Indian democracy is suffering from an appalling disorder in which extrajudicial killings are considered as part and parcel of life used for maintaining law and order of society.
FAKE ENCOUNTER: THE RAIDS WHICH OFTEN LEAD A BLOOD TRAIL
"It is no joke to be pulled over by a police officer. We often know what we did wrong and await the penalty or we wonder what we did wrong and await the explanation"
The Criminal Justice System of India is based on Saxon-adversarial pattern i.e. it has four indispensable units: The Judiciary, The Police, The Prosecution and the correctional institutions. These integral units are expected to work in a congenial and cohesive manner to produce more effective and desired results. But due to lack of efficacy between these allied units, our whole criminal justice system is under threat and is deteriorating constantly. Unfortunately our criminal justice system works on the idea of "power" rather than "justice". There has been an indiscriminate upsurge in the cases of fake encounters by the security forces from the last two decades. The sanctioned definition of the term 'encounter' is "an unanticipated confrontation between the anti-national elements and the security forces of a country". A large number of incidents which took place in the last few decades have been declared by the police authorities as "encounter". But they were done without giving any proper legal justification and without due procedure of law. According to NHRC 2560 police encounters have been recorded since October 1993 out of which 1224 cases have been registered as fake encounters.[3] The encounter killings were basically developed by police from 1969 while dealing with the naxalites's strategy of civil war. Police resorted to their campaigns by doing encounter of suspects.
Fake encounters have become common in the North-east, Kashmir and Punjab and are considered as a quick solution to get rid of "terrorist" and anti-state elements. The fake encounters of alleged terrorists in Punjab during the 1980s to 1990s clearly reflected the unlawful elimination of the disadvantaged, minority groups and accused criminals. The victims were basically those whom the police believed to be of militant origin. It did not matter that whether there was any proof of it or not. During the anti-insurgency movement in Punjab at that time the Director of Police, K.P.S Gill said that "Our justice system provides no legal remedies at all, so there will be extra-legal ones".
The Indian judiciary has dismissed the general view that "police is there for welfare of people so it can use violent means whenever it wants" and held "rule of law" above everything.[4] The United Nation Human Rights Committee in its report referred to "encounters as murders".[5] It was also held by Supreme court of India in Prakash Kadam and Ors. V. Ramprasad Vishwanath Gupta and Anr.[6] that "encounter" theory is a criminal ideology and as police officers were attached to some private people to murder their opponent, they effectively acted as "contract killers". Fake encounters are murders done by those who were meant to uphold law. There have been many reports of state personals being behind the bars due to fake encounters but the conviction rate is merely negligible in such cases. Recently on 21 July 2020 eleven policemen were convicted for the fake encounter killing of Raja Man Singh of Bharatpur after a span of 35 years. But then the question comes isn't justice delayed, justice denied?
Further it is stated that the protection guaranteed to the security forces under AFSPA cannot override Article 21 of constitution which guarantees right to life. AFSPA (Armed Forces Special Powers Act) grants various powers to the armed forces because of which they could use lethal force in respect to various situations. However the AFSPA is necessary in the present scenario in the north eastern states and Kashmir to control insurgency situations and protect its citizens. There should be a constant check on misuse of powers of ASFPA and compensation must be ensured to victims. In 2004, NHRC stated that, "Fake encounters have become a part of state's unofficial policy".
According to the Munshi Singh v. State of Madhya Pradesh[7] case "Fake encounter, abuse of power by the police, torture are not new to this country but now it is increasing at an alarming rate. Fake encounters are a result of methods adopted by those who proclaim from the rooftops to be the defenders of democracy and protectors of the people's rights but yet lose their men in uniform to settle personal scores. Fake encounter is a remark of senseless exhibition of power and superiority.
"It is far easier to sit comfortably in the shade, rubbing red paper in some devil's eye than to go about in the sun hunting up evidence"
Recently on 10th July 2020 Uttar Pradesh Police killed gangster Vikas Dubey in an encounter. The Police's version of his death is strangely similar to the Hyderabad case in which four men accused of murder and rape of a women, which shook the whole nation were killed by the police when they supposedly snatched a weapon from them and attempted to escape. Both these instances received massive public support and the act of police was overwhelmingly welcomed due to public sentiment. But both these encounters exhibit that either police has become too strong or our judiciary has become too weak. What about the provision "one is innocent until proven guilty"? Why do we have the courts?
The bollywood movies like Singham, Dabangg, Rowdy Rathore massively based on popular police culture depicting policemen killing the villaineous culprit single handedly also glorifies this encounter practice among the masses. When these encounters are openly encouraged by the politicians, masses and the popular culture, it is not astonishing that the police carries these operations with utter disregard and completely ignoring the due process of law. All this allows police to take matter in their own hands and execute people, deciding themselves who should be given what punishment and making them above the law. This encounter policy is extensively used by the politicians for their own benefits. For ex. if Vikas Dubey was being put through a mandatory judicial process rather than being killed in a so called encounter, much important information could have been extracted from him about the dangerous politician-criminal nexus.
What is disturbing is that this encounter policy is highly appreciated by the nation's public and is glorified by the media. Media has a huge impression in the minds of people and is responsible for shaping general opinion of the public. They exhibit that encounters are carried to eliminate terrorist, naxalites and gangsters. People see encounters as a means of achieving instant justice. But what they forget is that extra judicial killings lead to the path of infinite darkness and not justice.
SUGGESTIONS-
Fake encounters represent the failure of administrative system to hold the security forces liable for their crime but they are also consequences of other bigger problems. An overburdened justice system makes every trial a very drawn-out and long process. Due to lack of an effective witness protection system, many witnesses are threatened and therefore they no longer want to testify. This makes victim lose their faith in judiciary. Due to lack of proper training and equipments to procure evidence, the security forces rely on torture to obtain confessions. The security forces often admit that they conduct fake encounters because they are exasperated by the fact that criminals caught after so much effort would simply walk away.
What should be done to reduce fake encounters: step-wise solution is warranted-
1. Definition of encounters should be broaden with inclusion of
Mob lynching -encounter by mobs
all form of acts for instant justice(without following due judicial process) should be categorised as encounter
2. Special investigation team headed by SP level officer and under supervision of retired HC judge should be formed to establish nature of crime as encounter.
3. More forensic labs with trained personnel and more training to personnel involve in investigation would also prove to be fruitful.
3. Special courts at division level with daily basis trial and fast track courts should be set up for ensuring better means of justice to citizens.
4. Rigorous punishment to perpetrators especially police personnel should be determined. Whenever a police officer arrests a person the intimidation of his arrest should be immediately sent to his relative or friend.
These major steps could help in prevention if chilling effect is established through compliance of time limit and supported with adequate resources.
CONCLUSION-
Each time an individual is killed by the police or the government in power, it casts a vote of no confidence in the judiciary. Each time an individual is denied a fair trial, the legal system of the nation is subverted. Each time the law implementing officers are permitted to kill randomly a suspect, the legislation creates a behemoth. Each time the government or security forces take the life of a person without due process of law, it reduces itself from a law maker to law breaker. So it is of utter importance to control fake encounters in the country to prevent the justice system from crumbling down.
---
[1] Reyes Ruben,"Extrajudicial Killings and Unexplained Disappearances".
[2] HR Committee Report, 2004.
[3] International Journal of Criminology and Sociological Theory, Vol. 3, No. 2, December 2010, 401-418.
[4] Mandeep Tiwana, National Human Rights Commission Guidelines on Encounter Deaths March 29,1997, and Revised Guidelines December 2, 2003, Human Rights and Policing: Landmark Supreme Court Directives & NHRC Guidelines, 36, (2005)
[6] (2011) 6 SCC 189
[7] AIR 2005 SC 402