Read Time:
2 Minute, 29 Second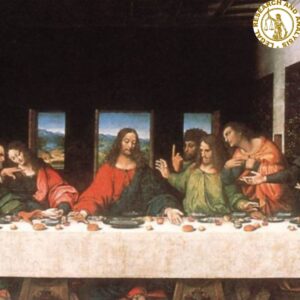 Leonardo da Vinci's Mona Lisa is famous for many reasons, including her mysterious smile. However, the master's painting of the still unknown woman is not his only work shrouded in mystery.
Perhaps his most famous work, The Last Supper, which depicts Jesus' last meal with his disciples and hangs on the wall of the Santa Maria Della Grazie church in Milan, is also a mystery and full of hidden meaning.
Here are some of The Last Supper's hidden meanings, some of which are still being debated over five hundred years later:
In the painting, at Jesus' right hand is the disciple John, who is claimed by some biblical scholars to be "the disciple whom Jesus loved" in the book bearing his name. However, take a closer look at "John."
But take a closer look at "John."
Many art and biblical scholars believe the person at Jesus' right hand in the painting is a woman, most likely Mary Magdalene.
He/she is the only person in the photo wearing a necklace/pendant/charm, and it's not a small one. Many believe that this indicates that the person is most likely a woman and, at the very least, not John.
Many believe that when medieval Christian leaders saw the woman in the picture, they made a deliberate effort to call the figure "John," because otherwise there isn't a full tally of disciples, and a woman is sitting on Jesus' right side, the most preferred and recognized position.
Many of the figures on the right side of the table appear to be talking to or at Mary, while Jesus appears to be engaged with those on the left, who reflect the concern the disciples must have felt when told that one of them would betray Christ. When you look closely at "John," you'll notice a resemblance to the Mona Lisa, which was painted five years later.
Everyone at the table takes turns dipping their bread into it. This is usually a circular table with a bowl or pot in the center. Leonardo arranged Christ and the Twelve on a rectangular table. This allows for a better view and was a common artistic practice at the time, but did Leonardo do it for another reason?
It is highly disrespectful to dip your bread while the person ahead of you is doing so, and it can be interpreted that the person doing it believes he is better than those before him. Judas has also knocked over the salt in the painting, bringing bad luck.
Finally, da Vinci arranged the guests at the table in the following pattern: 33133. Consider this: da Vinci defied convention by not placing halos above Jesus and his disciples.
He may have also included a hidden message in his grouping of people in the painting. In the Bible, Jesus instructs his disciples to remember him by drinking his blood (wine) and flesh (bread).