Read Time:
8 Minute, 43 Second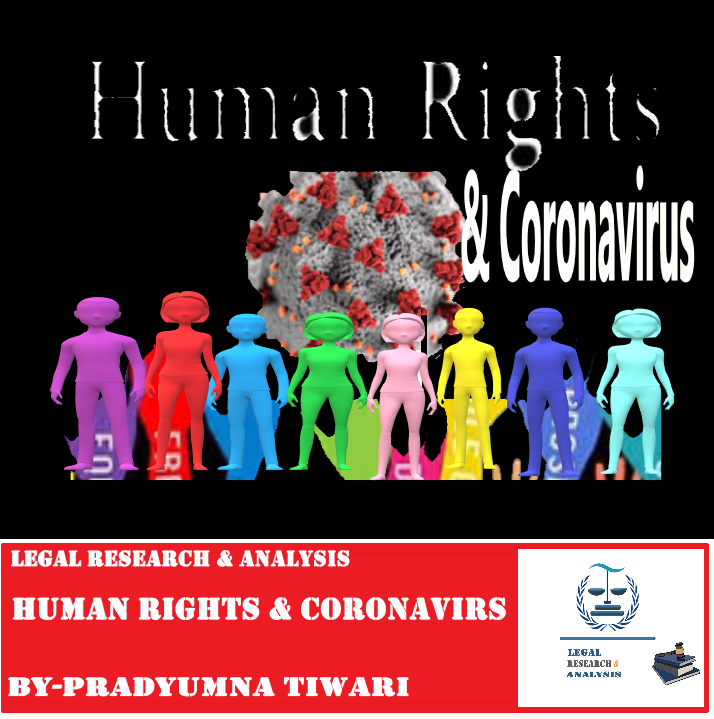 Human Rights and Coronavirus
by Pradyumna Tiwari
"To deny people their human right is to challenge their very humanity."

Nelson Mandela
The World Health Organization (WHO) declared covid-19 as a public health emergency on 11th March, 2020[1].1 Many of you might be thinking that while we are in the midst of public health emergency, is it the right time to discuss such concept? So, the answer to this is very crystal clear i.e. Yes. There are reasons supporting this, as from around the world there are instances which makes it imperative to deliberate upon it. Some of the instances are as follows:
President of Philippines warned that anyone found violating lockdown will be shot dead by military[2].
Lockdown violators kept in animal cage in Philippines[3]
In Columbia, citizens are bound by their feet who violate quarantine[4].
Police in the Indian Subcontinent humiliating quarantine violators[5].
Brazilian President joined a pro-dictatorship rally[6].
Israel using far reaching technology to detect covid-19[7].
At this juncture, it become pertinent to quote Antonio Gueterres, Secretary General of United Nations. He says in a document titled, "COVID-19 and Human Rights: We are all in this together" as:
"The COVID-19 pandemic is a public health emergency — but it is far more. It is an economic crisis. A social crisis. And a human crisis that is fast becoming a human rights crisis"[8].
On context to Human Rights and Coronavirus there are many ways in which covid-19 affects human rights. Some of them are like early censorship of press. For example, Chinese government had imposed an early censorship on media trying to convey the information regarding covid-19 and its deadly impact. Also, during this time, some of the anti-social elements take this time as an opportunity to spread fake news and rumours for their own benefit. So in words of Nicholas Bequelin, Regional Director of Amnesty International, "Governments must prevent disinformation and provide timely and accurate health guidance. However, any restrictions on freedom of expression must be proportionate, legitimate and necessary. If governments in South-East Asia and elsewhere should take one lesson from China's handling of the coronavirus crisis, it's that limiting information and shutting down debate in the name of 'stability' carries grave risks and can be disastrously counter-productive."
Covid-19, inter alia, has negatively impacted the vulnerable section of society, which includes:
Agricultural Workers
People employed in informal sector (with majority being the women)
Many of the people most severely impacted by the crisis are those who already face enormous Challenges in a daily struggle to survive. For More than 2.2 billion people in the world, washing their hands regularly is not an option because They have inadequate access to water. For 1.8 billion who are homeless or have inadequate, over-Crowded housing, physical distancing is a
pipe Dream. But at this point I would like to appreciate the government all over the world for their efforts to provide emergency water Supplies to slum areas; Suspension of housing evictions for Unpaid rent during the crisis; Securing emergency shelter for the homeless and many more.
The threat is the virus, not the people
The pandemic has led to countries imposing Emergency and security measures. While in most cases these are needed to fight the virus, they can also be politically driven and may be easily abused. The pandemic could provide a pretext to undermine democratic institutions, quash legitimate dissent or disfavoured people or groups, with far-reaching consequences that we will live with far beyond the immediate crisis.
Apart from the people's support to tackle this virus, we need the comity of nations to come further and help every other country because no one country can beat this virus alone. Richer States need to assist low-income States with realizing human rights. The pandemic is reminding us of the importance of multilateral-ism and international cooperation to face the Challenges facing the world today. The United Nations exists for precisely this reason.
At this juncture, the priority of the government should be to protect livelihood of those persons who are having hand-to-mouth deal (especially the above-mentioned category), along with the eliminating this public health crisis. The covid-19 has hard hit the daily wage workers, which include vendors, Road-side sellers, labours on a construction site etc., as they don't have any savings because they don't earn much. So, it becomes the responsibility of the government to ensure that they have been provided with the necessary goods to survive and after this pandemic this needs to be assured that they are employed.
It has also affected persons with disabilities. The persons with disabilities generally have more health-care needs than others – both standard needs and needs linked to impairments – and are therefore more vulnerable to the impact of low quality or inaccessible health-care services than others. Compared to persons without disabilities, persons with disabilities are more likely to have poor health: among 43 countries, 42 per cent of persons with disabilities versus 6 per cent of persons without disabilities perceive their health as poor[9]. The confinement measures confinement measures should be adapted to the needs of specific groups to ensure their well-
being. For example, people who need home assistance should keep receiving it and, in the case of persons with psychosocial disabilities, they cannot be required to live in total isolation. This is further substantiated by the motto of United Nations' Convention on the Right of Persons with Disabilities: "Nothing about us, without us".
It wouldn't be a hyperbole to call this situation "A double Pandemic" for women and girls. First of all, the coronavirus pandemic and secondly, the steep rise in number of cases of domestic violence and abuse, which is nothing less than a pandemic. The corona virus has disproportionately affected the rights of women and girls. In most of the countries, whether high or middle income, there is a rise in cases of domestic violence and abuse of women and girls. As per the UN reports, The Eastern Mediterranean Region has the second highest prevalence of violence against women (37%) worldwide[10]. During the first four phases of the COVID-19-related lockdown, Indian women filed more domestic violence complaints than recorded in a similar period in the last 10 years[11].
Not only this, the Human Rights and Coronavirus has also affected the rights of children, especially their right to education. Education has been affected with 191 countries closing schools, impacting 1.6 bn students which are 91.3% of total enrolled students.
Conclusion
"We declare that human rights are for all of us, all the time: whoever we are and wherever we are from; no matter our class, our opinions, our sexual orientation."

– Former UN Secretary-General Ban Ki-Moon
This statement clearly imparts the importance of human rights in times of emergency. To conclude it, Human rights are key in shaping the pandemic response, both for the public health emergency and the Broader impact on people's lives and livelihoods.Human Rights and Coronavirus put people centre-stage. Responses that are shaped by and respect human rights result in better outcomes in beating the pandemic, ensuring healthcare for everyone and preserving human dignity. The role of human rights is not ended here, it becomes more relevant in Post-Covid era. There we need to ensure that when we recover, we must be better than before. Also, the livelihood which will be atrisk after this COVID-19 because this is economic crisis as well as social crisis. So, the government needs to ensure everything and also it is also responsibility of international community to help those nations which are poor and unable to manage their economy after Covid-19 crisis.
---
[1] Coronavirus confirmed as pandemic by World Health Organization, BBC News, (11th March, 2020), https://www.google.com/url?sa=t&source=web&rct=j&url=https://www.bbc.com/news/amp/world-51839944&ved=2ahUKEwj165eCoMPrAhVRjuYKHUXyBywQFjAAegQIARAB&usg=AOvVaw2NUh8W8-xaA6umUJewHc01&ampcf=1
[2] David Brennan, 'I Will Bury You': Philippine's Duterte Warns That Anyone Breaking Coronavirus Lockdown Can Be Shot Dead, (04/02/2020 at 4:32 A.M.) https://www.newsweek.com/philippine-rodrigo-duterte-coronavirus-lockdown-dead-1495690
[3]NH Bureau, Coronavirus: Quarantine violators locked in animal cage in Philippines, (27/03/2020 and 05:55:32 P.M.) https://www.newsheads.in/world/news/coronavirus-quarantine-violators-locked-in-animal-cage-in-philippines-article-60924
[4] Juan Martinez, In Colombia, Citizens are Bound by Their Feet for Quarantine Violation, (09/04/2020) https://riotimesonline.com/brazil-news/mercosur/in-colombia-citizens-are-bound-by-their-feet-for-quarantine-violation/
[5]Saad Hasan, Why are police in the Indian Subcontinent humiliating quarantine violators?, (27/03/2020) https://www.trtworld.com/magazine/why-are-police-in-the-indian-subcontinent-humiliating-quarantine-violators-34911
[6]Tom Phillips, Brazilian president Jair Bolsonaro denounced for joining pro-dictatorship rally, (20/04/2020 and 15:05 BST) https://www.theguardian.com/world/2020/apr/20/jair-bolsonaro-dictatorship-rally-protest-brazil-president-denounced
[7] Steve Handrix and Ruth Eglash, Israel is using cellphone surveillance to warn citizens: You may already be infected, (20/03/2020 and 12:07 A.M.) https://www.washingtonpost.com/world/middle_east/israel-is-using-cellphone-surveillance-to-warn-citizens-you-may-already-be-infected/2020/03/19/68267294-69e7-11ea-b199-3a9799c54512_story.html (contd.)
[8] A Steve Handrix and Ruth Eglash, Israel is using cellphone surveillance to warn citizens: You may already be infected, (20/03/2020 and 12:07 A.M.) https://www.washingtonpost.com/world/middle_east/israel-is-using-cellphone-surveillance-to-warn-citizens-you-may-already-be-infected/2020/03/19/68267294-69e7-11ea-b199-3a9799c54512_story.html (contd.)
[9] https://www.un.org/development/desa/disabilities/covid-19.html
[10] http://www.emro.who.int/violence-injuries-disabilities/violence-news/levels-of-domestic-violence-increase-as-covid-19-pandemic-escalates.html
[11] Vignesh Radhakrishnan, Sumant Sen and Naresh Singarevelu, Data | Domestic violence complaints at a 10-year high during COVID-19 lockdown, (24/06/2020 and 15:53 IST), https://www.thehindu.com/data/data-domestic-violence-complaints-at-a-10-year-high-during-covid-19-lockdown/article31885001.ece