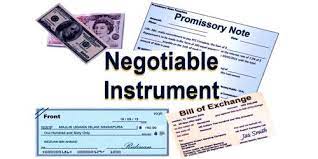 `What are negotiable Instruments?
Documents of a certain type, used in commercial transactions and monetary dealings, are called Negotiable instruments.
The word 'negotiable' means transferable from one person to another and the term 'instrument' means 'any written doc. by which a right is created in favor of some person.
Thus, the negotiable instrument is a doc. by which rights vested in a person can be transferred to another person in accordance with the provisions of the Negotiable Instruments Act, 1881.
Types of Negotiable Instruments
A promissory note refers to a written promise to its holder by an entity or an individual to pay a certain sum of money by a pre-decided date.
Bills of exchange refer to a legally binding, written document which instructs a party to pay a predetermined sum of money to the second(another) party.
A cheque refers to an instrument in writing which contains an unconditional order, addressed to a banker and is signed by a person who has deposited his money with the banker.