Read Time:
7 Minute, 35 Second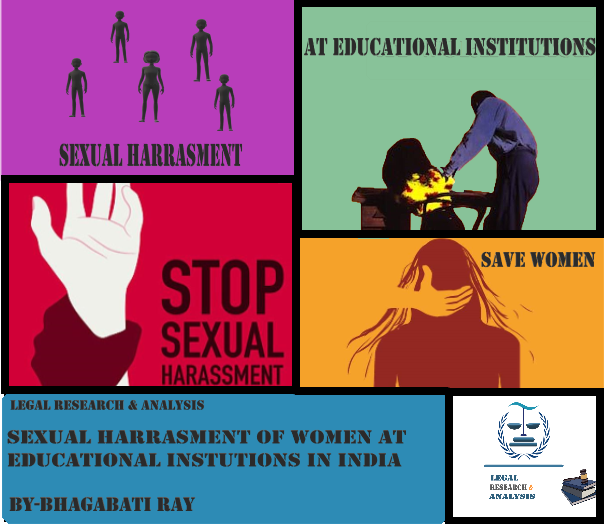 Sexual Harassment of Women at Educational Institutions in India
by Bhagabati Ray
Sexual Harassment is the expression of unhealthy human relationships. Sexual Harassment refers to persistent, unsolicited, and unwelcome sexual advances which could be visual, physical verbal, and non-verbal gestures and it is seen as a disease of present-day learning institutions.[1]  It is not just the Violation of dignity, right to social security, and right to equality guaranteed to human beings in every social system but it is also a violation of the right to life and peaceful existence guaranteed by law.  
Sexual Harassment is a type of discrimination against sex, which is a protected characteristic in title VII of the Civil Rights Act. Two types of Sexual Harassment exist (1) Quid Pro Quo. Sexual Harassment; (2) Hostile Work Environment Sexual Harassment.[2]
The need for such legislation was observed first time by the Supreme Court, in Vishaka v/s State of Rajasthan[3]. In the absence of any law at that time providing measures to check the evil of Sexual Harassment of Working Women, the  Supreme Court, in the exercise of power available under Article 32 of the Constitution, Framed guidelines to be followed at all workplace or institutions, until legislation is enacted for the purpose. The Supreme Court incorporated basic principles of human rights enshrined in the Constitution of India under the Articles 14, 15, 19(1), 21, and provisions of Convention on Elimination of All Forms of Discrimination against Women, which has been ratified in 1993 by the Government of India. The guidelines laid down by Supreme Court were to be treated as the law declared Under Article 141 of the Constitution.
The provisions of the IPC, 1860 Section 354, (Outraging Modesty of a Woman), Section 375(Rape), and Section 509 (Dealing with act intended to insult the modesty of a Woman) were all insufficient to address and curb the menace of Sexual Harassment incidents in India. Section 354- A this section was added to the Indian Penal Code upon the presidential approval of the Sexual Harassment of Women at the Workplace (Prevention, Prohibition and Redressal) Act 2013. The Amended Criminal Law Act, 2013 recognizes and provides a clear definition of sexual harassment and the punishment for it through this newly added section.[4]
 The Sexual Harassment of  Women at Workplace (Prevention, Prohibition and Redressal) Act, 2013 mandates all workplaces, including, any department, organization, undertaking, establishment, institution, office, a branch, or unit which is established, owned, controlled, or wholly or substantially financed by funds provided directly or indirectly by the appropriate Government company or a corporation or a co-operative society having more than 10 workers to constitute Internal Committee for receiving complaints of Sexual Harassment of Women at Workplaces. Educational Institutions are also covered under the Act.
University Grants Commission (Prevention, Prohibition, and Redressal of Sexual Harassment of Women Employees and Students in Higher Education Institution) Regulation 2015. This regulation describes the responsibilities of higher education institutions in taking measures for the prevention of Sexual Harassment at the workplace. UGC Regulations are statutory in nature, and hence all Universities and colleges are bound by them. 
Colleges have to set up an Internal Complaints Committee as the redressal mechanism to deal with matters of Sexual Harassment. This consists of presiding officer who is a Woman and a Senior Faculty member, two Faculty members, two Non-Teaching Employee, three Student representatives and one external member from an NGO or a person Familiar with issues relating to Sexual Harassment such as a lawyer. Minimum 50% of the members should be Women. Persons in senior administrative positions in the college such as Vice- Chancellors, Rectors, Registrar, Deans, and head of Departments should not be members of the committee.
The management of the Educational Institution must provide regular training programmes to the members of ICC, and sensitise the employees and the students at large on the zero intolerance towards this issue.
Every College or Higher Education Institution Has to inform its employees and Students on the recourse available to them if they are Victim of Sexual Harassment.
Colleges or Higher Education Institutions must possess guidelines for "Ethics for research supervision" as students of research and doctoral studies are more vulnerable to Sexual Harassment.
Colleges must do a half year review of the efficacy and the implementation of their Anti-Sexual Harassment policy.
Causes of Sexual Harassment in Educational institutions:
Sexual Harassment may be defined as the repeated deliberate unsolicited behavior towards another person of a sexual nature. This can include verbal comments, gestures, or physical actions. The issue of Women's safety has become a prime focus of public attention and concern in India. Sexual Harassment is any improper and unwelcome conduct that might reasonably be accepted or be perceived to cause offense or humiliation to another person. Sexual Harassment generally takes place when there is power or authority difference among persons involved Employee and Supervisor, Student and Teacher, Senior and Junior Teacher, etc. Sexual harassment at educational institutions has been understood as the exercise of power by specific individuals, and it has been dealt with via insufficient policies and grievance procedures.
Effect of Sexual Harassment in Educational Institutions:
Sexual Harassment can have a negative effect on the individual, in both the short and long term. The effect of Sexual Harassment varies from person to person depending on the severity of harassing behavior.
 Kapoor and Dhingra (2014)[5] Women, who have suffered humiliation and harassment, show certain peculiar characteristics in their behavior such as frightened, guilty, powerless, angry, ashamed depressed, and lacking self-confidence. Thus these offenses highly influence the lives of Women in many negative ways. They are not only physical abuse but also emotional mental torture that walks with them throughout their lives.
In the academic community, when a woman is harassed by an instructor or a co-worker, there can be concerns for coming forward, lodging a complaint, and facing the inquiry committee for fear of reputation, fear of relations, fear for implications to one's career and academic pursuits. Some of the effects a victim lady faculty or student may experience after an incident of Sexual Harassment are as follows:
Emotional and Physical
 Professional and Financial
Lower Job Satisfaction
Absenteeism
Low Productivity
Character Defamation
Present Scenario in India:
According to National Crime Records Reports Bureau, has started collecting data regarding Sexual Harassment at Workplace under the category of insult to Modesty of Women section 509 of IPC, at office premises since 2014. A total number of 57, 119, and 142 cases was registered during 2014, 2015, and 2016 respectively.
In so far as the complaints registered with the National Commission for Women are concerned, there is an increase in complaints registered under the category "Sexual Harassment at Workplace includes Sexual Harassment at Educational Institutions. The data indicating a number of such complaints registered during the last three years is given below:
| | | | |
| --- | --- | --- | --- |
| Year | 2016 | 2017 | 2018 |
| No. Of Cases | 539 | 570 | 965 |
             The NCW has from 2019 started to maintain data under the specific category of complaints of "Sexual Harassment of Women at Workplace". January saw the registration of a total of 29 cases.
Union Ministry of Women and Child Development has developed an online complaint management system title "Sexual Harassment electronic-Box" (SHe-Box) for registering complaints related to Sexual Harassment at Workplaces by Women, including government and Private Employees. So far 423 complaints have been registered at SHe-Box.
Sexual Harassment of Women is a Universal Problem and its gravity is felt by all concerns around the World. Nations have gone for various legal approaches to curb harassment issues. Incidents of Sexual Harassment at the educational institutions are very serious problems and threats to the whole education system. Our purpose shall be to instill a culture that every woman shall have a right to be free from Sexual Harassment and the Right to Work in an environment free from any form of Sexual Harassment. We all know that India is a patriarchal society and most cases of Sexual Harassment remain unreported. Women are reluctant to complain and prefer silence due to a lack of sensitivity on the part of Indian Society. There is a need to gender-sensitize our society so that the victim does not feel guilty and is encouraged to report any form of Harassment. The victim's privacy must be protected. The police and the judiciary, in particular, also need to be gender-sensitized. There should be speedy redressal and an increase in the convocation rate. Women themselves should be made aware of their right to a safe and harassment-free work environment.
---
[1]Available at www.ncbi.nlm.nih.gov/pmc/articles/pmc6531969/ Last Accessed on 6th August 2020, 8.12.pm
[2]Available at https://www.paycom.com/resources/blog/2-types-sexual-harassment-in-the-workplace Last Accessed on 7th August,2020, 11.34.am
[3] (1997) 6 SCC 241
[4] Gaur, K.D, (2016), The Indian Penal Code, Sixth Edition, Lexis Nexsis, Gurgaon, Haryana, Pp.846
[5] Kapoor, V, And Dhingra, K, (2014), Sexual Harassment against Women in India, OID, A International Journal of Sustainable Development,06(10), Pp.85-92