Read Time:
3 Minute, 8 Second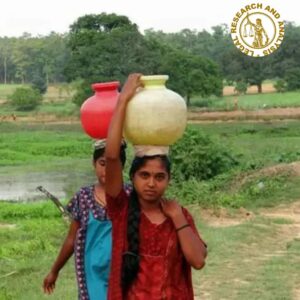 According to a new study conducted by the non-profit organization Educate Girls, the pandemic has had a significant impact on India's adolescent girls.
Not only has increased poverty kept them from attending school, but they are also under increased pressure from early marriage and household chores.
The number of hours spent on household chores by adolescent girls has increased by more than one hour per day since the pandemic. It is now more than 3.5 hours per day on average.
"The pandemic has affected both boys and girls, but adolescent girls aged 15-18 years have felt the most acute effect," according to the study.
It has also taken them further away from schools and their peers, which has been exacerbated by a significant loss of income in many households.
"The study's findings are clear: the barriers to girls' education are higher than ever before, and we must fight harder to ensure that these girls attend school, do not drop out, and continue learning. Adolescent girls are particularly affected.
The study also highlights the experiences of girls and the long-term impact of the pandemic on their lives "Educate Girls founder and board member Safeena Husain says.
The research was carried out in rural areas of Rajasthan, Madhya Pradesh, and Uttar Pradesh between November and December 2021. It received responses from 3,200 girls and boys ages 5 to 18.
Getting up early to complete chores
School closures have taken away young girls' ability to interact with their peers. The percentage of adolescent girls who did not attend school (23%) was nearly double that of adolescent boys who did not attend school.
Furthermore, those who returned are still burdened with increased household work, forcing them to strike a balance between school and housework.
"During discussions, mothers mentioned that their daughters are waking up earlier to complete household tasks before and after school." Boys, on the other hand, only assist when they feel like it, and mothers cannot always rely on them to assist," according to the report.
Even after schools reopen, three out of every four adolescent girls will continue to bear the burden of household chores.
"Adolescent girls yearned to return to school so they could interact with their peers." As schools reopen, students will have to continue to strike a balance between school and household responsibilities.
Returning to school for many others will necessitate a collaborative effort from their community, parents, schools, and government agencies operating in their ecosystems, according to the report.
Even before the pandemic, young girls had it rough compared to their male counterparts. According to a 2017 report, adolescent girls work 120-150% more hours than boys in Indian households.
Girls in this age group also expressed a desire to return to school in order to take a break from household chores.
"Evidence from lower-income countries where inherent gender inequalities exist indicates that the lockdown has resulted in an increased burden of household chores on girls," according to the report.
The closure of 1.5 million schools in India by 2020 will affect approximately 247 million children enrolled in elementary and secondary schools.
The Burden of Early Marriage
Another study, Girls-Not-Brides, by Educate Girls, found that out-of-school girls who are overburdened at home were also pressured to marry. According to the study, this would increase the likelihood of early pregnancy, domestic abuse, and violence.
Poverty and financial hardship also drove the parents to marry off their daughters at a young age during Covid.
According to the study, 30% of the girls polled in Uttar Pradesh were already married. There has been a significant increase in the number of marriage proposals made to young girls in Rajasthan.