Read Time:
2 Minute, 21 Second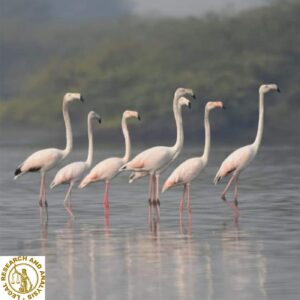 India has identified five new wetlands of Global significance, which include three wetlands (Karikili Bird Sanctuary, Pallikaranai Marsh Reserve Forest & Pichavaram Mangrove) in Tamil Nadu, one (Pala wetland) in Mizoram, and one wetland (Sakhya Sagar) in Madhya Pradesh, resulting in a total of 54 Ramsar sites in the country.
The number of Ramsar sites has enhanced from 49 to 54.
What is the RAMSAR Wetland Site?
The Ramsar Convention is an international treaty that recognizes the fundamental ecosystem roles of wetlands as well as their fiscal, cultural, scientific, and recreational value. Wetlands are some of the most varied and abundant ecosystems on the planet.
They provide critical services and provide all of our fresh water. They are, however, being degraded and transformed for other uses. Wetlands are defined broadly in the Convention.
All lakes and rivers, underground aquifers, swamps and marshes, wet grasslands, peatlands, oases, estuaries, deltas, tidal flats, mangroves, and other coastal areas, coral reefs, and all man-made sites like fish ponds, rice paddies, reservoirs, and salt pans are included.
Under the Convention's "three pillars," Contracting Parties commit to working toward the wise using all their wetlands; designating suitable wetlands for the Ramsar List of Wetlands of International Importance, ensuring their effective management; and cooperating internationally on transborder wetlands and shared wetland management processes, and sharable species.
Various Wetlands in India are:
Andhra Pradesh has 1 Wetland: Kolleru Lake
Assam has 1 Wetland: Deepor Beel
Bihar has 1 Wetland: Kanwar Lake
Gujarat has 4 Wetlands: Khijadiya, Nalsarovar, Thol Lake, Wadhvana Wetland
Haryana has 2 Wetlands: Sultanpur National Park, Bhindawas Wildlife Sanctuary
Himachal Pradesh has 3 Wetlands: Chandra Taal, Pong Dam Lake, Renuka Lake
Jammu and Kashmir has 3 Wetlands: Hokersar Wetland, Surinsar-Mansar Lakes, Wular Lake
Kerala has 3 Wetlands: Ashtamudi Wetland, Sasthamkotta Lake, Vembanad-Kol Wetland
Ladakh has 2 Wetlands: Tsomoriri, Tso Kar
Madhya Pradesh has 2 Wetlands: Bhoj Wetland, Sakhya Sagar
Maharashtra has 2 Wetlands: Nandur Madhameshwar, Lonar Lake
Manipur has 1 Wetland: Loktak Lake
Mizoram has 1 Wetland: Pala Wetland
Odisha has 2 Wetlands: Bhitarkanika Mangroves, Chilika Lake
Punjab has 6 Wetlands: Beas Conservation Reserve, Harike Wetland, Kanjli Wetland, Keshopur-Miani Community Reserve, Nangal Wildlife Sanctuary, Ropar Wetland
Rajasthan has 2 Wetlands: Keoladeo National Park, Sambhar Lake,
Tamil Nadu has 4 Wetlands: Point Calimere Wildlife and Bird Sanctuary, Karikili Bird Sanctuary, Pallikaranai Marsh Reserve Forest, Pichavaram Mangrove
Tripura has 1 Wetland: Rudrasagar Lake
Uttar Pradesh has 10 Wetlands: Bakhira Sanctuary, Nawabganj Bird Sanctuary, Parvati Arga Bird Sanctuary, Saman Bird Sanctuary, Samaspur Bird Sanctuary, Sandi Bird Sanctuary, Sarsai Nawar Jheel, Sur Sarovar, Upper Ganga River
Uttarakhand has 1 Wetland: Asan Barrage
West Bengal has 2 Wetlands: East Kolkata Wetlands, Sundarban Wetland