Read Time:
1 Minute, 37 Second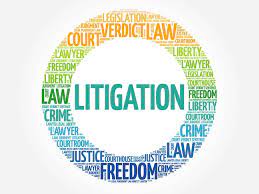 What is Litigation?
Litigation, meaning "dispute" (litigatio in Latin), is a law concept used to describe the process of enforcing or defending an entity's legal rights.
The meaning of litigation in law refers to the actions between two opposing parties working in the interest of enforcing or defending a legal right.
It refers to the process of resolving disputes by filing or answering a complaint through the public court system.
How does the litigation process works?
The litigation process is divided into four phases
The first stage involves the investigation and filing of the complaint. During this stage, the attorney investigates the factual basis of the claim and legal theories of liability.
The second stage of the litigation process is known as discovery. Discovery allows both the plaintiff and defendants to send written questions to the opposing party (called interrogatories) that need to be answered under oath.
The third stage is known as pre-trial motions stage. During this stage, the parties bring pre-trial motions.
The fourth stage is the trial of the case and any appeals. During this phase, the parties present their case to a judge or jury by way of live testimony and submission of exhibits.
Why does litigation costs so much
Litigation is expensive for a number of reasons, but the primary reason is that litigation is very time consuming and labor-intensive.
For a lawyer to be ready at trial, he must know virtually every aspect or facet of the case, and be familiar with each and every document associated with the case.
Some lawyers estimate that they must spend at least 10 hours in preparation for every one hour of actual trial time. Sometimes the cost of expert witnesses greatly increases the litigation expenses.
In other cases, the sheer number of witnesses to be interviewed and/or cross-examined can greatly influence the expense of the case.