Let's became a part of our team Join Legal Research and Analysis as a Campus Ambassador.
About the CampusAmbassador program!
During the span of three months you will go through several phases in one phase you have to dedicate and Promote Legal Research & Analysis in your prestigious university and among your college circle. Assist and cooperate with our team to organize events online workshops, debates, interviews In another phase you have to participate in the workshop, especially meant to teach basic concepts of researching and other techniques to sharpen your researching abilities. The workshop will be chaired by Our chief editor Professor Hassana Quadri. And in the final phase, you have to submit your Content Article/blog/research papers(subject to the approval of the editorial board) which will be displayed In our web portals and on any other means of social platform your profile is wide purview. Conduct interviews of eminent personalities in the field of law and in any sphere of social institutions for every work you will get recognition. It will be mentioned in your certificate.
Perks!!
In this program, you get an exclusive opportunity to;
Learn new skills, build self-confidence, interact with the Members of Legal Research & Analysis, recognition on our website Enhance your leadership and communication skills. Certificate of appreciation for successful completion of tenure, and Discount in all events organized by Legal Research & Analysis during their tenure. Get a chance to become a part of our team.
Eligibility Criteria;
Any Student pursuing law from any recognized Law College.
Must have Good Communication Skills,
Self-motivated with some Organizing and resourcefulness skills.
How to Apply
Interested student send their CV's through email to (Legalresearchanalyst2020@gmail.com)with the subject "Application for LR&A CampusAmbassadorProgamme 2021″
SIMRANJEET KAUR
Internships
| | |
| --- | --- |
| Company/Firm | Overview Internship ) |
| Punjab State Human Rights Commission, Chandigarh (June 2018) | Learned about working off commission. Conducted research in human rights and Real Estate Laws. |
| Adv. Rakesh Handa, Punjab and Haryana High Court(June 2017) | Conducted research in family law, Labour LawAttended proceedings before the High Court and District Court of Panipat. |
| Adv.Sahib Singh Bajwa, District court, karnal (Jan 2018) | Drafted Divorce Petition in the Family Court and Copyright matter in the City Civil Court. |
| Adv.Rishhav Jain, Punjab and Haryana High Court, Chandigarh(Jan 2019) | Attended proceedings before the High Court of Punjab and Haryana, Chandigarh. |
| Adv. Vishal Goel, District court(Nov 2019) | Attended civil and criminal proceedings in civil court and court of session l |
Extra And Co-Curricular Activities
Got 1st POSITION in the Management Game- 'Strategy Planning- Leadership and non- verbal communication'(2019).
QUARTER FINALIST in 4th ANAND SWAROOP GUPTA MEMORIAL NATIONAL MOOT COURT COMPETITION at Sharda University (2019).
Got 6th Rank in "NATIONAL BLOG CMPETITION" held by Legal Research Analyst, Aligarh Muslim University (2020).
Participated in 7th "National Moot Court Competition" at Geeta Institute Of Law, Panipat Haryana, (2017).
Participated in "NATIONAL LAW DEBATE COMPETITION" at Punjab University, Chandigarh (2018).
Participated in "NATIONAL LAW DEBATE COMPETITION" at Subharti University, Meerut (2017).
Participated in "ABHIVYAKTI FEST DEBATE COMPETITION at Chandigarh University (2017).
Participated in "INTERNATIONAL SEMINAR" on CYBERSPACE at Geeta Institute Of Law, Panipat (2017).
Got certificate from BCI for joining training program in "ART OF MOOTING"conducted on 10th feb, 2018.
Volunteered for the organization of "INTERNATIONAL SEMINAR" (2018).
Participated as court master in "8th National Moot Court Competition",2018.
Participated in the 5th edition of NH-65, the cultural and literary fest organised by National Law University, Jodhpur, 2018.
Participated in the GIL INTRA MOOT COURT COMPETITION, 2018.
Participated in Youth Fest at Geeta engineering college.
Got GOLD and BRONZE MEDALS in Sports meet at Geeta Institute of Law.
Participated in "Sangreela Annual Fest" DuetDanceCompetition in 2017 and 2018.
Stood 1st POSITION in GROUP DISCUSSION COMPETITION at Geeta Institute of Law (2019).
Participated in National Conference on Criminal Justice System in India held at GIL (2019).
Participated in Republic Week Celebration, 2020 at IP University, Delhi (2020).
Participated in NATIONAL MOOT COURT COMPETITION at (PURC) University Institute of Laws, Ludhiana (2020).
COMPUTER SKILLS
Microsoft Powerpoint.
Microsoft Word
Net Surfing.
Personal Details
Father's Name:– Mr. Rajinder Singh
Mother's Name :- Mrs.Paramjeet Kaur
DOB:-1998,3rdJan
Languages Known:- Hindi, English, Punjabi
---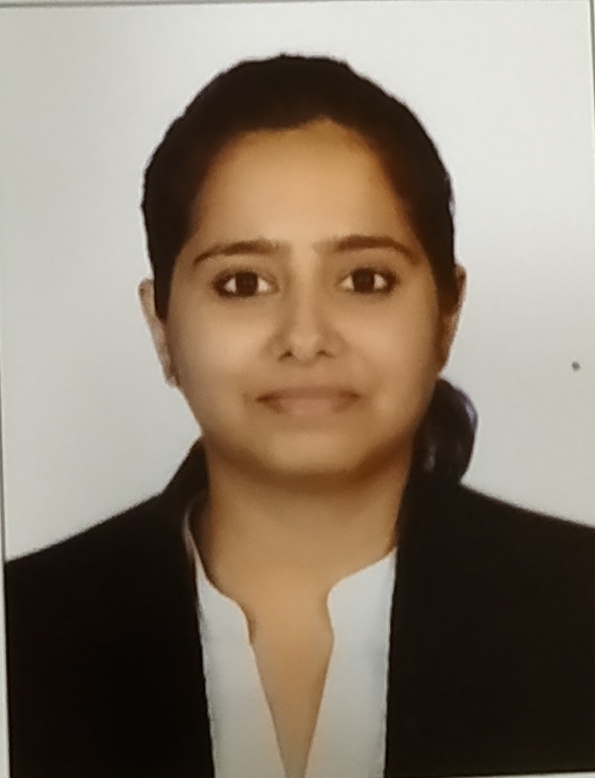 PRACHI YADAV
PRACHI YADAV is a post-graduate, currently pursuing LLM, from Amity University, Noida Uttar Pradesh India. She is an avid learner of everything and a firm believer in the power of Law. In her college, she has been an active participant in many competitions and emerged victoriously. She has also organized various events and National level competitions with University Debating and Literary Club.
Awards and Recognition
AREA OF INTEREST
Merger & acquisition sector
Work with investors and consult them.
Contract negotiation
Banking law

Commercial law
SUBJECT BAR
Name – Prachi Yadav
Program -( CB&IL) Corporate, banking and insurance law .2020-2021.
Enrolment.no. – A3268620004
Awards and Recognition
Badminton regional level player
Chess cluster level player
Short put second runner up
Drawing competition secured third position
Participated in Essay writing competition
Participated in moot court
Participated in events, workshops
INTERNSHIP WITH ADV.VIVEK TANWAR LAW OFFICES
JUNE- JULY 2019 (1month)
Article write-ups
Presenter
Feedback
INTERNSHIP WITH CORPORATE LEGAL PARTNERS
JUNE 2019 (20 days)
Research questions/answers on IBC law, companies act, RERA, Civil Law.
Office work.
Work on MS WORD
Day to day task
INTERNSHIP WITH ADV. VINOD YADAV
JUNE -JULY (1 MONTH)
Criminal litigation
Taking Orders in favor of the case.
INTERNSHIP WITH ADV.SHIMLA TOMAR
AUG – SEPT 2019 (1 month)
Divorce matters litigation
Client handling
Advertiser
ADV.M.L. CHAUDHARY OFFICE
SEPT – DECEMBER 2019(3months)
Client handling
Criminal Litigation
conveyancing
Work on MS WORD
ADV.VIJAY GUPTA
JAN – APRIL 2019 (4 months)
Insurance, MACT, banking, litigation
Completion of daily tasks
Effective time management
Hearing of arguments
VIRTUAL INTERNSHIP
Intern Shala (1 month)2017
Law Rato ( 1 month)2017
LITTLE MILLENIUM SCHOOL
JULY – NOVEMBER 2017 (5months)
Assistant facilitator
Teaching English and science subject
Parent -meeting
Feedback and improvement on student performance
CONCENTRIX BPO
Completed customer service message training in amazon (USA)
(18days) 2017
ADV. PANCHAJANYA SINGH BATRA
July – Oct 2016 (3 months)
National green tribunal
Work on MS word
Litigation
Assisting clients
Research work
INTERNSHIP WITH ADV.O.P. GAUR
JAN- FEBRUARY 2015
Civil matters litigation
Attending court appearances.
INTERNSHIP WITH ADV.G.S. RATHAUR
DEC – JANUARY 2014
Case reading
Civil and divorce matters litigation.
Court hearings
TUITION TEACHER AT HOME
AUGUST -OCT 2014
ENGLISH, SST, SCIENCE, HUMANITIES, BUSINESS STUDIES.
CRAFTWORK.
CONTENT WRITER
BLOG WRITER
ARTICLE WRITER
COUNSELLOR
LEADERSHIP SKILL
SPEAKING IN PUBLIC
READING
LISTENING
QUESTIONING
ANSWERING QUERIES on calls
RESOLVING CONFLICTS
NEGOTIATING
CHAIRING MEETINGS
DIRECTING AND SUPERVISING
ORGANIZING
FEEDBACK
PRESENTATION
INDEPENDENT DECISION MAKING
INSTAGRAM ACCOUNT HANDLING
HELPING SKILLS
MANAGING INFORMATION -INFO INTO ORGANIZED SYSTEM
COLLABORATING
PROMOTER SKILLS
EXPERIMENTING
TEAM BUILDING SKILL
ENTREPRENEURSHIP SKILL
COORDINATOR
CONVINCING SKILL
ADVISORY SKILL
SOLUTION PROVIDER
CUSTOMER SERVICE SKILLS
SAMPLING TECHNIQUE
Framing of a legal opinion
Logical reasoning
CONFIDENCE
VERSATILITY
RESEARCH WORK
EXPERIENCED IN THE LEGAL INDUSTRY
EXPERIENCED IN THE TEACHING INDUSTRY
---
---