Welcome to Legal Research & Analysis, India's most rising and reliable web Platform for Law journals and publications, we are not only dealing in legal research but we are consistently hosting debates, hot-talks, parliamentary debates, calls for research papers, blogs, articles. We are proudly flagged by Google AdSense as a source of a reliable platform. We have a team of highly qualified Professionals scholars, professors, jurists, lawyers, and administrators, who take greater care of your academic requirements so you can always stay a step ahead in Law society.
Launched on March 1, 2013, Legal Research & Analysis, now reaching all 193 countries.
This website has been created to ensure the paramount consideration i.e. to uncover the technicalities of law and develop a proper understanding of the currently debated issues more simply. Moreover, having a multidisciplinary approach backed with logical deduction, this website concentrates on the true and genuine way to enhance our readers' minds' cognitive faculty. We hope to become a cogent reason to stay connected with us.
Moreover, the idea behind creating this website was to provide a stage to enhance the writing skills of intellectual minds and help them to develop original ideas, articles, research papers, available to everyone and imparting legal knowledge with daily updates from around the world of law, about the latest news, all laws being in forced new developments in the legal field
In case you want to share an opportunity, please share it here.
About the certificate program!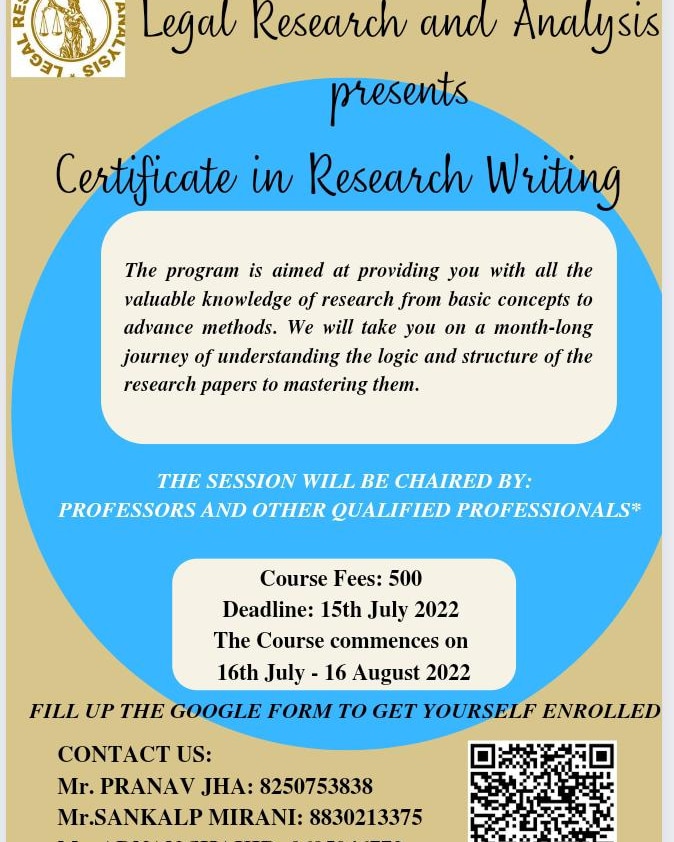 The program is aimed at providing you with all the valuable knowledge of research from basic concepts to advanced methods. We will take you on a month-long journey of understanding the logic and structure of a research paper to master it. The course is designed to give you detailed guidance in creating a first quality research paper — the kind of guidance that you may not get in any of your regular classes.
To get an insight into it click here
Faculty & Chair person

Assistant Professor in the Faculty of Law, at Thakur Ram Narayan College of Law, Dahisar, Mumbai.
She holds her B.A.LLB (Hons)from Aligarh Muslim University. She has completed her Master of Laws (LLM) in Corporate and Commercial Laws from National Law University, Mumbai in 2018.
She has presented her papers in various National Law Universities by far in institutions like NLUs, IITs, and central universities. Her research papers got published in national journals of institutes like IIT, NLU, and AMU.
---
ASSISTANT PROFESSOR,
Symbiosis Law School Nagpur
Mr. Ahmar Afaq is currently working as an Assistant professor at Symbiosis Law School, Nagpur. He has also taught at the Faculty of Law, Aligarh Muslim University, and Symbiosis Law School Hyderabad, the former happens to be his alma mater as well. During his tenure at Symbiosis Hyderabad, he was the founding head of the Centre for Human Rights, SLS-H. He has worked in collaboration with Edinboro University, the USA on a research project on the Rohingya Refugees and with Tribal Research Centre, Tamil Nadu pertaining to study the customary practices of the six tribal populations in the Niligiri Hills.
To acknowledge his contribution to society he has been honored with several awards by various organizations.
---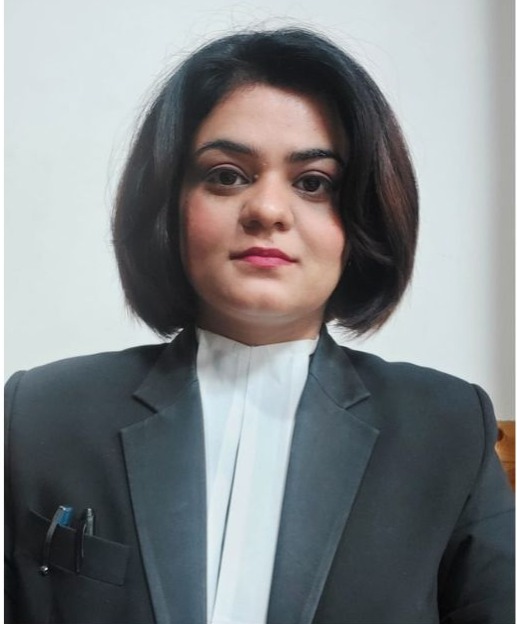 Dr. Kanu Sharma is an Advocate and Social-activist. She is a Joint Secretary, P& H HC, Chandigarh(12 years standing) and She has joined AAP Political Party, Punjab/Chandigarh. She is a Secretary at Arjun Foundation and General Secretary of LRA Women.
---
MOHAMMAD SALEEM
ASSISTANT PROFESSOR,
Department of Law,
Aligarh Muslim University,
Murshidabad Centre.
Mr. Mohammad Saleem is serving his duties as an Assistant Professor of Law at Aligarh Muslim University Centre at Jangipur, Murshidabad, West Bengal. He is working at Murshidabad Centre since September 2020. His area of interest and research includes Constitutional Law of India, Comparative Constitutional Law of U.S.A and U.K., Democracy, Civil Liberties, and Human Rights. He also has a deep interest in everyday political affairs of national and international importance.
He is currently assigned with subjects in B.A.LL.B which are Administrative Law, International Trade Law, Women, and Law, and The Interpretation of Statutes. Apart from this, he has taught the Civil Procedure Code, Competition Law, Land Laws of U.P., and Cyber Law (Information Technology Act).
---
Who can Apply!!
WHO CAN APPLY?
Any student pursuing a bachelor's degree
Student who has just passed out from their bachelor's course in 2021.
WHAT YOU'LL LEARN
UNDERSTANDING the logic and structure of the Research paper,
IDENTIFY the qualities that make a research paper effective
KNOW what to write at every stage of your research,
STREAMLINE your writing process to achieve better research and a fact-based and professional research paper.
USE correct and recommended researching methods
MASTER English expressions that professional writers use in their thesis.
PERKS AND PRIZES
Certificate
Free Publication at our web platforms and wide recognition
E-resources worth $200USD
Exclusive opportunity to join our Student Editorial committee.
10% royalties lifetime, (on any revenue generated from your publication during the span of the course)*
Course duration
A span of complete 28 days,
The session starts on 2nd August 2021.
REQUIREMENTS
No prior knowledge or experience in
research is required to take this
course
Registration
Fill up the google form on or before the 30th of June 2022, click here to fill up the google form
FEES & Payments
Fill up the google form on or before
30th of June
You are requested to pay a sum of Five hundred(500) Rupees[Non-Refundable]. At the following Contact Number 8250753838, you can opt for UPI payments or Paypal with the same number. This fee charge is applicable for every participant and is compulsory, denial of the same would amount to withdrawal from the event by your own consent. We Charge very little not for our profit but for the NGOs run by Legal Research & Analysis. Our sole motto is to serve humanity at all times. We hope this would be very reasonable for you.
Name- Legal Research & Analysis
Bank- State Bank of India
A/c no.- 3306201000490
IFSC Code- CNRB0002336
INR 500/-
UPI ID:- jhapranav2016@okaxis
Use phone pe on above mentioned UPI id.
DOWNLOAD BROCHURE
Click the following download button for brochure download
Help Desk
Tanvi Janda (Joint Secretary)
Mobile no.- 79863 53150