Read Time:
1 Minute, 10 Second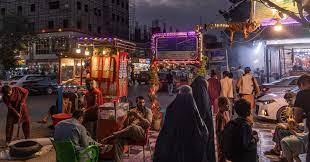 A cash crunch is crippling Afghanistan
Humanitarian aid is no substitute for a functioning economy. The International Rescue Committee, a big ngo, helps displaced Afghans with cash, clean water, and tents to shelter in. It provides sanitation. It funds dozens of clinics. It helps people find jobs and arranges training for development projects.
All this aid does not come cheap. Vicki Aken, who runs its operation in Afghanistan, reckons she needs between $1m and $2m every week to keep it going. But ever since the Taliban took over the country in August, foreign banks have refused to transfer money to Kabul, the country's capital, fearing hefty fines, or worse, for breaching sanctions. Meanwhile, the Taliban, worried about running out of currency, have capped withdrawals from Ngo's local accounts at $25,000 per month.
Instead, Ms. Aken's organization is relying on the hawala network, an informal money-transfer system that originated in India. Used for centuries by pilgrims, migrants, and merchants all around the Islamic world, it operates on the basis of trust: an agent in one country receives cash and a counterpart in another disburses it, even though no money actually crosses borders. Many other NGOs are doing the same. The surge in demand for hawala services has pushed fees up from around 2% early last year to between 4% and 13% today.