Read Time:
2 Minute, 25 Second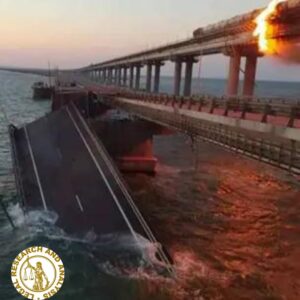 The only bridge connecting Russia and Crimea has partially collapsed following reports of a fire and explosion.
The incident, according to Russian officials, was caused by a lorry explosion, which damaged a vital supply artery for Moscow's faltering war effort in southern Ukraine.
A road blast caused oil tankers on the rail section to catch fire, and several sections of the road eventually collapsed.
Russia annexed Crimea in the aftermath of the Ukrainian Revolution in 2014, though the legality of the annexation has long been disputed.
While Ukraine has not claimed direct responsibility for the explosion, Mykhailo Podolyak, an adviser to President Zelenskyy, said it was only the "beginning."
He wrote on Twitter: "Crimea, the bridge, the start. Everything that is illegal must be destroyed, everything stolen must be returned to Ukraine, and everything that Russia occupies must be expelled."
Ukraine's defense ministry also took to Twitter to compare the explosion to the April sinking of Russia's Moskva missile cruiser.
It said: "Two notorious Russian power symbols in Ukrainian Crimea have been demolished. What's the next step?"
President Putin inaugurated the bridge in 2018, and it is vital to the Kremlin. The bridge has been used by Russia to transport military equipment, ammunition, and Russian personnel to battlefields in southern Ukraine.
Russia's Energy Ministry stated that Crimea has enough fuel for 15 days and that it is looking into ways to replenish supplies. Passenger traffic across the bridge, however, has been suspended until further notice.
"At 06:07 Moscow time today [03:07 GMT], an explosive device was set off at a cargo vehicle on the motorway part of the Crimean bridge on the side of the Taman peninsula, which set blaze to seven fuel tanks of a train en route to the Crimean peninsula," Russia's National Anti-Terrorism Committee (NAC) said in response to the explosion.
"Two sections of the bridge on the highway partially collapsed."
According to BBC News, Crimean parliamentary speaker Vladimir Konstantinov said the explosion was caused by "Ukrainian vandals who have finally managed to reach their bloody hands to the Crimean bridge."
"Now they have something to be proud of over 23 years of their management, they didn't manage to build anything worthy of attention in Crimea, but they managed to damage the surface of the Russian bridge," he continued on Telegram.
President Putin has been briefed on the explosion and has directed a government investigation.
Military experts say Kyiv is gaining ground in its conflict with Russia, with its army reclaiming a large portion of territory in recent weeks.
As a result, Moscow has recently taken drastic action, with President Putin announcing a partial mobilization of his troops.
This sparked anti-war protests across the country, with more than 200,000 people already drafted, according to Defence Minister Sergei Shoigu.