Read Time:
2 Minute, 27 Second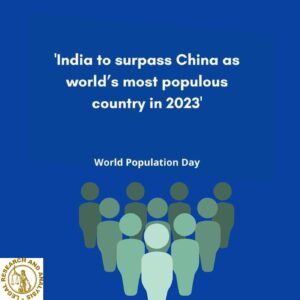 According to a United Nations report released on World Population Day, India is expected to overtake China as the world's wealthiest country next year.
According to the United Nations Department of Economic and Social Affairs, Population Division's World Population Prospects 2022 report, the world's population is expected to reach eight billion on November 15, 2022.
According to the United Nations' most recent projections, the global population could reach 8.5 billion in 2030, 9.7 billion in 2050, and 10.4 billion in 2100. As the population of Eastern and South-Eastern Asia begins to decline in the mid-2030s, Central and Southern Asia pacific is anticipated to become the world's most populous region by 2037.
According to the report, the two most populous regions in 2022 will be both in Asia, with 2.3 billion people (29 percent of the global population) in Eastern and South-Eastern Asia and 2.1 billion in Central and Southern Asia (26 percent of the global population).
With over 1.4 billion people each, China and India accounted for the majority of the population in these two regions. According to the report, due to lower levels of fertility, global population growth slowed by more than half after 1965.

In India, IHME initiatives a total fertility rate of 1.29 births per woman in 2100, compared to 1.69 in the United Nations medium scenario, resulting in a population 433 million lower than projected by the UN at the end of the century.

In 2022, the world will have slightly more men (50.3 percent) than women (49.7 percent). This figure is expected to gradually invert over the next century. It is expected that by 2050, the number of women will be equivalent to the number of men. International migration has become a big aspect of population change in some parts of the world.

Between 2010 and 2021, ten countries are estimated to have experienced a net outflow of more than one million migrants. Many of these outflows were caused by temporary labor movements in countries such as Pakistan (net outflow of -16.5 million from 2010 to 2021), India (-3.5 million), Bangladesh (-2.9 million), Nepal (-1.6 million), and Sri Lanka (-1 million).
The world's 46 least developed countries (LDCs) are among the fastest-growing. Many are expected to almost double the population between 2022 and 2050, putting extra strain on resources and posing challenges to achieving the SDGs (SDGs).
According to the UN report, the association between population and sustainable development should be regarded in light of climate change and other global environmental obstacles that have a straightforward impact on sustainable development.

Population growth may not be a significant responsibility for environmental damage; however, it may exacerbate the problem or hasten its onset, depending on the problem at hand, the timeline considered the technological capability, and the demographic, social, and development trends.