Read Time:
1 Minute, 21 Second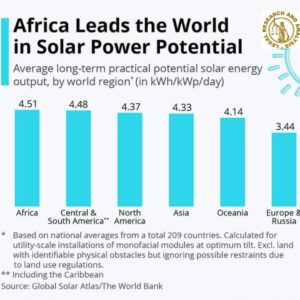 Statistics from the Global Solar Atlas for The World Bank, as researched by Statista, illustrate the average solar energy potential around the world, with Africa leading the pack, as this infographic demonstrates.
This reinforces the fact practical yield of a utility-scale solar energy system in each nation is 4.51 kWh/kWp/day in Africa, which is higher than Central & South America's 4.48 and further behind North America's 4.37.
The evaluations "isolate areas due to physical/technical limitations, such as rugged terrain, the presence of urban places, forests, and areas that are too detached from the establishments of human activity," but they do not take into account "slightly soft, i.e., areas that might be inappropriate due to regulations levied by national or regional officials (such as the conservation of farmland or nature conservation)".
In order to put the statistics into perspective, nearly 20% of the world's population resides in 70 nations that have "leads to improved" for solar energy, which is defined as long-term output surpassing 4.5 kWh/kWp per day. Only the countries in Africa as a whole average above this limit on a global level.
This potential is still largely unrealized in the less developed nations of Africa, but as the source notes, it presents "a rare opportunity to provide reasonably priced, reliable, and sustainable energy services to a large portion of humanity where improved economic possibilities and quality of life are most needed."
By global region, this graph displays the average long-term realistic potential solar electricity production (in kWh/kWp/day).