Read Time:
2 Minute, 8 Second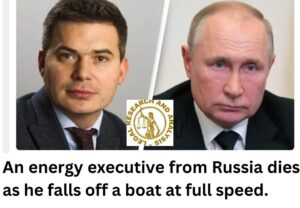 The Corporation for the Development of the Far East and the Arctic's managing director, Ivan Pechorin, 39, passed away on Saturday, September 10 in the vicinity of Russky Island, around 5,800 miles east of Moscow.
Since Russia invaded Ukraine on February 24, Pechorin is the most notable successful businessman to have suddenly passed away.
In addition to "developing resources in the Arctic in light of hefty sanctions," Pechorin worked on "modernizing aviation in eastern Russia," according to Newsweek.
It is believed that he last appeared in public at the Eastern Economic Forum, which took place between September 5 and 8 and promotes investment in Russia.
Everyone has their Route: The Logistics of a Changed World was the title of the session Pechorin allegedly spoke at.
Igor Nosov, 43, who served as the company's former CEO, reportedly passed away unexpectedly following a stroke in February.
In the meantime, 67-year-old Ravil Maganov, the former CEO of Lukoil, the second-largest oil business in Russia, died on September 1 in a Moscow hospital after allegedly being battered as well.
Maganov declared before his passing that he opposed the invasion of Ukraine.
People were surprised by the quickness and effectiveness of Ukraine's counterattack against Russia on the same day that Pechorin died as the nation kept repelling invaders.
Early on in the Russian invasion, there were worries that troops might sweep into Ukrainian cities and overthrow Volodymyr Zelenskyy's administration.
While Russia has been able to annex some land, this is undoubtedly not how Putin had envisioned his nation's "special military operation" going. The invading force was unable to capture the capital city of Kyiv.
On September 10, Ukrainian officials announced that their armed forces had retaken Kupiansk, a key supply base for Russian soldiers.
Russia's defense ministry responded by declaring that it was withdrawing its troops from a portion of the eastern Kharkiv region of Ukraine.
According to the UK Ministry of Defence, Ukrainian forces looked to have moved up to 50 kilometers (30 miles) into Russian-held territory on September 10.
The MoD further claimed that the territories taken were only thinly contested and noted that this most recent action presented difficulties for the Russian positions in both the north and south of the nation, suggesting that Putin's troops were caught off guard by Ukraine's counterattack.
Tags: Ivan Pechorin, Corporation for the Development of the Far East and the Arctic, Russky Island, Moscow, Volodymyr Zelenskyy's, Pechorin, Russia, Ukraine, Eastern Economic Forum, Route, Nosov, Kupiansk, Kyiv, Vladimir Putin