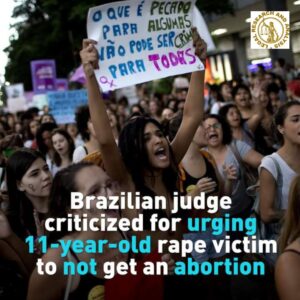 A Brazilian judge is under fire after a tone emerged as she tried to convince an 11-year-old pregnant rape survivor not to have an abortion, the Washington Post reports, citing Intercept Brasil. According to the report, the girl's mother took her to the hospital two days after realizing she was pregnant, although the girl was found to be 22 weeks pregnant. In Brazil, there is no time limit for a rape survivor to have an abortion.
The hospital's policy was to only perform abortions up to 20 weeks gestation, which brought the case before Judge Joana Ribeiro Zimmer.
In the leaked audio, Judge Joana Ribeiro Zimmer can be heard asking if the girl could face being pregnant undefined. The girl repeatedly said that she did not want to give birth.
The judge ordered the girl to be separated from her family and initially housed in a home.
The AP reported that the Brazilian Judicial Control Agency is investigating the judge.