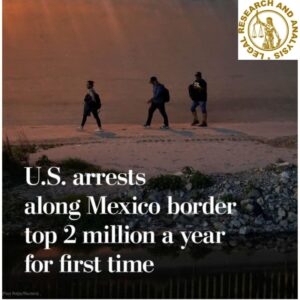 According to information revealed by senior Biden administration officials on Monday, US police made more than 2 million immigration arrests along the southern border in the last 11 months, marking the first time yearly enforcement statistics have crossed that barrier.
According to the most recent numbers, US Customs and Border Protection detained 203,598 migrants crossing from Mexico in August, putting authorities on track to make more than 2.3 million arrests throughout the government's fiscal year 2022, which ends Sept. 30.
The tally, which includes people arrested many times, greatly outnumbers the previous year's record of more than 1.7 million arrests.
This year's extraordinary migrant wave has been fueled by a surge in border-crossers from countries other than Mexico and Central America, the two most common traditional sources of illicit entry.
Officials in the Biden administration blamed the governments of those countries, whose weak relations with Washington severely limit authorities' capacity to transport deportees to them.
Many of the migrants seek humanitarian protection in the United States and have compelling asylum cases.