Read Time:
2 Minute, 49 Second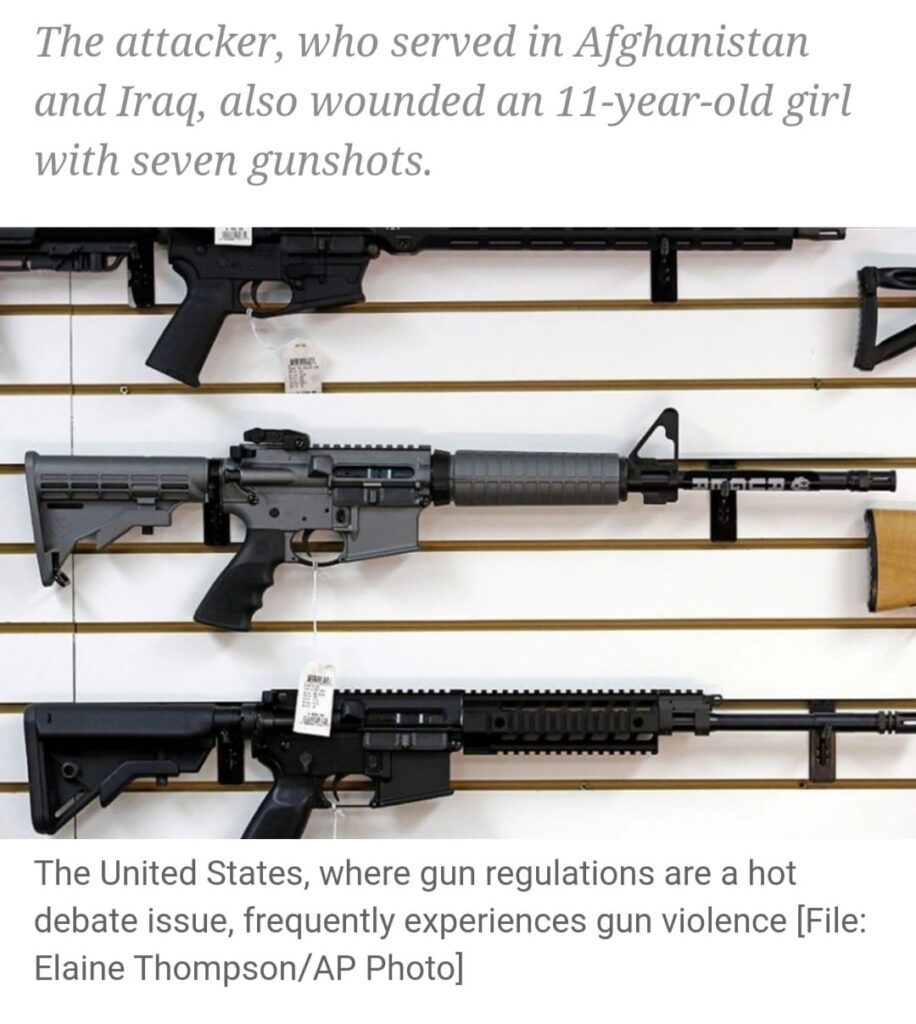 A former sniper in the US military has killed four people, including a woman and her three-month-old baby boy who was in her arms, then surrendered to police in central Florida.
The suspect, identified as Bryan Riley, 33, also wounded an 11-year-old girl who underwent surgery for seven gunshot injuries, Polk County Sheriff Grady Judd told a news conference on Sunday.
Riley, who had no connection to the victims, engaged in an intense shoot-out with police before giving up. He later tried to grab a police officer's gun while being treated in the hospital for his own gunshot wound, before being subdued again, Judd said.
A veteran of the US wars in Iraq and Afghanistan, Riley worked as a bodyguard and security guard.
Judd said his girlfriend told investigators he suffered from a post-traumatic stress disorder and occasional depression, adding about a week ago his mental health worsened and he started "speaking with God".
"He said at one point, to our detectives: 'They begged for their lives and I killed them anyway,'" said Judd.
Riley also told sheriff's deputies he was high on methamphetamine.
Shooting spree
The attacker first appeared randomly at the house where the shooting occurred on Saturday night, making nonsensical statements, but left by the time police responded.
He returned early on Sunday, killing a 40-year-old man, and the 33-year-old mother and her baby, Judd said. In the home next door, he also killed the 62-year-old mother of the woman.
"In addition to that, if he's not evil enough, he shot and killed the family dog," Judd said.
Deputies responding to reports of two volleys of automatic gunfire arrived to find the suspect unarmed outside, wearing camouflage and body armor. Riley then went back inside and "we heard another volley, and a woman scream, and a baby whimper", Judd said.
A gunfight ensued before he came out unarmed and was arrested.
"It would have been nice if he would have come out with a gun … We would have shot him up a lot. But he didn't because he was a coward," Judd said. "When someone chooses to give up, we take them into custody peacefully."
References
https://www.aljazeera.com/news/2021/9/6/florida-gunman-kills-four-including-baby
Note: Every article published on this section is extracted from several most genuine authentic sources on our daily life who brings us qualitative LR&A honors the spirit of Journalism of these global giants of News Broadcasting across the globe and outer space, some of them Are, HUFFPOST, Aljazeera, New York Times, CNBC, wall street journals, Reuters, google news, Wikipedia, the Hindu, USA Today, Financial Times, Times Magazines, United Nation Journals, BBC, National Geographic, animal planet, History Tv, Fox network etc. Legal research & Analysis recommends all users kindly do read the original contents published by these mainstream media giants, simply click the link of the headline of the post you want to read also share with your friends quality information do not pay attention to unverified sources of News, fake news, news that can cause harm public at large are considered as fake news, LRA promotes the awareness regarding the spreading of fake news, or news without any genuine source of platform, kindly follow the instruction and help community flourished.