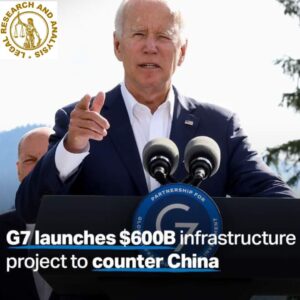 US President Joe Biden has announced a G7 project to rival China's formidable Belt and Road Initiative, BRI, by raising some $600 billion for global infrastructure programs in poor countries.
The plan, which relaunches a first attempt unveiled during last year's G7, will target countries desperately needing everything from roads to harbors – and until now often relying on the Chinese.
The gargantuan BRI project has successfully used Chinese infrastructure know-how to spread Beijing's economic and diplomatic tentacles into strategic points around the world, leaving Western governments flat-footed.
Unlike the Chinese version, reliant on state-controlled funds and companies, Biden said the US and other G7 governments will only provide limited amounts of money while incentivizing massive private sector investments.
Between now and 2027, the US government will shoot for the $600-billion figure "through grants, federal financing, and leveraging private sector investments," the White House said.
Photo: Lukas Barth/AP