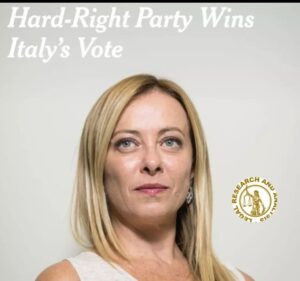 On Sunday, Italy turned a page in European history by electing a hard-right coalition led by Giorgia Meloni, whose long record of criticizing the European Union, international bankers, and migrants have raised doubts about the country's commitment to the Western alliance.
Meloni, the leader of the nationalist Brothers of Italy, a party descended from the remnants of fascism, led a right-wing coalition to a parliamentary majority, defeating a fractured left and a resurgent anti-establishment movement.
The Italian Parliament will not be seated for several weeks, giving a new governance establishment plenty of time for political maneuvering and horse trading in a coalition with major differences.
Meloni, on the other hand, is the overwhelming favorite to become the country's first female prime minister, with approximately 26% of the vote, the highest of any single part.