Read Time:
2 Minute, 48 Second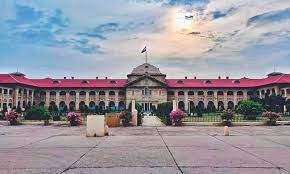 The Allahabad High Court observed that while it is well established that an adult has the right to live with someone of his own free will, the fact that the married boy is not more than 21 years of age will not invalidate the marriage. A division bench of Justice Ashwini Kumar Mishra and Justice Shamim Ahmed clarified that at the most, it may make the person liable to punishment under section 18 of the Hindu Marriage Act, 1955.
In fact, a girl's father had filed an FIR under sections 363 and 366 IPC, alleging that a boy/accused had seduced his daughter and had an apprehension that she was either sold or he has been killed.
️After the FIR was registered, the daughter (Pratiksha Singh) and her husband Karan Maurya/the accused boy jointly filed the present writ petition before the High Court. They sought to quash the FIR on the ground that the victim/daughter and another petitioner/husband have fallen in love and are married and living together.
Later, the girl's father/complainant filed a counter-affidavit, wherein the only ground to oppose the prayer was that the marriage itself was not legal as the groom had not completed 21 years of age at the time of marriage.
The observation court in its judgment held that the validity of the marriage was not challenged before the court and any violation of section 5 (iii) of the Act would not make the marriage void. Thereafter, the Court observed that while defining void marriages, the legislature had specifically omitted the mention of clause (iii) of section 5, in view of Section 11 (Valuable Marriage), the violation of which the marriage was declared to be void. It was invalidated.
Similarly, with regard to section 12 (illegal marriage) of the HMA, the Court held that it does not specify that any contravention of section 5(iii) shall render the marriage void. It may be noted here that clause 5 (iii) of the HM Act makes the age of 21 years of the bridegroom and 18 years of the bride a condition of marriage at the time of marriage.
Against this background, the Court observed, "The mere fact that the second petitioner was not more than 21 years of age shall not invalidate the marriage. Any contravention of section 5(iii) shall render the person liable to punishment as per section 18 of the Act." However, the marriage itself shall not be held to be doubtful on such grounds.
With regard to the allegations of kidnapping leveled by the father of the girl against the accused/husband, the court observed that Sections 363 and 366 would not apply in the light of the facts of the case, while once it is shown that the victim is of her own free will the accused and she has neither been abducted nor forced into marriage.
️Finally, allowing the writ petition filed by the couple, the Court observed, "In the facts of the case, the age of the victim is above 18 years and once she voluntarily accompanied the other petitioner, the FIR The offenses disclosed herein are not clearly shown to be applicable."
Case Title – Pratiksha Singh & Ors vs State of UP & 3 Others
Case Quote: 2022 Live Law (AB) 75