Read Time:
2 Minute, 20 Second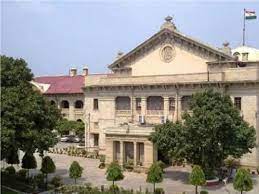 Husband files FIR against wife's live-in partner: Allahabad High Court stays arrest of a person, family members
The Allahabad High Court on Monday stayed the arrest of the man (live-in partner) and his family members in connection with the FIR lodged by the husband against the wife's live-in partner.
A bench of Justice Ashwini Kumar Mishra and Justice Rajnish Kumar has also issued a notice to the husband of the woman and sought a reply in the matter.
Mohit Agarwal (31 years) is currently in a live-in relationship with a married woman (36 years old). Last year in October 2021, the woman had left her matrimonial home due to harassment by her husband (who had lodged the FIR in question) and started living with Mohit Agarwal (petitioner no.
Thereafter, the husband started interfering in the daily life of his wife, who was living with her live-in partner (here Mohit Agarwal/petitioner No.1). So both moved to the High Court last year. He was given protection by the Allahabad High Court under its order dated 6 December 2021.
While granting protection, the Court had also observed,
"Live-in-relationship has become a part of life and is approved by the Hon'ble Supreme Court. The live-in relationship needs to be seen from the lens of individual autonomy arising out of the right to life guaranteed under Article 21 rather than from the notions of social morality" Right to life under Article 21 of the Constitution of India is liable to be protected at all costs."
Thereafter, the husband filed a complaint against Mohit Agarwal (live-in partner), his father, his brother, and his mother in January 2022 under sections 323, 504, 506 of IPC and 3(1) (DA) of the SC/ST Act. and registered an FIR under 3(1)(DA).
Now, seeking protection from arrest, he immediately moved the High Court by filing a writ petition and sought quashing of the FIR.
Before the court, he argued that despite being granted protection by the High Court, the husband subsequently filed an FIR in violation of the constitutional protection available to the petitioners and the order passed by this Court.
The court issued a notice to the husband as well as the state of UP and they have been asked to file a counter-affidavit within three weeks.
Court said,
"Till the next date of listing, the petitioners shall be registered as Case Crime No. 16 of 2022 under Sections 323, 504, 506 of IPC and Sections 3(1)(d) and 3(1) of the SC/ST Act." No arrest will be made as per the information report. Provided the petitioner cooperates with the police station Gajraula, District Amroha, in the investigation."