Read Time:
1 Minute, 30 Second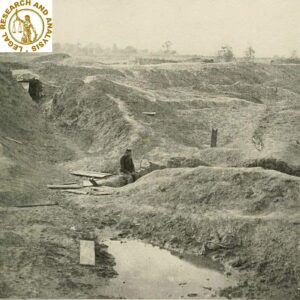 The Battle of the Crater was a Civil War battle that took place as part of the siege of Petersburg. On July 30, 1864.
It was fought between the Confederate Army of Northern Virginia, led by General Robert E. Lee, and the Union Army of the Potomac, led by Major General George G. Meade (under the direct supervision of the general-in-chief, Lieutenant General Ulysses S. Grant).
After weeks of planning, Union forces detonated coal in Major General Ambrose E. Burnside's IX Corps sector on July 30, piercing the Confederate defenses of Petersburg, Virginia.
At that point, the Union attackers' situation rapidly deteriorated. Unit after unit charged into and across the crater, where the majority of them ground in ambiguity at the bottom. This failed assault was considered by Grant to be "the terrible affair I have observed in this war."
The Confederates recovered quickly, and Brigadier General William Mahone led several counterattacks. The breach was closed, and the Union forces were repulsed with heavy casualties, including Brigadier General Edward Ferrero's division of black soldiers, which was badly mauled.
It could've been Grant's best opportunity to finish the siege of Petersburg, but instead, the soldiers resigned themselves to some other eight months of pitched battles.
Burnside was relieved of duty for the final time for his role in the disaster, and he was never restored to command again.
To make the matter even worst, Ferrero and General James H. Ledlie were seen drinking liquor behind the lines in a bunker throughout the battle.
A court of inquiry into his conduct criticized him in September, and in December he was successfully dismissed from the Army by Meade on Grant's orders, formally having to resign his commission on January 23, 1865.