Read Time:
1 Minute, 32 Second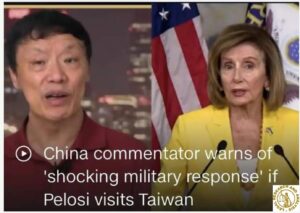 Hu Xijin, a Chinese commentator, alerted on Friday that there seems to be a "risk of Nancy Pelosi's flight being devastated" if she comes to visit China's Taiwan region during her Asia trip.
Earlier this week, Hu said China's military aircraft will accompany Pelosi's plane to enter the island, making headlines on mainstream U.S. media like CNN.
According to NBC's latest updates about Pelosi's Asia schedule, their undisclosed sources showed that her trip to Taiwan is "tentative". Earlier, reports said she will visit Taiwan in August.
After Hu suggested "accompanying" Pelosi's plane, some in the U.S. said the U.S. military flights could escort Pelosi into Taiwan.
Hu said in his Friday comment that if the U.S. military dares to fly into Taiwan, which is recognized by over 180 countries as Chinese territory, the U.S. should be prepared for a possible crossfire and a risk of Nancy Pelosi's flight being destroyed, and the U.S. should take the responsibility for any consequence.
A visit by Pelosi to Taiwan is widely seen by the Chinese people as a provocation that leaves China no more room for compromise.
The Chinese military warned that they are fully prepared and will not sit there and let go of Pelosi's visit, stressing that the one-China principle is the foundation for China-U.S. political relations and regional peace.
China does not want a war over Taiwan not because China fears a war, but because it does not want bloodshed of ordinary people on either side of the Taiwan Straits only due to the U.S. provocation, the Chinese authorities said.
"Let's give peace a chance," the Chinese ambassador to the U.S. Qin Gang said on Aspen Security Forum last week.