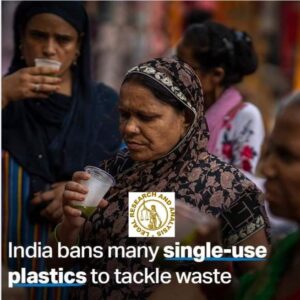 Some single-use or disposable plastic products have been banned in India as part of a larger federal strategy to phase out the ubiquitous material in the country of nearly 1.4 billion people.
In the first stage, it recognized 19 plastic items that aren't particularly useful but have a significant potential for litter and made it illegal to manufacture, import, stockpile, distribute, or sell them.
These include everything from plastic containers and straws to frozen yogurt sticks. Some plastic disposable bags will be phased out in favor of thicker ones.
The ban does not apply to thousands of other plastic products, such as bottles of water, soda, or chip bags. However, the federal act mandated that manufacturers be effective in addressing or discarding them after use.
According to India, the prohibited items were chosen with the availability of alternatives in mind, such as bamboo spoons, parsnip trays, or made of wood ice cream sticks.
However, in the days leading up to the ban, many manufacturers expressed confusion, claiming that even without a widely accessible and equitably cost-effective substitute, their business would suffer.