Read Time:
3 Minute, 7 Second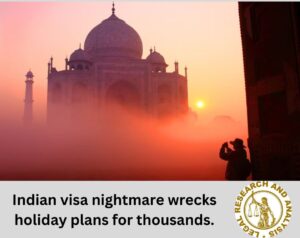 "Our ideal trip to India, scheduled for 2019, has now fallen apart in ruins." That is how one of the many British tourists who traveled to India expressed how a red tape snarl disrupted plans for an October getaway to Goa.
Prior to the Covid-19 outbreak, the great majority of British tourists who traveled to India did so via an E-Visa, a reasonably straightforward online procedure akin to the US Esta program.
When the problem grew worse, India closed its borders and stopped providing the service.
In February 2022, the country reopened to tourists, and the e-visa system was reinstated.
Yet while nationals of 156 countries, from Afghanistan to Zimbabwe, are now eligible to apply online, people from the UK are excluded.
Citizens of all 27 European Union members are currently entitled to E-Visas. It is unclear why the United Kingdom, previously one of the key tourism markets for India, should effectively be penalized.
One theory circulating in the travel industry is that at the time the scheme was withdrawn, the UK was still a de facto member of the EU. When eVisas started up again, the European Union was restored to to the list – but an administrative oversight meant that the United Kingdom was not added separately.
A more plausible explanation is reciprocation: Indian citizens face considerable bureaucracy to secure a visa for the UK.
The only method for British tourists to visit India is to apply for a full Indian visa, which necessitates an interview unless the Delhi government alters its position. However, the backlog following Covid is so large that the waiting period is approaching months.
Travel companies from the UK to India had to cancel thousands of trips and reimburse travelers' money. However, individuals who made their own arrangements risk losing all or part of their airfare.
One traveler, who has an Irish passport, told The Independent: "We were due to fly on 17 October so on 17 September the system was open for applications. I filled in all the forms, uploaded the photos, and pressed 'submit'.
"Then I started my husband's application and to my horror, the UK is not on the list of those who can apply for an E-Visa.
"I then found out he had to do a different paper application, submit it and then book an interview in one of the various visa centers around the UK.
"No appointments were available anywhere until November. I phoned the Indian embassy, all the visa centers, and anyone whom I thought could help. Their response was consistent – he had to book an appointment online.
"I have had to cancel our long-awaited holiday losing 80 percent of our money.
"The website does warn you not to arrange travel until you have secured your visa, but this holiday was booked in 2019 and canceled three times due to Covid.
"We are heartbroken."
The Indian decision is thought to have cost tour operators millions of pounds in refunds to customers who could not obtain visas in time.
Tui, Britain's biggest holiday company, has canceled planned packages to Goa at the start of the winter season.
"We fully understand the worries of clients due to travel to India and acknowledge the present problems surrounding the visa application process," a spokeswoman told The Independent.
"Our staff have raised this matter to the Indian government in an effort to find a solution.
When we learn more, we'll let the customers who are affected know.
Although it is always the traveler's responsibility to make sure they adhere to immigration laws, some travel agencies are stepping in to refund money even though they are not legally required.