Read Time:
1 Minute, 7 Second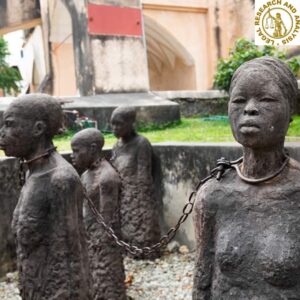 The International Day for the Remembrance of the Slave Trade and its Abolition is marked on August 23 every year.
On this day in 1791, an uprising that would lead to the eventual abolition of the transatlantic slave trade began in modern-day Haiti and the Dominican Republic.
But it wasn't until almost a century later that one of the world's last slave markets was shut down — in Zanzibar, in 1873.
At the site of the former market's whipping post, there now stands a statue of five slaves bound together by chains inside a pit.
The sculpture was erected by Scandinavian artist Clara Sornas as a 'memory for the slaves' in 1998 and serves as a reminder of the atrocities suffered by the victims of the East African slave trade.
The monument is located just outside the East African Slave Trade Exhibit, where visitors can enter intact underground slave chambers.
Dozens of men, women, and children were crammed into cellars before being auctioned off. The holding rooms had low ceilings, no toilets, and no air circulation.
Many of the enslaved suffocated inside them as they were starved and shackled for days at a time.