Read Time:
2 Minute, 58 Second
Videos show beatings, neglect, and an unbearably small solitary cell in Tehran's notorious Evin Prison.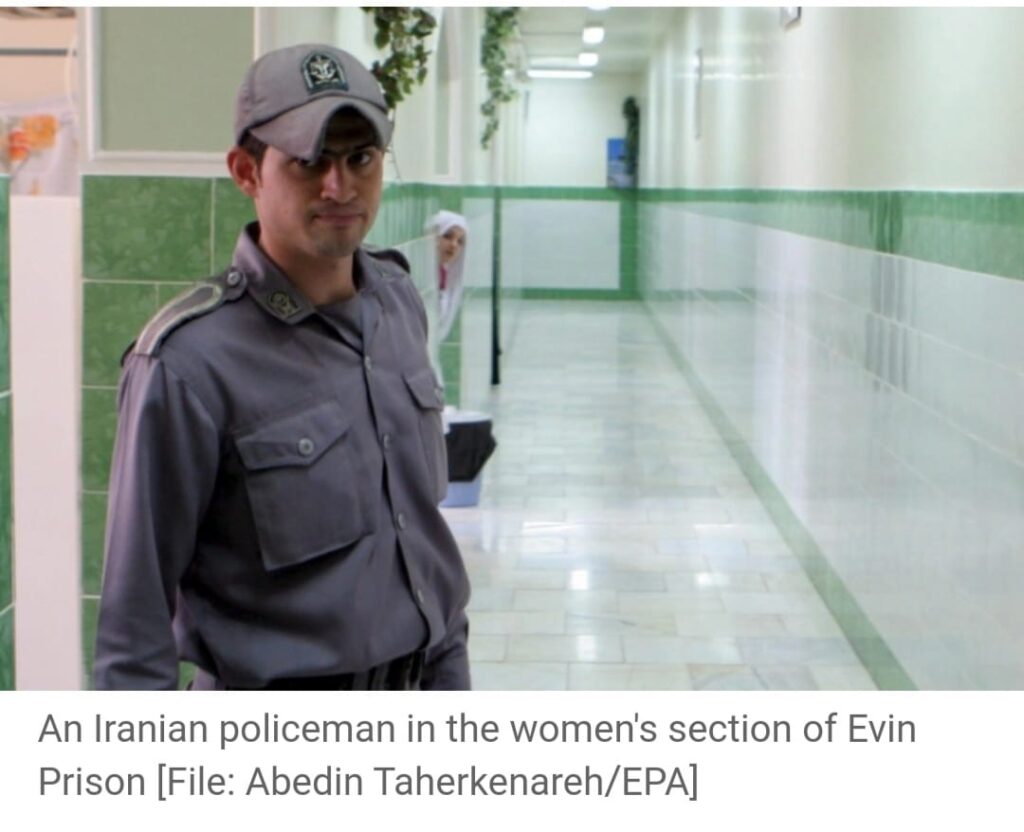 Tehran, Iran – A top Iranian prisons official has confirmed the veracity of footage leaked by hackers that shows the harsh conditions inmates of Tehran's Evin Prison suffer.
The surveillance camera footage, leaked on Monday, has no sound but shows clearly the pain some prisoners go through at Evin.
Mohammad Mehdi Haj Mohammadi, head of Iran's prisons organisation, said in a tweet on Tuesday he accepts responsibility for the "unacceptable behaviors" depicted in the footage and vowed the perpetrators will face repercussions.
"I also apologize to God, our dear supreme leader, the great nation, and the honorable prison guards, whose efforts will certainly not be ignored due to these errors," Mohammadi wrote.
One video showed a gaunt man being dropped in the courtyard and dragged through the prison semi-conscious while guards and staff watch unfazed. At one point, a cleric passes by the injured man.
Several videos show inmates being beaten by prison guards. An image shows a tiny solitary confinement cell, blank walls, and a squat toilet.
Most of the videos are timestamped 2020 and 2021, with guards wearing masks in some of them as the COVID-19 pandemic impacted Iranian prisons.
The hackers also managed to gain access to the prison's control room. A clip shows a guard spring to his feet when the many monitors in front of him flash red and then go black one by one. Guards storm in, some taking out their phones to film the situation, while others make hurried phone calls.
The group that carried out the hack calls itself Edalat-e Ali, or "Ali's Justice". It is a reference to the son-in-law of the Prophet Muhammad, an imam revered by Shia Muslims.
Evin Prison, which houses political prisoners and dual national inmates who are mostly imprisoned on spying and propaganda charges, has for years been criticized for human rights abuses, including by the UN's special rapporteur for human rights. It is also blacklisted by both the US and the EU.
Iran has seen several high-profile hacks in recent months, including an apparent cyberattack on its railway system earlier this year, and a cyberattack on the country's traffic police databases earlier this week.
References
https://www.aljazeera.com/news/2021/8/24/iran-confirms-leaked-footage-of-harsh-conditions-in-evin-prison?utm_campaign=trueAnthem%3A+Trending+Content&utm_medium=trueAnthem&utm_source=facebook
Note: Every article published on this section is extracted from several most genuine authentic sources on our daily life who brings us qualitative LR&A honors the spirit of Journalism of these global giants of News Broadcasting across the globe and outer space, some of them Are, HUFFPOST, Aljazeera, New York Times, CNBC, wall street journals, Reuters, google news, Wikipedia, the Hindu, USA Today, Financial Times, Times Magazines, United Nation Journals, BBC, National Geographic, animal planet, History Tv, Fox network etc. Legal research & Analysis recommends all users kindly do read the original contents published by these mainstream media giants, simply click the link of the headline of the post you want to read also share with your friends quality information do not pay attention to unverified sources of News, fake news, news that can cause harm public at large are considered as fake news, LRA promotes the awareness regarding the spreading of fake news, or news without any genuine source of platform, kindly follow the instruction and help community flourished.