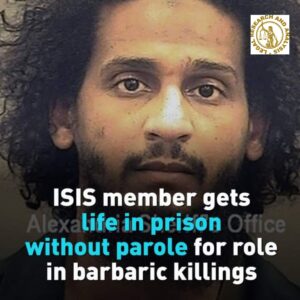 A U.S federal judge sentenced El Shafee Elsheikh, 34, to life in prison without parole on Friday, for his participation in the hostage-taking that led to the brutal slaying of 26 people.
The victims include American journalists James Foley and Steven Sotloff, American aid workers Peter Kassig and Kayla Mueller, British citizens David Haines and Alan Henning, and Japanese nationals Kenji Goto and Haruna Yukawa.
Many of the victims were killed by beheading on camera. Ms. Mueller was handed off to the terrorist organization Abu Sayyaf, and raped by the leader of the Islamic State, Abu Bakr al-Baghdadi.
Shafee Elsheikh is the highest ranking member of ISIS to be convicted in a U.S. court.
The verdict came on the eighth anniversary of James Foley's beheading.
"Hatred completely overtook your humanity," Foley's mother, Diane said, "I pity you. I pray your time in prison will give you time to reflect."