Read Time:
1 Minute, 24 Second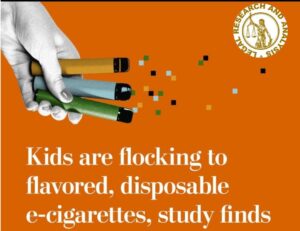 More than 2.5 million adolescents are current e-cigarette users in 2022, with the majority choosing flavored, disposable products, according to a government study released Thursday that officials said showed youth vaping remains a serious public health problem.
The findings, from the National Youth Tobacco Survey conducted by the Food and Drug Administration and the Centers for Disease Control and Prevention, show more than 14 percent of high schoolers and 3. 3 percent of middle schoolers are current users, defined as those who used e-cigarettes at least one day in the past month.
Vaping opponents urged the FDA to ban all flavored e-cigarettes immediately and to increase enforcement against unlawfully sold goods.
According to a new study, 85 percent of e-cigarette users prefer flavored vapes, with fruit tastes being the most popular, followed by candy, mint, and menthol flavors. More than half of those polled used disposable vapes.
Respondents picked the disposable vape Puff Bar as their "regular brand," followed by Vuse, Hyde, and SMOK. Juul was not one of the most popular brands.
According to the survey, one in every four e-cigarette users reported vaping daily, and more than four in ten reported vaping at least 20 times in the previous 30 days.
For the vaping survey, middle and high school students took the self-administered questionnaires between January and May. The survey assessed current e-cigarette use, and the devices, flavors, and brands used.
Advocates acknowledged that some progress has been made against youth vaping. In 2019, the report showed 27.5 percent of high schoolers and 10.5 percent of middle schoolers were current users.'