Read Time:
1 Minute, 8 Second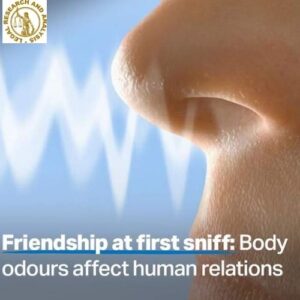 According to a study published in Science Advances, humans may form friendships with people who have similar bodily excretions.
Inbal Ravreby, a graduate student in Professor Noam Sobel's laboratory in Weizmann's Brain Sciences Department, proposed that humans, too, use their sense of smell to determine whether being a friend or foe, albeit in a subtle way.
To test her hypothesis, Ravreby conscripted same-gender non-romantic friends, click mates whose relationships had formed quickly as such friendships arise before the pair really knew each other in-depth; thus, she speculated that they might be impacted by biological traits such as body odor.
Ravreby gathered body odor specimens from click friends and ran two experiments to compare them to samples collected from arbitrary pairs of people.
Click friends were found to smell markedly more get along than individuals in random pairs in both different experiments.
The odor is frequently important in social conversations among artiodactyls, but there have been no studies on living beings and their sensation.
"This is not to say that we behave like goats or shrews; humans are likely to make social decisions based on other, far more dominant cues." Nonetheless, the findings of our study recommend that our nose play a bigger role than thought previously in our choice of partner," says Professor Noam Sobel.