Read Time:
1 Minute, 13 Second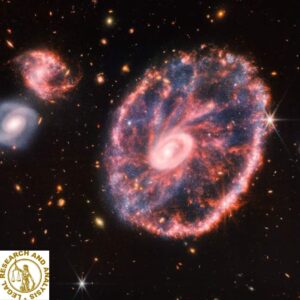 Relax, James Webb! Actually, we don't mind because we enjoy these breathtaking glimpses into the cosmos, which are becoming richer, extra detailed, and more captivating.
The James Webb Space Telescope has now captured yet another aspect of the beauty of space. At this moment, the telescope captured an image of the Cartwheel Galaxy, which is approximately 500 million light-years away!
The Cartwheel galaxy was a spiral galaxy similar to our own Milky Way until it collided with a smaller galaxy approximately 440 million years ago.
Following this colliding, the galaxy began to resemble a wheel, with an overriding effect ring of star clusters. This galaxy's outer ring is controlled by stars that have gone supernova.
The final image of the Cartwheel galaxy is a composite of data from the Near-Infrared Camera (NIRCam) and the Mid-Infrared Instrument on the James Webb Space Telescope (MIRI).
Scientists can see through dust and gas with NIRCam to see how young stars form in distant galaxies. These appear in blue, orange, and yellow.
MIRI can provide scientists with the form and shape of dust and gas that NIRCam can see through.
According to The Independent, MIRI reveals silica dust and hydrocarbons, which appear red in the image. As a result, massive "spoke-like" structures appear in the wheel.
According to a NASA blog, the galaxy will aid researchers in better comprehending how the galaxy evolved following the collision.