Read Time:
1 Minute, 26 Second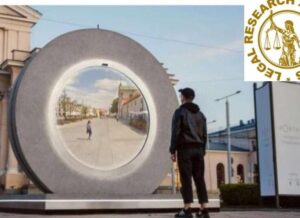 Vilnius, Lithuania, and Lublin, Poland, residents were amused to learn that two high-tech portals allowed them to communicate with others who were as far as 376 miles away.
The Benediktas Gylys Foundation unveiled the technology. It was created due to the lack of human contact and travel restrictions brought on by the COVID-19 pandemic.
The "portals" are made up of cameras, a huge screen, and a circular frame. Consequently, the portals enable real-time interaction with whoever is in front of the other gadget in the rival city rather than allowing people to travel between other locations.
The portals have been under construction for nearly five years. The gadget was put in the city's main square in Lublin while it was put near a train station in Vilnius.
People can use the portals almost constantly because they are placed in congested areas.
The devices, according to the development team, were developed to help members of various communities become more human.
In the post-pandemic world, the need for "unity" is more pressing than ever, as we are all currently suffering the effects of being cut off from one another.
Reykjavik, Iceland, and London, England are the next cities to get portals, however, the exact launch date is still a mystery.
The Benediktas Gylyus Foundation introduced Portal, a cutting-edge gadget that enables people to make video conversations with persons in faraway cities.
Watch how people from Vilnius, Lithuania, and Lublin, Poland, communicate with one another via portals that seem to have been plucked straight out of a science fiction film:
Real-time communication between citizens of Vilnius and Lublin is made possible via futuristic portals.