Read Time:
1 Minute, 22 Second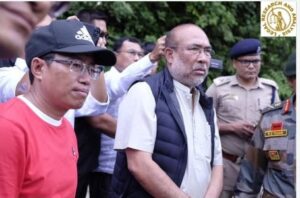 N. Biren Singh, the chief minister of Manipur, paid a visit to the Tupul Railway Construction Camp in the Noney district today. This location was the site of a horrific landslide when several persons were killed and dozens more were buried.

He added that the State Government had consented to offer the injured people and the surviving family members of the deceased each an ex-gratia payment of Rs. 50,000 and Rs. 5 lakh, respectively.

The villagers claim that the landslide that occurred last night in the Noney area buried more than eighty people alive, including forty-three members of the Territorial Army.
Eight dead bodies have been found so far, but 19 people have been saved alive from the rubble.
The landslide disrupted the flow of the Ezi River, raising fears of flash floods in the area. However, the debris has now been removed from the river basin.

Speaking to reporters, Chief Minister Singh expressed his heartfelt condolences and shared his grief with the bereaved family members, assuring that the State Government would cover all expenses, including medical treatment for the injured.

The Chief Minister stated that rescue efforts are underway and that a rescue team comprised of Manipur Police, SRDF, and Army personnel is being deployed in the area.
He also interacted with the people in the surrounding area, thanking them for their assistance and cooperation in the rescue mission.
In the meantime, Prime Minister Narendra Modi and Union Home Minister Amit Shah spoke with the Chief Minister on the phone and assured him that the State Government would receive all necessary assistance.