Read Time:
4 Minute, 2 Second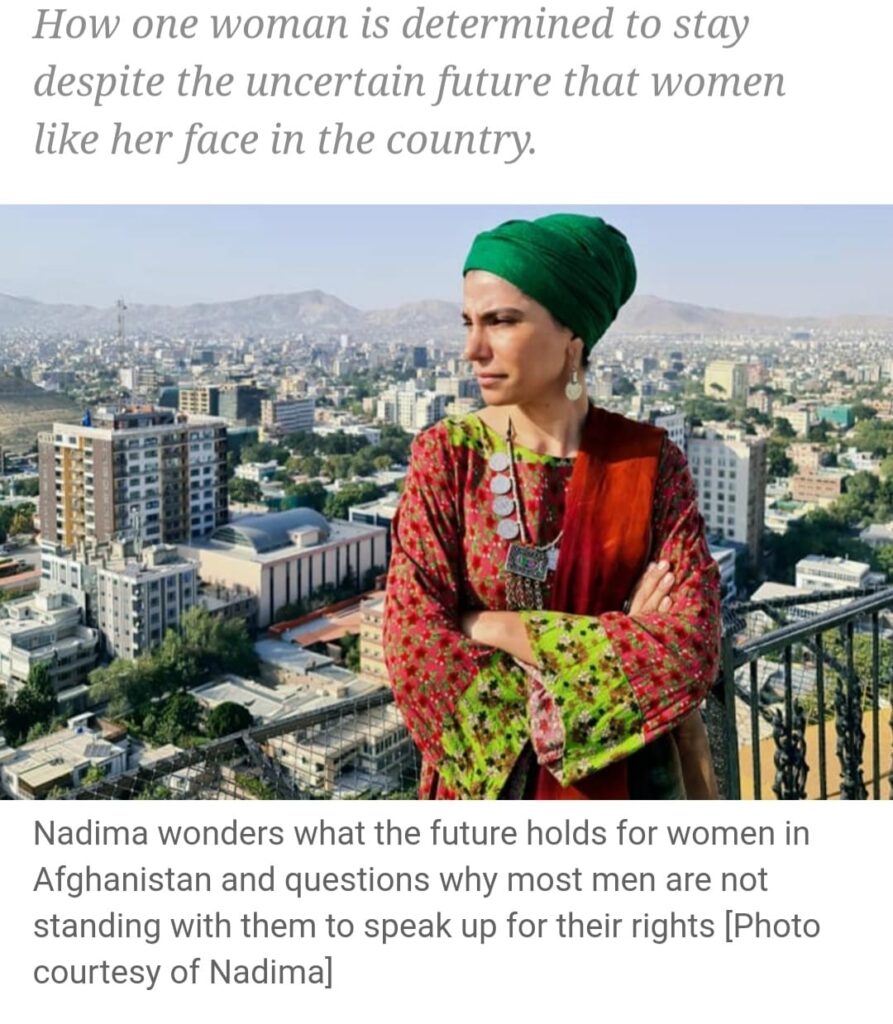 Nadia's family fled Afghanistan when she was a baby. As an adult, she returned. Now despite fears and uncertainty, the 38 year old woman is refusing to leave again. In this article, she reflects on the changes she has witnessed in her country since the Taliban took over on August 15. She wonders what the future holds for women in Afghanistan and questions why most men are not standing with them to speak up for their rights.
All my cousins who I had not seen in 10 years were visiting Kabul over the last three days, from Mazar, from Herat. We all had a good time together.
The house was full of girls, we danced, we all decided to play dress up, they all wore my turbans, we all wore traditional clothes. We sang together, we cooked, we shared stories, we talked about everything that is happening.
One of my cousins thought back to how hard she worked to be a teacher; now she cannot imagine sitting at home and not teaching. She fought for her education, she protested against her family, while the only person who supported her going to India to get her Masters's degree was her husband. Even her brother, my cousin, was not for it.
So she cannot imagine staying at home. She is afraid that what happened to her mother, who got hit in the knees by the Taliban in 1999, 2000, might become her story as well.  She does not want to be beaten like her mother was for insisting on running her girl's school in Heart after the Taliban closed it.
My cousin tells me she is very strong and independent and that she will always advocate for education. But she does not feel that she wants to do it from here, so she is going to Turkey.
"These people don't know our value, our worth, what we have to offer as women so I'll go to a country where I'm welcomed and appreciated," she told me. "All the hard work I put into myself to get here, so I can teach another little girl, now I will do that for a country that will accept me and will want their women to be educated," she said.
It made me very sad, you know, because she is valuable to this country, to the young girls here.
She understands the culture, the language, the education system because she has been through this. She is a mathematics genius and was going to do her Ph.D. But now somebody else will enjoy the fruit of her hard work, the Turkish students. Now in another country, another group of people is going to be learning from her when she should be teaching children in Afghanistan.
We have lost so many women like her in this country. I am very, very sad.
I will be OK but everybody has left and I'm sitting all alone in the house and I am thinking: what am I going to do?
Because of the decision, I made to stay, I cannot even tell anyone how I feel. When there were guns being fired in the air the other day, I called one of my cousins, who also lives in Kabul and cannot leave. I asked her: "Are you OK?" Celebratory gunfire seems to be the new norm, we heard it the day the US troop's withdrawal was completed, then again when Mullah Baradar, the deputy leader in the new Afghan government, arrived in Kabul a few days ago.
"I will be ok but what the hell are you doing here?" she asked.
"I can't leave," I said.
References
https://www.aljazeera.com/features/2021/9/12/men-dont-protect-us-they-wont-respect-us-afghan-diaries
Note: Every article published on this section is extracted from several most genuine authentic sources on our daily life who brings us qualitative LR&A honors the spirit of Journalism of these global giants of News Broadcasting across the globe and outer space, some of them Are, HUFFPOST, Aljazeera, New York Times, CNBC, wall street journals, Reuters, google news, Wikipedia, the Hindu, USA Today, Financial Times, Times Magazines, United Nation Journals, BBC, National Geographic, animal planet, History Tv, Fox network etc. Legal research & Analysis recommends all users kindly do read the original contents published by these mainstream media giants, simply click the link of the headline of the post you want to read also share with your friends quality information do not pay attention to unverified sources of News, fake news, news that can cause harm public at large are considered as fake news, LRA promotes the awareness regarding the spreading of fake news, or news without any genuine source of platform, kindly follow the instruction and help community flourished.