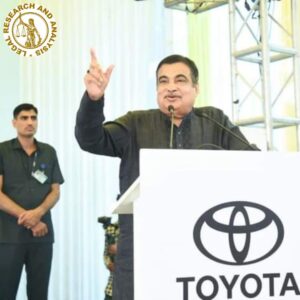 Today, Road Transport and Highways Minister Nitin Gadkari launched Toyota's first-of-its-kind pilot project in India for Flexi-Fuel Strong Hybrid Electric Vehicles.
These vehicles will be powered by 100 percent gasoline, 20 to 100 percent blended ethanol, and electric power.
Mr. Gadkari stated on the occasion that the success of this pilot project will position India as a global leader in the production of these electric vehicles.
He claims that such technologies are innovative, revolutionary, sustainable, cost-effective, and energy-efficient and that they will completely transform New India's transportation sector.
According to the Minister, an increase in the agricultural growth rate of 6 to 8% is required for AtmaNirbhar Bharat. He emphasized the significance of converting surplus food grain and sugar into ethanol in order to boost rural economies.
Union Ministers Mahendranath Pandey, Bhupender Yadav, Rameswar Teli, and other dignitaries attended the event.