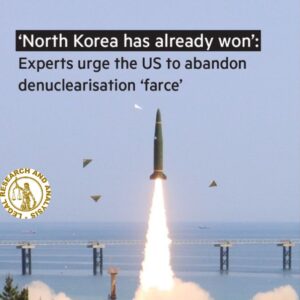 Experts have urged the US to abandon its campaign to persuade North Korea to give up its nuclear weapons and instead focus on risk reduction and arms control measures. ⁠
For the first time since 2017, North Korea launched a ballistic missile over Japan on Tuesday, prompting renewed condemnation from Washington and its allies.
In response, the United States and South Korea conducted joint military exercises and fired missiles into the Sea of Japan.
Kim Jong Un changed North Korea's nuclear doctrine last month to allow for pre-emptive strikes. Previously, nuclear weapons could only be used in a second-strike scenario.
Analysts said Washington, Seoul, and Tokyo's military gestures and combative words belied the reality that they have run out of ideas and options for containing North Korea's nuclear weapons program.
Experts argued that the US and its allies should instead concentrate on agreeing to Pyongyang's steps to reduce the risk of a Korean peninsula conflict.
⁠