Read Time:
3 Minute, 27 Second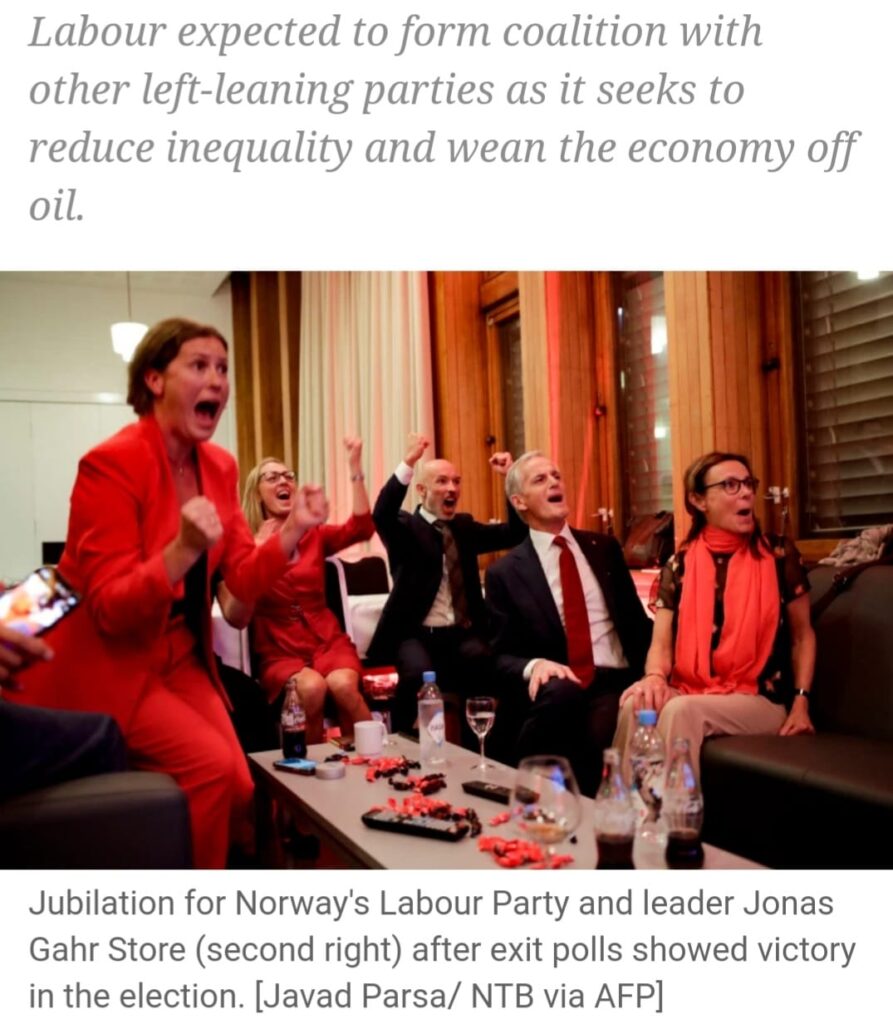 Norway's left-wing opposition headed by Labour Party leader Jonas Gahr Store has had a landslide win in a general election after a campaign dominated by the future of the country's oil industry.
Store unseated a center-right coalition on Monday headed by Conservative Prime Minister Erna Solberg, which had been in power since 2013.
"We waited, we hoped, and we have worked so hard, and now we can finally say it: We did it!," Store, who is likely to be the next prime minister, told cheering supporters after Solberg conceded defeat.
With 97.5 percent of the votes counted, Labour and four other center-left parties could swing to a combined majority of 100 seats, up from 81 currently, the Directorate of Elections projected.
A minimum of 85 seats is required to win a majority in the 169-seat parliament.
"Norway has sent a clear signal: the election shows that the Norwegian people want a fairer society," said the 61-year-old millionaire who campaigned against social inequalities.
Norway's position as western Europe's biggest oil and gas producer was at the heart of the election campaign after the August report on climate from the Intergovernmental Panel on Climate Change (IPCC) thrust the issue to the top of the agenda. Store had called for a gradual transition away from the oil economy, while the Greens had called for an immediate end to oil exploration. The Conservatives had also called for a transition away from the fossil fuels that have made Norway wealthy.
"I want to congratulate Jonas Gahr Store, who now seems to have a clear majority for a change of government," 60-year-old Solberg said in her concession speech.
To form a viable cabinet, Store might need to persuade potential center-left partners to compromise on policies ranging from oil and private ownership to Norway's relations with the European Union.
"We, as the biggest party, will make sure that Norway will get a new government and a new course," Store said in a speech to party members.
"In the coming days, I will invite the leaders of all parties who want a change," he said, adding he would start with the Centre Party and Socialist Left.
The oil sector accounts for 14 percent of Norway's gross domestic product, as well as 40 percent of its exports, and employs 160,000 people directly.
It has also helped the country of 5.4 million people amass the world's biggest sovereign wealth fund, today worth close to 12 trillion kroner ($1.4 trillion).
A former minister in the governments of Jens Stoltenberg between 2005 and 2013, Store is now expected to begin negotiations with the Centre, which primarily defends the interests of its rural base, and the Socialist Left, which is a strong advocate for environmental issues.
The store has also pledged to address inequality by cutting taxes for low and middle-income families and increasing rates for the rich.
References
https://www.aljazeera.com/news/2021/9/14/norways-leftwing-opposition-wins-election-in-a-landslide?sf151114815=1
Note: Every article published on this section is extracted from several most genuine authentic sources on our daily life who brings us qualitative LR&A honors the spirit of Journalism of these global giants of News Broadcasting across the globe and outer space, some of them Are, HUFFPOST, Aljazeera, New York Times, CNBC, wall street journals, Reuters, google news, Wikipedia, the Hindu, USA Today, Financial Times, Times Magazines, United Nation Journals, BBC, National Geographic, animal planet, History Tv, Fox network etc. Legal research & Analysis recommends all users kindly do read the original contents published by these mainstream media giants, simply click the link of the headline of the post you want to read also share with your friends quality information do not pay attention to unverified sources of News, fake news, news that can cause harm public at large are considered as fake news, LRA promotes the awareness regarding the spreading of fake news, or news without any genuine source of platform, kindly follow the instruction and help community flourished.