0
0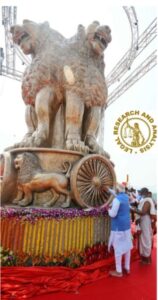 The National Emblem was etched on the roof of the New Parliament Building and unveiled by Prime Minister Shri Narendra Modi this morning.

He conversed with the Shramjeevis participating in the new Parliament's activities as well.
The National Emblem is 6.5 meters manufacture tall, 9500 kg in weight, and manufacture of bronze. It has been placed at the top of the New Parliament Building's Central Foyer. To support the Emblem, a steel support system weighing roughly 6500 kg has been built.
There have been eight steps of preparation for the concept sketch and process of molding the National Emblem on the ceiling of the New Parliament Building, from clay sculpting and computer graphics through bronze pouring and finishing.