Read Time:
1 Minute, 53 Second
Ahmad Massoud, leader of the opposition group National Resistance Front (NRF) resisting Taliban forces in Afghanistan's Panjshir Valley, has said he welcomes proposals from religious scholars for a negotiated settlement to end fighting in the region.
"To reach a lasting peace, the NRF is ready to stop fighting on condition that Taliban also stop their attacks and military movements on Panjshir and Andarab," Massoud wrote on Facebook on Sunday, referring to a district in the neighboring province of Baghlan.
Heavy fighting continued between the Taliban and resistance forces in Panjshir Valley as the armed group tried to seize the last holdout province.
Resistance fighters said on Sunday that they captured hundreds of Taliban troops as well as their equipment and vehicles.
The Taliban said its forces had fought their way into the provincial capital of Panjshir after securing the surrounding districts.
Meanwhile, Mark Milley, the top US general, said Afghanistan will "likely" erupt in civil war if the Taliban is not able to establish control, warning that a broad civil war could lead to a resurgence of "terrorist" groups.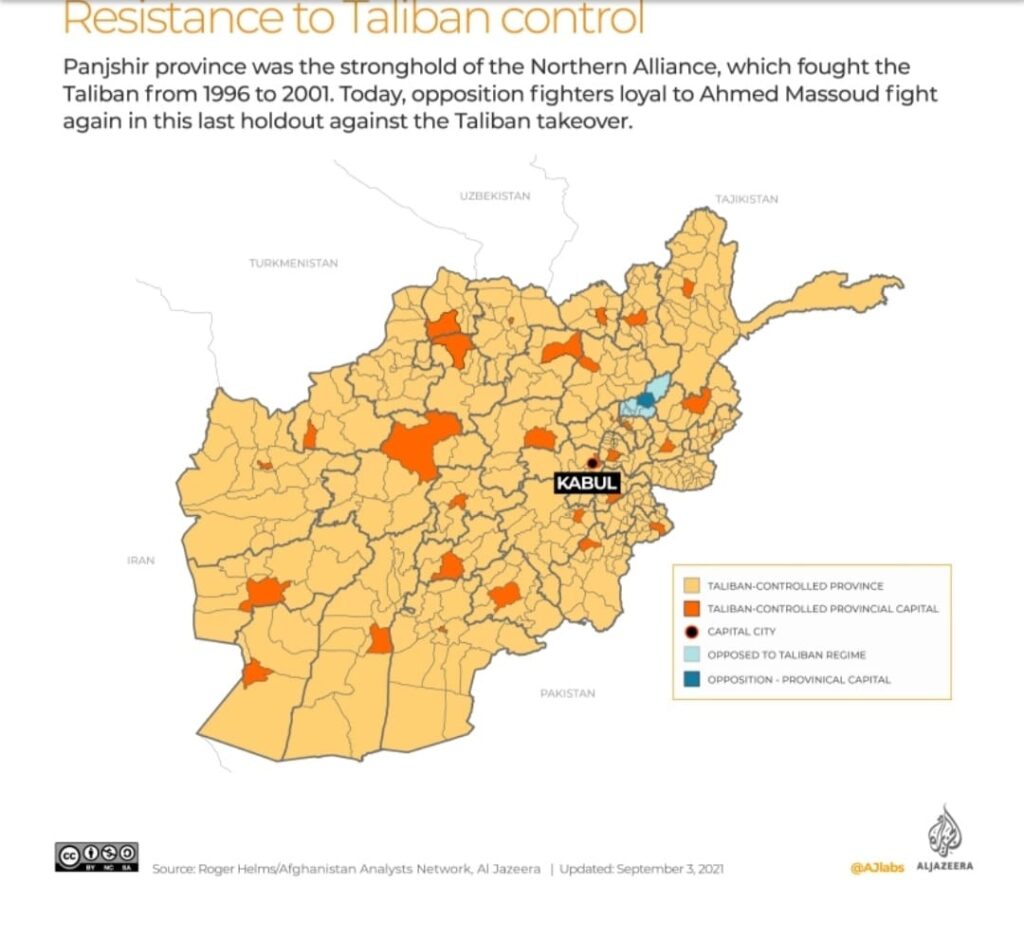 References
https://www.aljazeera.com/news/2021/9/5/afghanistan-will-likely-erupt-in-civil-war-top-us-general
Note: Every article published on this section is extracted from several most genuine authentic sources on our daily life who brings us qualitative LR&A honors the spirit of Journalism of these global giants of News Broadcasting across the globe and outer space, some of them Are, HUFFPOST, Aljazeera, New York Times, CNBC, wall street journals, Reuters, google news, Wikipedia, the Hindu, USA Today, Financial Times, Times Magazines, United Nation Journals, BBC, National Geographic, animal planet, History Tv, Fox network etc. Legal research & Analysis recommends all users kindly do read the original contents published by these mainstream media giants, simply click the link of the headline of the post you want to read also share with your friends quality information do not pay attention to unverified sources of News, fake news, news that can cause harm public at large are considered as fake news, LRA promotes the awareness regarding the spreading of fake news, or news without any genuine source of platform, kindly follow the instruction and help community flourished.