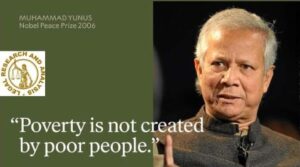 In his Nobel Prize lecture, Muhammad Yunus explained what initiated his work fighting against poverty.
"I became involved in the poverty issue, not as a policymaker or a researcher. I became involved because poverty was all around me, and I could not turn away from it.
In 1974, I found it difficult to teach elegant theories of economics in the university classroom, in the backdrop of a terrible famine in Bangladesh. Suddenly, I felt the emptiness of those theories in the face of crushing hunger and poverty. I wanted to do something immediate to help people around me, even if it was just one human being, to get through another day with a little more ease."
Wishing a happy birthday to Yunus today who was awarded the Nobel Peace Prize in 2006 for his efforts to fight poverty. He granted poor people small loans on easy terms – micro-credit – before founding Grameen Bank to expand the initiative on a larger scale.